Gala Games (GALA) staat vandaag maar liefst 6% in de plus. We kijken hieronder kijken naar de mogelijke redenen waarom deze cryptocurrency zo hard is gestegen. Ook analyseren we de grafiek van de coin om te zien of er een duidelijk patroon vormt. Op deze manier kan jij een weloverwogen beslissing maken of je GALA wil kopen of verkopen.
De markt is deze ochtend redelijk neutraal. Waar bitcoin (BTC) in de ochtend een klein plusje laat zien, staat ethereum (ETH) net in de min. Toch zijn er coins die beter presteren en een daarvan is GALA. Deze coin steeg in de afgelopen 24 uur met ongeveer 6% en in de afgelopen zeven dagen ging het zelfs nog beter. De coin wist afgelopen week zelfs een rendement van ongeveer 20% te behalen. Door de stijging staat GALA nu op de 43e plek qua grootste crypto op basis van marktwaarde. 
Wat is Gala Games?
Gala Games is een crypto die actief is in de blockchain gaming sector. De ontwikkelaars achter het project zeggen als doel te hebben om blockchain games te maken die mensen ook daadwerkelijk willen spelen. Zij willen voorkomen dat spelers geld uitgeven aan in-game items of skins en talloze uren in het spel stoppen en deze items plotseling van je afgepakt kunnen worden. Dit willen zij bereiken door gamers de controle te geven over de games en de items door middel van blockchain-technologie en non fungible tokens (NFT). 
Waarom stijgt GALA in waarde?
De mogelijke reden dat GALA stijgt, zou te maken kunnen hebben met een evenement dat ze organiseren. Dit evenement heet 'Into The Galaverse'. Op dit evenement zullen er verschillende grote aankondigingen worden gedaan zo blijkt uit een tweet die geplaatst is op het officiële Gala Games Twitteraccount. 
Zoals te zien is op het schema van het evenement, zullen er vandaag en morgen ook verschillende grote aankondigingen gedaan worden. Ook komen er verschillende games aan bod. De kans bestaat dat de koers reageert in anticipatie van dit evenement, zelfs zonder dat investeerders nog weten wat er aangekondigd wordt. Doordat deze metaverse sector zoveel aandacht trekt, zullen er waarschijnlijk veel mensen zijn die het evenement in de gaten houden. 
Technische analyse
De koers wil uit het neerwaartse trendkanaal breken. Het lijkt erop dat er een bull flag patroon vormt. Het patroon is pas compleet als de weg naar boven ook hervat wordt. De eerst stap is in ieder geval gezet, en dat is de weerstandslijn doorbreken. De aankomende dagen gaan erg interessant worden. Het zou kunnen zijn dat Gala Games met aankondigingen komt die de koers verder omhoog duwen. In de aankomende dagen zullen we erachter komen of dit patroon ook afgemaakt zal worden!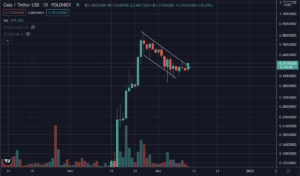 Wat zijn de verwachtingen voor de komende periode?
Of het evenement de aankomende dagen nog een verdere impact zal hebben op de koers is afhankelijk van wat er aangekondigd wordt. Overweeg jij een positie in te nemen in GALA? In onze Discord server voor premium leden zullen we de ontwikkelingen omtrent de coin in de gaten houden. Heb je vragen, dan kan je die altijd stellen aan een van onze crypto-coaches. Zij helpen je graag.