De koers van Gods Unchained (GODS) is vandaag hard gestegen: 32%! Over de afgelopen week ging het zelfs nog beter. Hieronder kijken we naar de mogelijke reden van de stijging en nemen we een kijkje naar de koersgrafiek. Met deze informatie kom jij weer een stapje verder bij het maken van een weloverwogen beslissing om GODS  te kopen of verkopen.
Het is een vrij rustige dag op de cryptocurrency markt. Bitcoin (BTC) lijkt bij te komen van een harde daling die we plotseling zagen bij de nummer 1 crypto van de wereld. De koers zakte ineens van $50.000 naar $47.000. Een coin die zich niks aantrekt van deze langzame dag is GODS. GODS wist in de afgelopen 24 uur namelijk met ongeveer 32% te stijgen. In de afgelopen zeven dagen steeg de coin zelfs met 74%. Door deze stijging staat de crypto nu op de 341e plek van grootste crypto op basis van marktwaarde. 
Wat is Gods Unchained?
Gods Unchained is een free-to-play tactisch virtueel kaartspel. De ontwikkelaars achter het spel hebben ervoor gezorgd dat alle in-game items ook daadwerkelijk eigendom zijn van de spelers door middel van non-fungible tokens (NFT's). Hierdoor hebben de spelers volledige vrijheid om hun kaarten te verkopen, te ruilen of te gebruiken hoe zij dat zelf willen. Dit spel wordt onder leiding van de voormalige game directeur van Magic The Gathering: Arena ontwikkeld. 
Waarom stijgt GODS in waarde?
Een mogelijke reden dat GODS is gestegen, is door notering van de coin op Coinbase. Doordat Coinbase een van de grootste cryptocurrency-exchanges van de wereld is, zorgt dit voor veel nieuw volume. Gebruikers kunnen nu gemakkelijker in GODS handelen. Vanaf gisteren was de coin verhandelbaar op Coinbase. Volgens CoinMarketCap bereikte de coin in slechts een dag een volume van ongeveer $52 miljoen op Coinbase. 
Technische analyse
Doordat GODS nog een vrij jonge coin is, is er ook weinig prijsactie. Toch is er nog wel wat te zien. Als de pieken van de vorige weken met elkaar verbonden worden, is er te zien dat er sprake was een neerwaartse trend. We zien immers lagere pieken en lagere dalen. Door het nieuws van gisteren schoot de coin uit deze neerwaartse trend. De prijs is iets omlaag gecorrigeerd maar vindt op het moment van schrijven wellicht nieuwe steun op de oude weerstand. Dit is een bullish teken!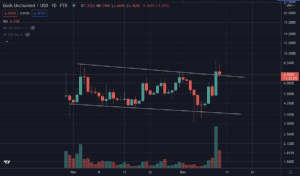 Wat zijn de verwachtingen voor de komende periode?
Of het nieuws nog verdere impact gaat hebben op de prijs is afhankelijk van een groot aantal factoren die dagelijks verschillen. Overweeg jij een positie te nemen in GODS? In ons Discord kanaal voor leden bediscussiëren we het nieuws en zullen we verdere updates met jullie blijven delen. Je komt hier eenvoudig in contact met onze analisten en crypto coaches, zij helpen je graag een weloverwogen beslissing te maken.