JEWEL is deze week maar liefst 65% gestegen. In dit onderzoek nemen we een kijkje naar zowel de fundamentele aspecten van de coin als het technische plaatje. Op deze manier willen we je een handje helpen bij het maken van een weloverwogen beslissing de coin te kopen of te verkopen. 
De markt heeft tot nu toe een rustige dag achter de rug gehad. Waar Bitcoin (BTC) met ongeveer 1% omhoog ging in de afgelopen 24 uur, daalt Ethereum (ETH) met ongeveer een half procent. Toch zijn er coins die het wel goed doen. Een daarvan is DeFi Kingdom (JEWEL). Deze coin is in de afgelopen 24 uur met ongeveer 26% gestegen. In de afgelopen zeven dagen wist de coin zelf een rendement van ongeveer 65% te boeken.
Wat is DeFi Kingdom?
DeFi Kingdoms is een vrij nieuw project. Het is zowel een game, een DEX, een liquiditeitspool als een non-fungible token (NFT) marktplaats. Dit proberen ze in een jasje te stoppen van een nostalgisch fantasy pixel art spel. Ze willen er op deze manier voor zorgen dat investeren ook echt leuk wordt. Zo voelt het alsof een gebruiker meer een game speelt in plaats van dat zij bezig is met haar financiën.
Waarom stijgt JEWEL in waarde?
Er is echter geen duidelijke directe reden van de stijging. Toch is het project erg lekker bezig de laatste tijd en houden ze de community druk bezig. Ze kondigingen via Twitter verschillende winacties aan en delen ook hier hun mijlpalen. Zo hebben ze laatst een marktwaarde van $600 miljoen behaald. Via Medium posts houden ze de gebruikers ook op de hoogte van verdere ontwikkelingen. Tot slot hebben ze verschillende levendige community groepen. Denk hierbij aan hun Discord server.  
Wat de koers misschien wel geholpen heeft is een artikel van Yahoo Finance. Deze post heeft er weer voor gezorgd dat het project onder de ogen van verschillende nieuwe investeerders is gekomen. Dit kan zorgen voor een toename in het volume van de coin. 
Technische analyse
De afgelopen zeven dagen gaat het erg goed met de coin. De koers beweegt duidelijk in een opwaartse trend. Sinds een aantal dagen is er zelfs een sterkere stijging ingezet. Het trendkanaal zou tot nu toe nog voortgezet kunnen worden. Mochten we toch terugzakken zal $9 als steun fungeren. Op het moment bevindt de koers zich in price discovery gebied, dus er is verder geen weerstandsniveau waar we naar uit kunnen kijken.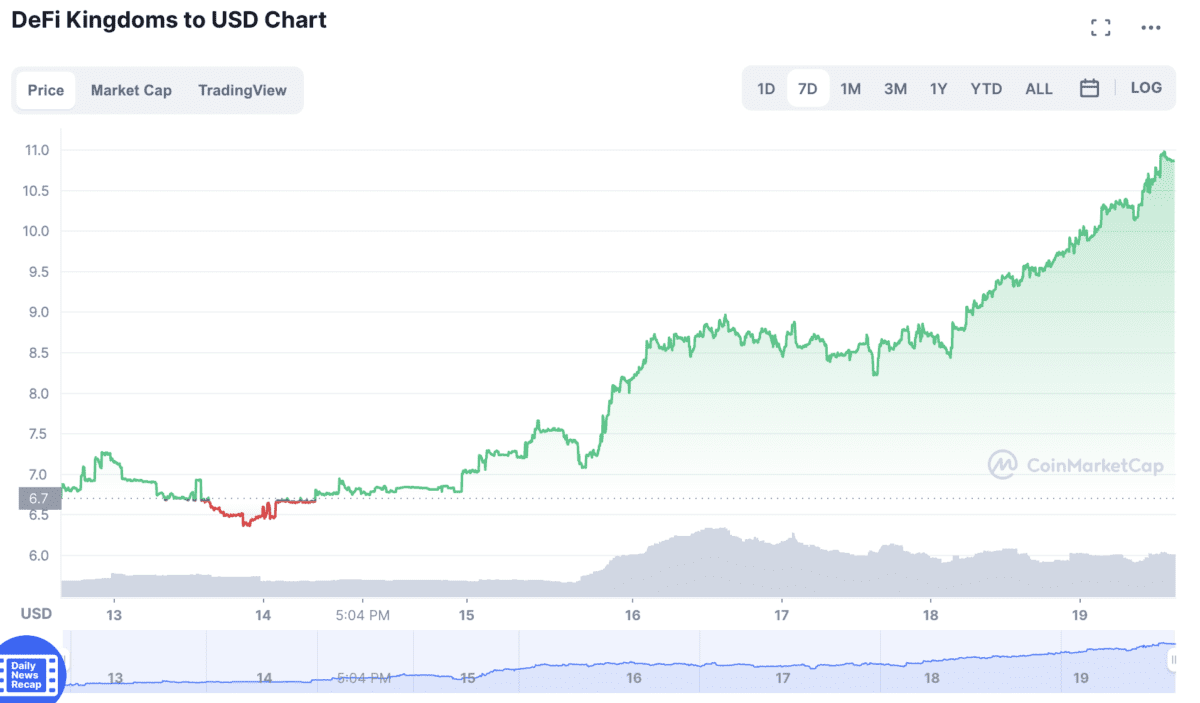 Wat zijn de verwachtingen voor de komende periode?
Of er verder iets gebeurd met de koer is afhankelijk van een groot aantal factoren die dagelijks verschillen. Overweeg jij een positie te nemen in JEWEL? In ons Discord kanaal voor leden bediscussiëren we het nieuws en zullen we verdere updates met jullie blijven delen. Je komt hier eenvoudig in contact met onze analisten en crypto coaches, zij helpen je graag een weloverwogen beslissing te maken.