LRC is vandaag met maar liefst 9% gestegen. Hieronder onderzoeken we de mogelijke fundamentele redenen waarom de koers van deze cryptovaluta is gestegen. We analyseren ook de koers zodat je een weloverwogen beslissing kunt maken om LRC te kopen of verkopen.
De markt herstelde gister weer mooi en lijkt ook door te willen trekken naar vandaag. Er zijn weer erg veel coins hard gestegen, enkele daarvan bespreken we in deze rubriek. Een daarvan is Loopring (LRC). Deze coin is in de afgelopen 24 uur met ongeveer 9% gestegen. In de afgelopen zeven dagen wist de coin ook een rendement te behalen. In deze periode steeg LRC met ongeveer 5%. Door de stijging staat Loopring op de 52e plaats op basis van marktwaarde. 
Wat is Loopring?
Loopring is een gedecentraliseerd en geautomatiseerd exchange platform. Het platform is zelf geen exchange maar werkt voor de gebruiker eigenlijk wel hetzelfde als een andere exchange, zoals bijvoorbeeld Binance. Het platform zoekt naar alle verschillende orderboeken van alle verschillende exchanges en probeert op deze manier de beste deal te vinden voor de gebruiker. Doordat alle orderboeken samen worden gevoegd zal er ook een bredere markt komen waardoor de spread ook lager zal liggen.
Waarom stijgt LRC in waarde?
Een mogelijke reden van de stijging zou te maken kunnen hebben met deze blogpost. Hierin geeft het project aan dat ze net een update hebben uitgevoerd. Loopring komt namelijk met L2 Counterfactual Wallets voor iOS. Deze update zal ervoor zorgen dat gebruikers hun wallet via Layer 2 kunnen gebruiken in plaats van Layer 1. Dit zorgt ervoor dat er veel geld kan worden bespaard op transactiekosten. Een goed teken dus voor Loopring gebruikers. 
Daarnaast wordt het voor gebruikers ook veel gemakkelijker om fiat te storten op het platform. Door middel van hun nieuwe fiat provider genaamd Ramp zal de gebruiker met enkel een paar kliks ervoor kunnen zorgen dat ze hun fiat hebben. Allemaal dus erg mooie dingen voor het platform!
Technische analyse
Helaas wist de cryptocurrency de opwaartse trend zoals beschreven in de vorige analyse niet vol te houden. Na de harde stijging is het natuurlijk niet meer dan logisch dat de koers even wil afkoelen. Doordat de koers nu tijdelijk daalt wordt er een vlag patroon gevormd.
Dit is wel een continuatiepatroon. Wat wil zeggen dat de koers statistisch gezien vaker na dit patroon de weg naar boven hervat dan dat we een daling zien. Het is in ieder geval goed om te zien dat er achter de schermen hard gesleuteld wordt aan het Loopring.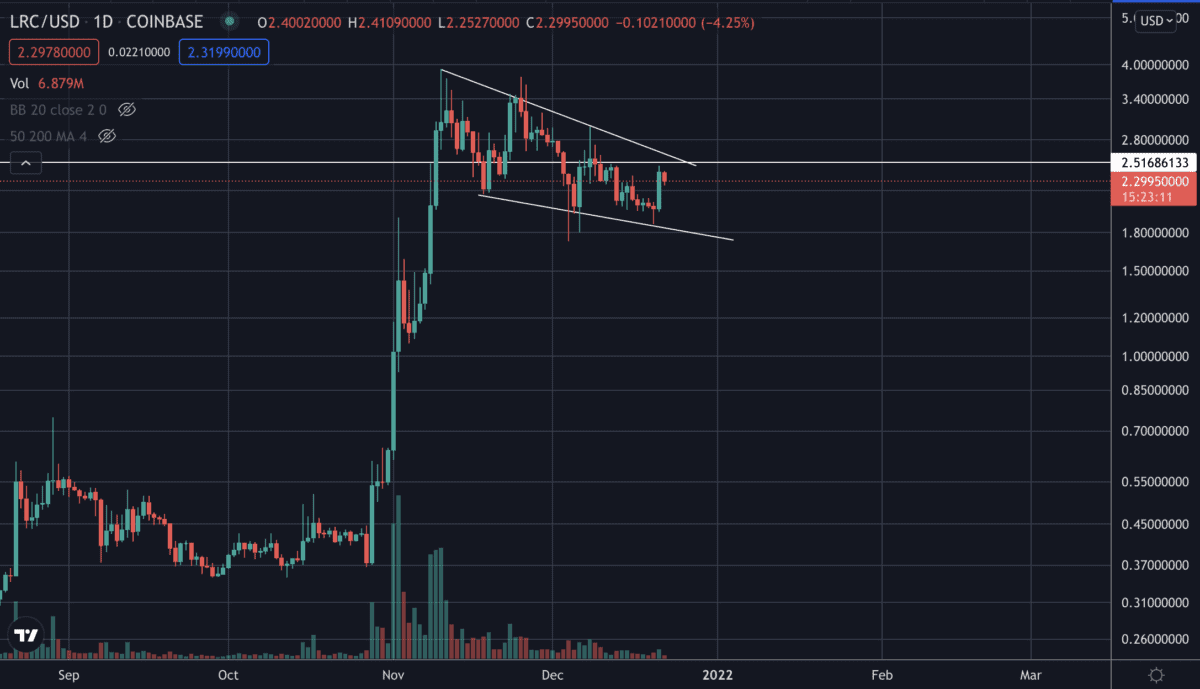 Wat zijn de verwachtingen voor de komende periode?
Of deze update nog verdere impact gaat hebben op de prijs is afhankelijk van een groot aantal factoren die dagelijks verschillen. Overweeg jij een positie te nemen in LRC? In ons Discord kanaal voor leden bediscussiëren we het nieuws en zullen we verdere updates met jullie blijven delen. Je komt hier eenvoudig in contact met onze analisten en crypto coaches, zij helpen je graag een weloverwogen beslissing te maken.