LUNA heeft vandaag een prachtige stijging meegemaakt van maar liefst 15%, LUNA is een cryptocurrency die vaak wordt behandeld in de Crypto Insiders Premium omgeving voor leden. Onlangs heeft onze analist AppY-Crypto nog een technische analyse gedeeld van LUNA in de Premium Discord, waarbij leden die zich door deze analyse lieten inspireren een winst hadden kunnen maken van tussen de 20% en 35%.
Een van de best presterende cryptocurrencies van vandaag is terra (LUNA). LUNA wist over de afgelopen 24 uur met ongeveer 15% te stijgen. In de afgelopen dagen zagen we een rendement van ongeveer 6%. LUNA staat op het moment van schrijven op de 8e plaats op basis van marktwaarde.
Wat is Terra (LUNA)?
Terra is een op Cosmos SDK lopend platform dat zich focust op het maken en onderhouden van stablecoins. Terra heeft haar eigen stablecoin genaamd TerraUSD (UST). Terra weet deze stablecoin op een waarde van $1 te houden door haar andere cryptocurrency LUNA. Elke stablecoin kan namelijk omgezet worden naar UST en vice versa. Zo hoeft de stablecoin niet stabiel worden gehouden door middel van fiat of over-collateralized crypto als reserve. Ook kan LUNA gebruikt worden door investeerders voor het betalen van hun fee's, bij het staken of bij het meedoen aan stemmingsrondes bij de governance van Terra. 
Waarom stijgt LUNA in waarde?
De stijging van LUNA zou mogelijk te maken kunnen hebben met een bepaald technisch patroon. Op de onderstaande grafiek is te zien dat onze analist AppY-Crypto deze stijging van vandaag al zag aankomen in de Premium omgeving voor leden. Deze grafiek van op 15 april met alle leden gedeeld. Hier is ook te zien dat we eerst nog verder zouden zakken richting de $75, dit niveau is gisteren gehaald, om vervolgens de stijging in te zetten richting de witte (b) op de onderstaande grafiek, waar LUNA op dit moment mee bezig is. 
Helaas lijkt het technische plaatje ondanks deze stijging niet veel beter te worden. Er zal dus nog een steile daling worden verwacht. Waar deze daling precies zal eindigen is nog niet duidelijk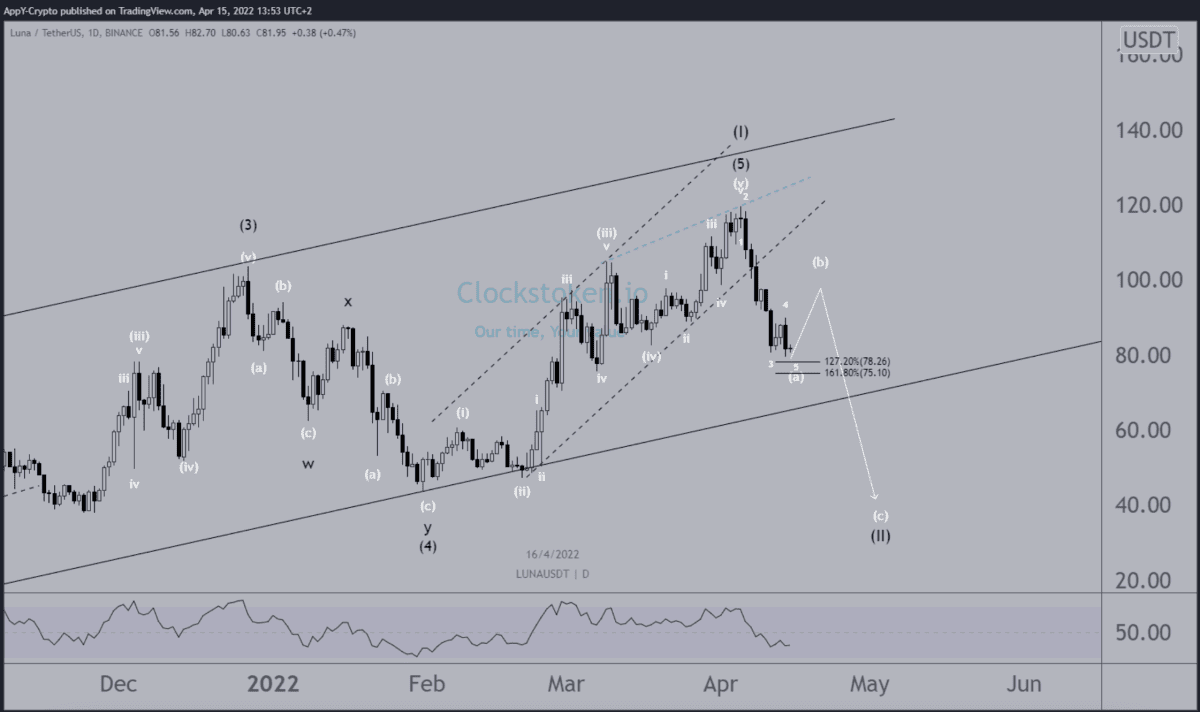 Verwachting Terra (LUNA) en bitcoin (BTC) koers toekomst
Wil jij up-to-date blijven, meer technische analyse voor LUNA en BTC ontvangen of hier vragen over stellen? In de Crypto Insiders Premium omgeving voor leden bediscussiëren we het crypto nieuws en blijven we verdere updates met jullie delen. Hier worden ook additionele technische analyses gedeeld over andere coins die in deze rubriek worden behandeld. Overweeg jij een positie te nemen in LUNA of BTC? Neem via de premium omgeving voor leden contact op met een van onze analisten en crypto coaches, zij helpen je graag een weloverwogen beslissing te maken.