OKB is vandaag gestegen met ongeveer 10%. In dit artikel onderzoeken we de mogelijke reden die de stijging veroorzaakt heeft en nemen we een kijkje naar de grafiek. Met deze informatie kan je een weloverwogen beslissing om OKB te kopen of verkopen.
Er is weer genoeg gebeurd deze ochtend. Waar bitcoin (BTC) opnieuw de $50.000 niet wist te breken zakken we weer iets af. Toch is er een kleine opwaartse trend te zien op de 4-uurs grafiek van bitcoin. Een andere coin die het beter doet is OKEx (OKB). Deze coin is in de afgelopen 24 uur met ongeveer 10% gestegen. In de afgelopen zeven dagen was de stijging ongeveer 8%. Door de stijging staat de coin op de 74e plaat op basis van marktwaarde. 
Wat is OKEx?
OKB is een cryptocurrency die is ontworpen door de OK Blockchain Foundation en de Maltese cryptocurrency exchange, OKEx. OKEx is een van de grootste cryptocurrency exchange platforms ter wereld. De exchange staat op het moment op de derde plaatst op basis van liquiditeit en vierde in handelsvolume.  
Waarom stijgt OKB in waarde?
De stijging van de cryptocurrency kan mogelijk verklaard worden door een aankondiging van de OKEx Blockdream Ventures, een investeringsinstelling onder OKEx die zich focust op het zoeken van de beste blockchain-projecten van over de hele wereld. In deze aankondiging geven ze aan een samenwerking te zijn aangegaan met Worldwide Asset eXchange (WAXP). 
De reden dat deze aankondiging mogelijk een reactie heeft uitgelokt is het feit dat de sector waar WAX in zit erg populair is. Dit is namelijk de non-fungible tokens (NFT) en metaverse sector. Beide sectoren zijn al een tijd erg gewild. Het feit dat OKEx interesse lijkt te tonen in deze sector zou daarom een goed teken kunnen zijn. OKEx geeft zelf ook aan veel potentie te zien in deze sector. 
Technische analyse
Als we naar de grafiek kijken van OKB kunnen we een neerwaarts driehoekspatroon gevormd zien worden. Dit patroon kenmerkt zich aan het feit dat de bodems vrijwel gelijk blijven en de pieken steeds lager worden. Deze markt toont een afwachtende houding van investeerders. Toch is statistisch vastgesteld dat dit patroon vaker naar beneden uitbreekt dan naar boven.
Hierdoor is het dus belangrijk dat het patroon goed in de gaten wordt gehouden. Mocht de koers naar boven uitbreken moet dit met veel volume gepaard gaan. Een retest op de oude weerstandslijn om hier een steunlijn van te maken zou ook geen overbodige luxe zijn. Mocht de koers inderdaad naar beneden uitbreken dan zou de groene zone op de grafiek hieronder pas kunnen fungeren als steunniveau.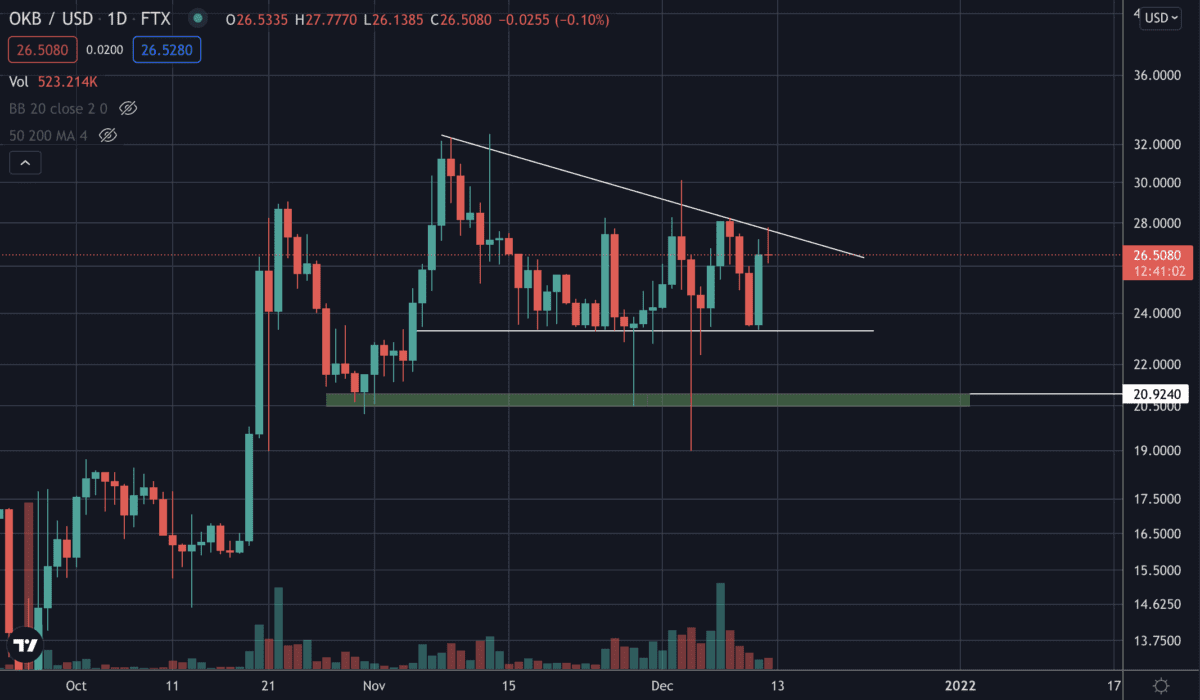 Wat zijn de verwachtingen voor de komende periode?
Of de aankondiging nog verdere invloed gaat hebben op de koers hangt af van een aantal factoren. Overweeg jij een positie te nemen in OKB? In ons premium Discord kanaal discussiëren we over het nieuws en zullen we verdere updates blijven delen. Hier kan je eenvoudig in contact komen met onze analisten, zij helpen je graag een weloverwogen beslissing te maken.