SPELL is vandaag met ongeveer 14% gestegen. Hier zijn we ingedoken op zoek naar de achterliggende fundamentele reden. Ook nemen we een kijkje naar de koers. Met deze info kan jij weer wat makkelijker een weloverwogen beslissing maken of je de coin wil kopen of verkopen. 
De ochtend begint rustig. Bitcoin (BTC) is in de afgelopen 24 uur slechts 0,10% gestegen. Andere coins beginnen de dag veel beter. Een daarvan is Spell Token (SPELL). Deze coin is in de afgelopen 24 uur met ongeveer 14% gestegen. In de afgelopen zeven dagen zelfs met 20%. Door de stijging staat de coin op de 96e plaats op basis van marktwaarde.
Wat is Spell Token?
Spell Token, ookwel Abracadabra.Money, is een platform waarbij gebruikers geld kunnen lenen en uitlenen. De gebruikers kunnen geld lenen door rentedragende tokens te gebruiken als onderpand. De gebruiker krijgt magic internet money (MIM), een stablecoin. Deze token kan voor elke traditionele stablecoin worden omgewisseld. 
Waarom stijgt SPELL in waarde?
De stijging zou mogelijk te maken kunnen hebben met deze tweet. In deze tweet wordt door Crypto.com, een exchange zoals Binance of Bitvavo, aangegeven dat zij vanaf nu ook de SPELL token verhandelbaar maken. Deze listing heeft ervoor gezorgd dat de token weer onder de ogen komt van miljoenen nieuwe handelaren. 
Dit zou ook de stijging in het volume van de coin kunnen verklaren. In de afgelopen 24 uur is het volume namelijk met ongeveer 100% gestegen. Het zal interessant zijn om te zien of dit blijft toenemen de aankomende periode!
Een tweede mogelijke reden is een nieuwe samenwerking met Popsicle Finance. Door middel van deze samenwerking willen ze extra benadrukken dat het een gedecentraliseerd protocol is en veranderen daarom de manier waarop de fee's rekenen voor degene die een liquiditeitspool wil starten. Daarnaast wordt de governance belangrijker binnen het project. Ze willen meer gaan innoveren in plaats van te doen wat ze al doen. Dit kan misschien voor leuke ontwikkelingen zorgen binnen het project!
Technische analyse
De grafiek van SPELL laat een leuk technische plaatje zien. Waar de coin vanaf november in een neerwaartse trend zat, wist de coin hier in december uit te breken door middel van een harde stijging. De koers koelde toch wat af, waar zocht eigenlijk weer de oude weerstandslijn op en maakte hier een nieuwe steunlijn van.
Dit is een bullish teken. Na de lijn wat vaker getest te hebben ging de koers weer omhoog. Op de korte termijn is er een nieuw opwaarts kanaal gevormd. Via dit kanaal zou de coin nu verder omhoog kunnen bewegen.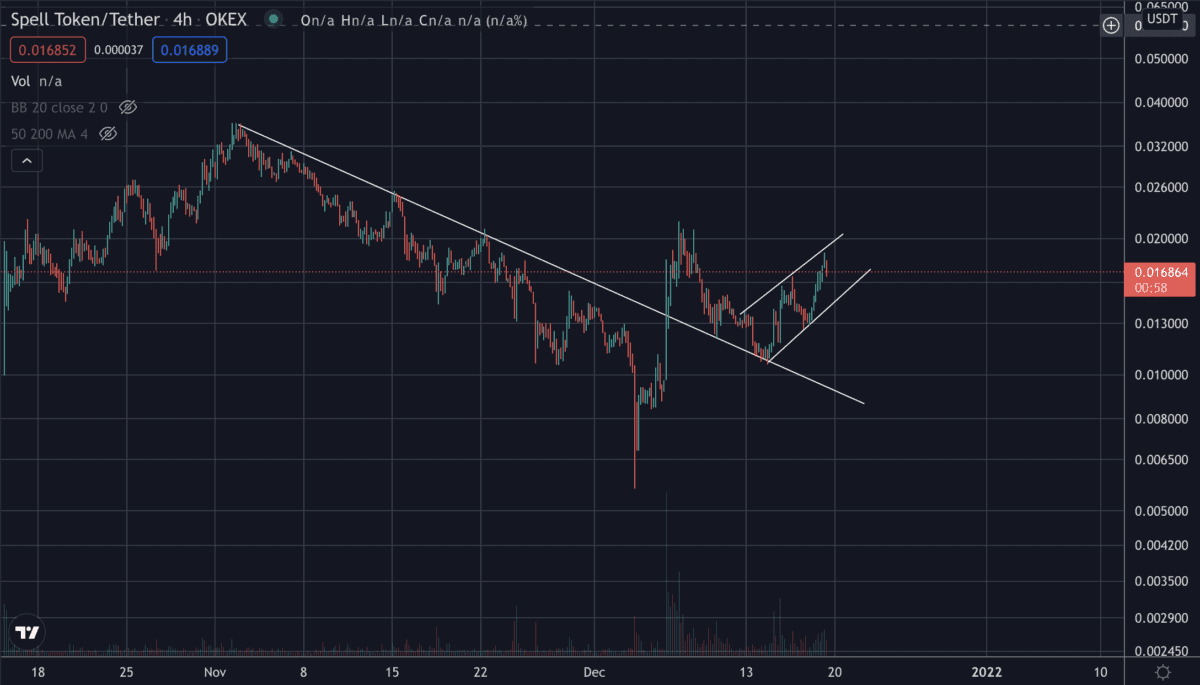 Wat zijn de verwachtingen voor de komende periode?
Of de samenwerking of listing voor een nieuwe stijging zal zorgen is natuurlijk ook deels afhankelijk van het marktsentiment. Overweeg jij een positie in te nemen in SPELL? In ons Discord kanaal voor insiders bespreken wij dit soort nieuws en houden we je up-to-date. Je komt hier eenvoudig in contact met onze analisten en crypto coaches, zij helpen je graag een weloverwogen beslissing te maken.