UOS is vandaag met 4% gestegen. Helaas werd de groei tegengehouden door een belangrijk aspect. In dit artikel kijken we naar mogelijk redenen dat deze coin in waarde is gestegen en analyseren we de koers van UOS zodat je deze info mee kan nemen in het maken van de beslissing of je UOS wilt kopen of verkopen!
Het leek vandaag een rustige dag te worden op de cryptomarkt, echter worden er nu toch flinke klappen uitgedeeld. Zowel bitcoin (BTC) als ethereum (ETH) dalen met ongeveer 5%. Toch zijn er nog coins die net hun hoofd boven water kunnen houden en niet meegetrokken worden door de marktleiders. Een daarvan is Ultra (UOS). Ultra is in de afgelopen 24 uur met ongeveer 4% gestegen. De stijging was hoger maar werd helaas naar beneden geduwd door de daling van bitcoin. Over de afgelopen zeven dagen steeg UOS met ongeveer 2%. De coin staat nu op de 142e plaat op basis van marktwaarde. 
Wat is Ultra? 
Ultra is een op blockchain gebaseerd platform voor PC games. Dit platform kan gebruikt worden door zowel game-ontwikkelaars als door de gamer zelf. De gamers krijgen de mogelijkheid om zowel games te kopen en te spelen, maar mochten zij klaar zijn met dit spel dan kunnen zij die gewoon weer doorverkopen via Ultra. Op deze manier kan een gamer nog wat verdienen aan oude spellen. Game ontwikkelaars krijgen via het platform ook verschillende mogelijkheden om extra items of voorwerpen voor spellen te verkopen.
Waarom stijgt UOS in waarde?
Een factor die met de stijging te maken kan hebben is de recente listing van de coin op het platform Swissborg. Dit platform heeft ongeveer 500.000 geverifieerde gebruikers. Ultra kan gezien worden als small tot medium cap coin. Voor zulke coins is een platform met 500.000 gebruikers een mooie toevoeging. Dit zorgt voor de nodige exposure. Investeerders die deze coin eerst niet konden verhandelen hebben daar nu wel toegang toe. Daarnaast is de crypto gaming sector de laatste periode erg populair. Met coins als MANA en SAND die de sector leiden. Hierdoor is het niet gek dat de koers van een crypto gaming token grote sprongen kan maken met het kleinste nieuwtje. 
Technische analyse
De coin is sinds eind vorig jaar begonnen met het vormen van een opwaartse trend. Deze trend speelt tot de dag van vandaag nog perfect uit. Met steeds nieuwe hogere pieken en hogere bodems. In november dit jaar brak de koers aan de bovenkant uit en wist de oude weerstand te testen. Deze oude weerstand is nu nieuwe support geworden. Hierbij zou het mooi zijn als de opwaartse trend wordt voortgezet waarbij de oude weerstand als nieuwe onderkant van het kanaal fungeert. Hiervoor moet de trendlijn echter nog vaker voor worden getest. In ieder geval een mooie coin om in de gaten te houden.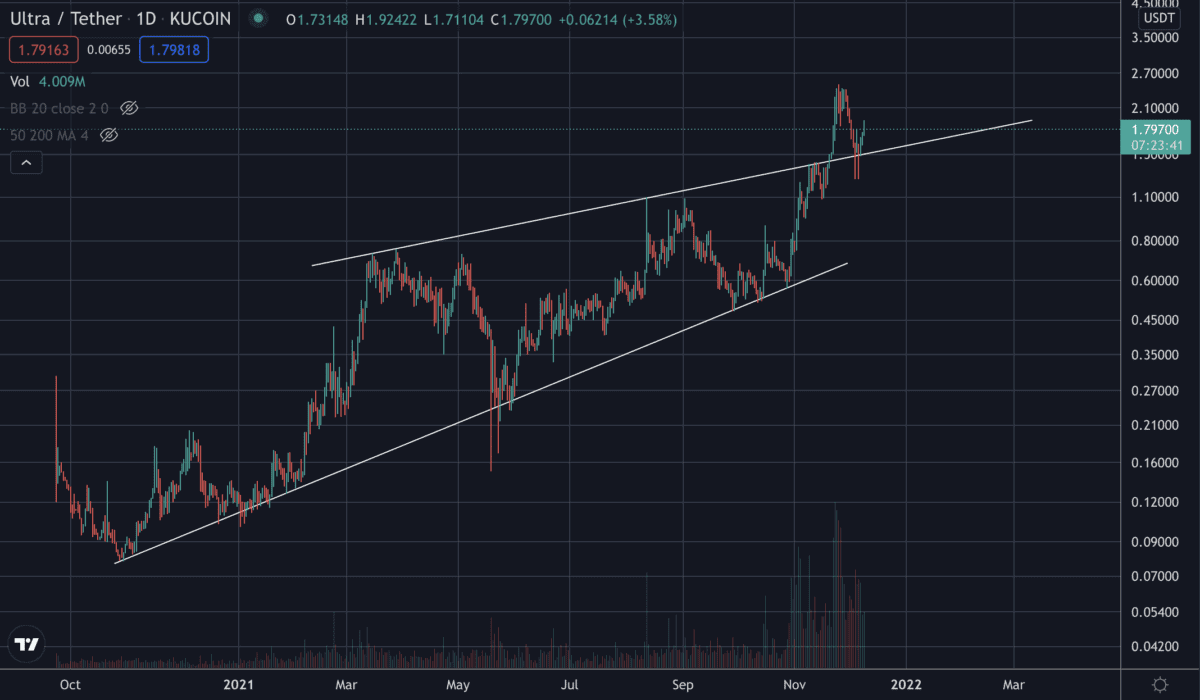 Wat zijn de verwachtingen voor de komende periode?
Of het nieuws nog verdere impact gaat hebben op de prijs is afhankelijk van een groot aantal factoren die dagelijks verschillen. Mocht bitcoin dalen, trekt het in veel gevallen de koers van altcoins met zich mee. Dit zou een daling uit kunnen lokken. Mocht UOS echter met ander nieuws komen kan de koers misschien wel weer verder stijgen. Denk jij er aan een positie te nemen in UOS? Neem dan een kijkje in onze Discord server voor leden. Hier bediscussiëren we het nieuws en zullen we verdere updates met jullie blijven delen. Je komt hier eenvoudig in contact met onze analisten en crypto coaches, zij helpen je graag een weloverwogen beslissing te maken.