WAX is vandaag met maarliefst 30% gestegen. In dit artikel kijken we naar mogelijk fundamentele en redenen waarom deze cryptovaluta in waarde is gestegen en analyseren we de koers van WAX zodat je een weloverwogen beslissing kunt maken om WAX te kopen of verkopen.
De markt lijkt deze ochtend erg verdeeld. Waar slecht een kwart van de top 100 groene cijfers vertoont is de rest van de markt licht aan het dalen. Toch zijn er ook vandaag weer harde uitschieters. Een mooi voorbeeld is Worldwide Asset eXchange (WAX). WAX wist over de afgelopen 24 uur met ongeveer 30% te stijgen. Door deze stijging is de schade die de coin heeft opgelopen na de dip weer goed gemaakt. Over de afgelopen zeven dagen staat WAX alweer 0,79% in de plus. Door de stijging staat de coin op de 88e plaats op basis van marktwaarde. Ook het volume is hard gestegen, namelijk met ongeveer 1700% ten opzichte van gister.
Wat is WAX?
WAX probeert het beste en meest gebruikte ecosysteem te bouwen voor non-fungible tokens (NFT's), Decentralized apps (dApps) en video games. Ze willen een platform aanbieden waar gebruikers gemakkelijk zowel virtuele als fysieke voorwerpen kunnen maken, kopen, verkopen en verhandelen. Voorbeelden hiervan zijn bijvoorbeeld fysieke verzamelkaarten zoals baseball cards, of virtuele NFT's van bekende artiesten zoals Deadmau5. 
Waarom is WAX in waarde aan het stijgen?
De stijging zou in dit geval te maken kunnen hebben met een nieuwsbericht dat op de WAX Twitter werd gedeeld door de ontwikkelaars zelf. Hierin stond dat Amazon de collectibles sector heeft betreden door te investeren in Dibbs. Dibbs.io is een fractional card market, een markt waar gebruikers delen van dure en zeldzame kaarten kunnen kopen, die de WAX vIRL NFT technologie gebruikt. Dat zo'n grote partij als Amazon interesse toont in deze markt is voor WAX natuurlijk een erg goed teken. Dit zal tevens voor de sector een mooie boost van de exposure zijn. Indirect investeert Amazon hierdoor ook in de WAX technologie.
Technische analyse
WAX beweegt op het moment in een opwaarts trendkanaal. De coin was al maanden lang aan het stijgen. Dit is te verklaren doordat de NFT sector erg populair en gewild was. Het nieuws dat Amazon interesse heeft in de markt komt het alleen nog maar bovenop. De onderkant van het kanaal is recentelijk getest, en hield stand. Op het moment lijkt het alsof de koers weer omhoog wil krullen en de bovenkant van het kanaal wil testen.
Hierbij is het goed opletten of het volume toe blijft nemen en of er genoeg kracht is om daadwerkelijk door de weerstandslijn heen te breken. Mochten we hier doorheen breken dan zouden we het liefst een bounce bovenop het kanaal willen zien. Dit zou betekenen dat van oude weerstand nieuwe steun wordt gemaakt. Mochten we toch naar beneden uitbreken dan zijn er twee belangrijke steunniveaus (aangeduid door de witte horizontale strepen op de grafiek hieronder).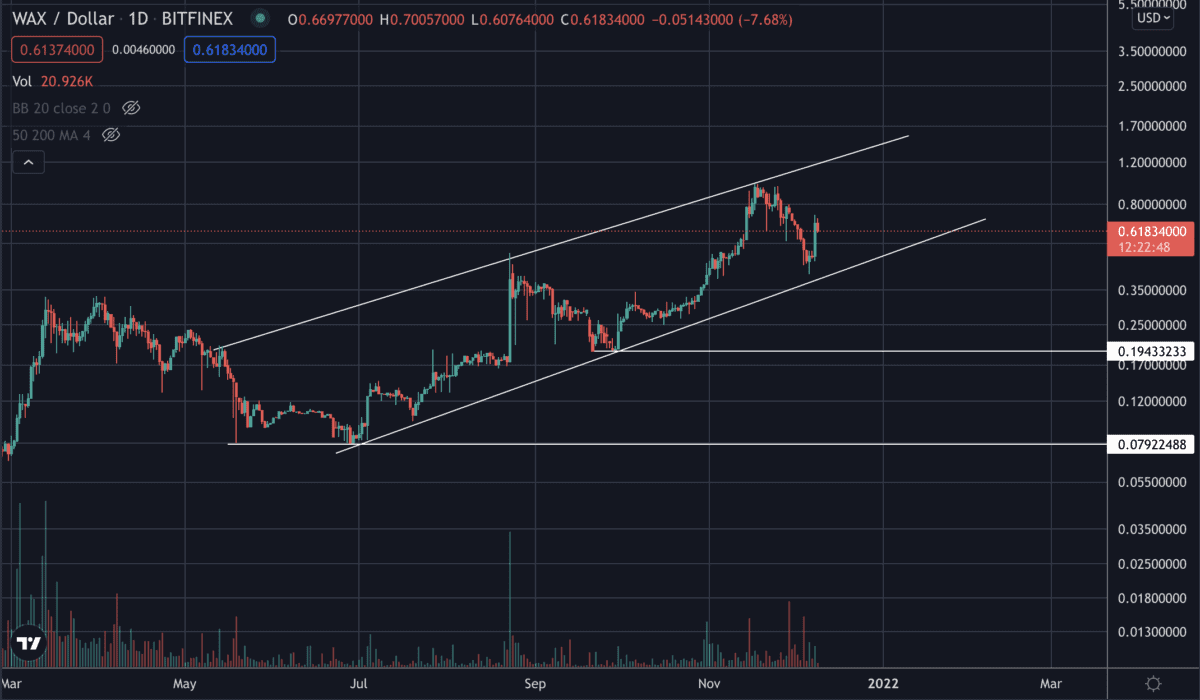 Wat zijn de verwachtingen voor WAX?
Of het nieuws nog verdere impact gaat hebben op de prijs is afhankelijk van een groot aantal factoren die dagelijks verschillen. Zo kan een nieuwe aankondiging vanuit het project of koersdaling van Bitcoin op de korte termijn grote impact hebben op de prijs. Zit jij er aan te denken om ook WAX te kopen? Neem eens een kijkje in ons Discord kanaal voor leden, hier bediscussiëren we dagelijks het nieuws en ontvang je de laatste updates van onze analisten. Het is vrij eenvoudig om hier in contact te komen met andere analisten, zij helpen je graag een weloverwogen beslissing te maken.