XYO is vandaag met 7% gestegen in de afgelopen 24 uur. We zullen hier kijken naar de fundamentele reden van de stijging. Ook nemen we een kijkje naar de koers van XYO zodat jij een weloverwogen beslissing maakt of je de coin wil kopen of verkopen.
Het gaat helaas weer wat minder goedop de markt. Bitcoin (BTC) zoekt haar steunlijn op en andere coins crashen hard. Een coin die het de afgelopen week wel goed deed is XYO. De coin steeg in de afgelopen 24 uur met ongeveer 7%. In de afgelopen dagen wist de coin met ongeveer 14% te stijgen. Door de stijging staat de coin op de 130e plaats op basis van marktwaarde.
Wat is XYO?
Het XYO netwerk werkt op basis van smart contracts en heeft zo bereik tot informatie uit de echte wereld. Het XYO netwerk kan op deze manier precies zien of een object bij de specifieke vooraf afgesproken XY-coördinaten is. Het smart contract kan dan zo ingesteld worden dat als het object aangekomen is, dat er dan een betaling wordt uitgevoerd.
Dit zou bijvoorbeeld erg handig kunnen zijn voor webshops, waarbij klanten pas hoeven te betalen als hun pakketje daadwerkelijk is aangekomen. Een pakketje kan op deze manier de klant ook op de hoogte houden van waar in het bestelproces het pakketje zich bevindt. Van de fabriek tot aan de bezorger.
Waarom stijgt XYO in waarde?
De reden van de stijging zou deze aankondiging kunnen zijn. In dit bericht staat dat XYO een samenwerking is aangegeven met Travala.com. Deze website staat erom bekend het gebruikt van cryptocurrencies als betaalmiddel te stimuleren. Op deze website kan een gebruiker haar vakantie boeken en dus betalen door middel van cryptocurrency. De XYO token zal dus ook te gebruiken zijn om je vakantie mee te boeken. XYO geeft aan dat de samenwerking ook perfect past bij waarze voor staan en wat zij proberen te bereiken. Beide partijen zijn namelijk bezig met geolocatie. 
Technische analyse
XYO vormt vanaf november een neerwaartse trend. Met de stijging van vandaag is de bovenkant van het kanaal opnieuw getest. Helaas wist de koers hier niet doorheen te breken. Door deze afwijzing ziet het patroon er niet bullish uit. Het zou kunnen dat we nu verder wegzakken en weer de onderkant van het kanaal gaan testen. Mochten we hier doorheen breken dan zullen de onderstaande steunlijnen pas getest worden.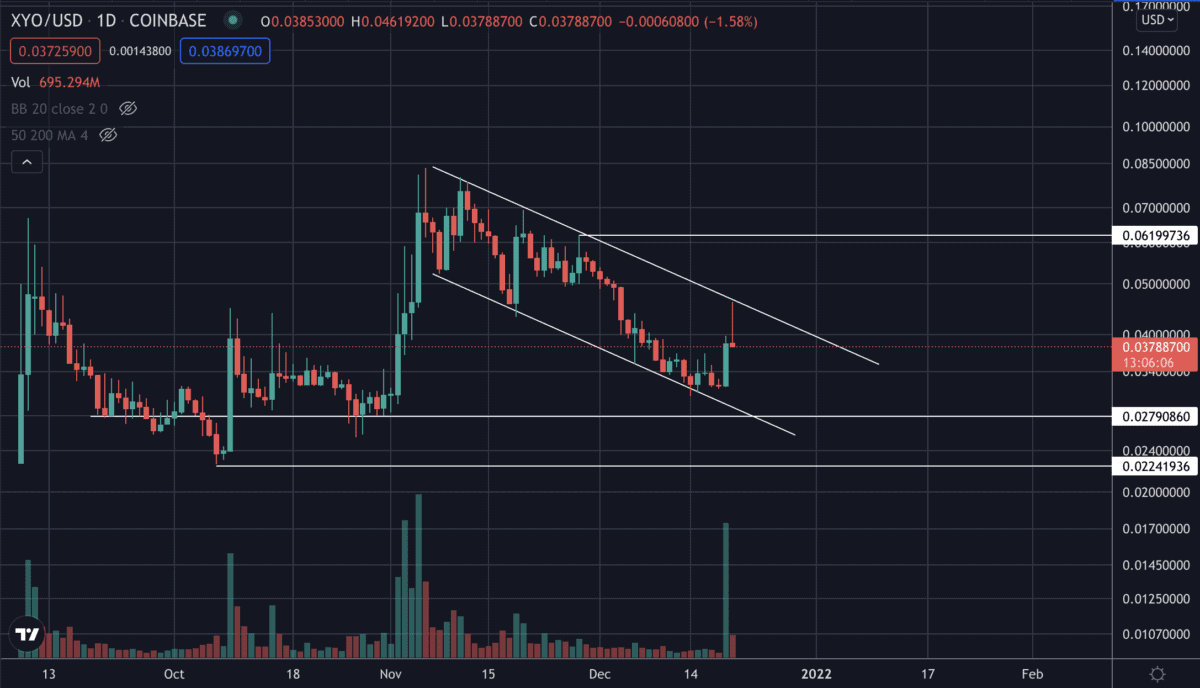 Wat zijn de verwachtingen voor de komende periode?
Of de samenwerking nog verdere gevolgen gaat hebben op de koers is natuurlijk afhankelijk van een groot aantal factoren die dagelijks verschillen. Deze factoren proberen wij echter wel bij te houden in ons Discord kanaal voor leden. Hier bediscussiëren we het nieuws en zullen we verdere updates met jullie blijven delen. Je komt hier eenvoudig in contact met onze analisten en crypto coaches, zij helpen je graag een weloverwogen beslissing te maken.