In de Premium omgeving van Crypto Insiders worden dagelijks actuele technische analyses gedeeld door ervaren analisten. De afgelopen periode kwam Decentraland (MANA) hier regelmatig ter sprake. In deze rubriek blikken we terug op deze technische analyse en brengen we de recente ontwikkelingen en verwachtingen voor de komende periode in kaart. Mocht je na het lezen van dit artikel nog vragen hebben kun je deze eenvoudig stellen in onze Discord community, hier staan onze technische analyses doorgaans 48 uur eerder klaar voor onze leden.
Wat is Decentraland (MANA)?
Decentraland biedt een gamewereld die spelers door middel van virtual reality kunnen verkennen. Dit wilt zeggen dat Decentraland, zoals eerder vermeld, actief is binnen de metaverse-sector. In deze virtuele wereld krijgen spelers de mogelijkheden om digitale voorwerpen te maken, verzamelen en te ruilen. Deze voorwerpen worden beschikbaar gesteld als non-fungible tokens (NFT). Een NFT is een soort van bewijs van eigendom op de Ethereum (ETH) blockchain. Met zo'n bewijs kun je aantonen dat het digitale voorwerp ook daadwerkelijk van jou is en dat je er mee kan doen wat je wilt.
Decentraland is niet een spel dat bedoeld is om uit te spelen. Het doel is om plezier te hebben met de activiteiten die het spel biedt, enigszins vergelijkbaar met bijvoorbeeld Minecraft. In Decentraland kun je bijvoorbeeld een eigen zaak opstarten en producten aanbieden om te verkopen voor echt geld. Dit wordt ook wel play-to-earn genoemd, iets waar metaverse game The Sandbox (SAND) ook mee experimenteert.
Laatste Decentraland (MANA) nieuws
Decentraland organiseert in samenwerking met Spatial en MetaMundo het eerste cross-metaverse evenement genaamd Metaverse Art Week 2022 | Decentralized Arts. Dit evenement zal zich volledig focussen op digitale kunst en andere mogelijkheden in de Web3 sector. Om dit goed over te laten komen worden er verschillende evenemente opgezet in de Decentraland metaverse. Alle evenementen zijn op deze pagina te zien.
Wat zijn de verwachtingen voor Decentraland (MANA)?
Of bovenstaande ontwikkelingen nog verdere impact gaat hebben op de prijs is afhankelijk van een groot aantal factoren die dagelijks verschillen. De crypto-markt is immers zwaar onderhevig aan economische gebeurtenissen en traditionele aandelenmarkten. Daarom is het soms lastig om het juiste moment te bepalen om in een bepaald project te investeren. Een technische analyse kan bijvoorbeeld helpen bij het bepalen binnen welk tijdspan een cryptovaluta interessant (kan) zijn om te kopen of verkopen. Op basis van bijvoorbeeld de beleggingsgeschiedenis en het identificeren van patronen in prijsbewegingen.
Technische analyse MANA koers
De analisten in de Discord omgeving van Crypto Insiders hebben onlangs een analyse gedeeld van MANA. In deze analyse werd het duidelijk dat MANA tegen flinke weerstand aan zou lopen en dat er hierdoor een daling aan zat te komen. De analisten hadden verwacht dat de koers rond de $1,05 neerwaartse prijsactie zou doormaken. Deze prijsactie hebben we uiteindelijk ook gekregen.
Op het moment van schrijven staat de koers al ongeveer 25% lager dan de aangegeven verkoopzone. Dit is dus precies gegaan zoals de analisten hadden verwacht.
Wil jij dit soort analyses eerder lezen? Neem dan ook een kijkje in de Premium omgeving. Hier kan je ook direct in contact komen met verschillende analisten en crypto enthousiastelingen die klaar staan om jou te helpen!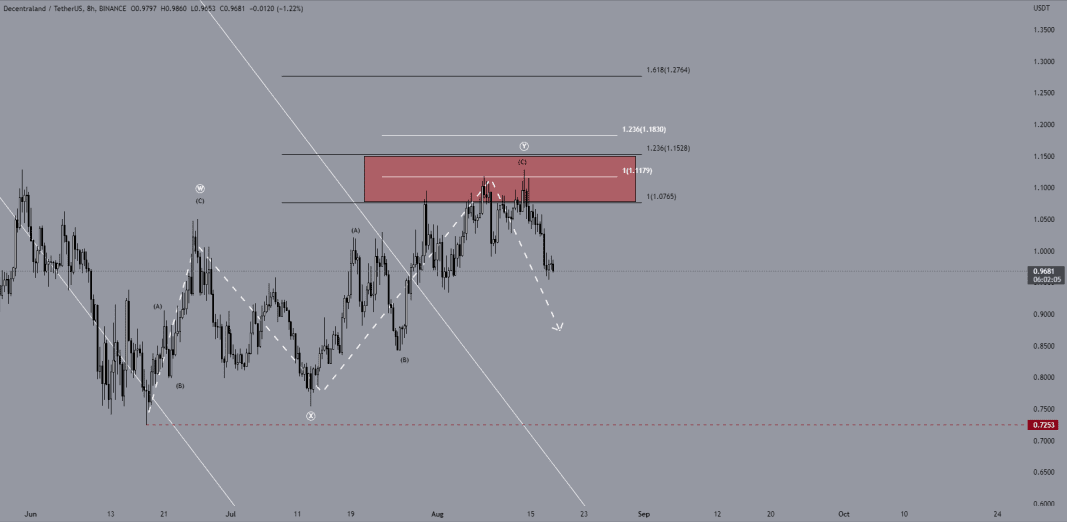 MANA kopen of verkopen?
Zoek jij hulp met handelen in crypto? Dan verwijzen we je graag door naar onze Discord community voor leden. Hier bediscussiëren ervaren analisten en handelaren dagelijks hun analyses en handelsplannen. Ook delen we hier als eerst onze technische en fundamentele analyses. In onze Discord community kunnen we 24/7 kennis met elkaar delen en proberen we onze premium leden op de hoogte te houden.
Disclaimer: Beleggen brengt risico's met zich mee. Onze analisten zijn geen financieel adviseurs. Raadpleeg altijd een adviseur bij het maken van financiële beslissingen. De informatie en tips die op deze website zijn verstrekt is gebaseerd op eigen inzichten en ervaringen van onze analisten. Deze dienen daarom alleen voor educatieve doeleinden.