In de Premium omgeving van Crypto Insiders worden dagelijks actuele technische analyses gedeeld door ervaren analisten. De afgelopen periode kwam Near Protocol (NEAR) hier regelmatig ter sprake. In deze rubriek blikken we terug op deze technische analyse en brengen we de recente ontwikkelingen en verwachtingen voor de komende periode in kaart. Mocht je na het lezen van dit artikel nog vragen hebben kun je deze eenvoudig stellen in onze Discord community, hier staan onze technische analyses doorgaans 48 uur eerder klaar voor onze leden.
Wat is Near Protocol (NEAR)?
NEAR Protocol is een project dat door haar community wordt gestuurd en zich focust op cloud computing. Hiermee willen zij problemen oplossen die concurrerende blockchains hebben, zoals lage transactiesnelheid of slechte doorvoer en interoperabiliteit. Met hun infrastructuur willen ze ook voorliggers zijn in de race naar Web3.0 en willen ze zichzelf onderscheiden van de rest door speciale functionaliteiten voor ontwikkelaars te bieden.
Laatste NEAR crypto nieuws
De koers van NEAR heeft onlangs een flinke sprong gemaakt naar aanleiding van interessant crypto nieuws. Dit was te verklaren door dit bericht van de exchange Coinbase. Hierin liet de exchange weten dat NEAR op 'asset listings' lijst staat. Dit wil zeggen dat de exchange besloten heeft NEAR aan te willen bieden op hun platform in de toekomst. Dit is natuurlijk voor de cryptocurrency een erg goed teken. Wanneer dit gebeurt zullen veel nieuwe investeerders de kans krijgen in de token te investeren, wat weer voor meer volume zal zorgen en mogelijk een hardere stijging.
Wat zijn de verwachtingen voor Near Protocol (NEAR)?
Of bovenstaande ontwikkelingen nog verdere impact gaat hebben op de prijs is afhankelijk van een groot aantal factoren die dagelijks verschillen. De crypto-markt is immers zwaar onderhevig aan economische gebeurtenissen en traditionele aandelenmarkten. Daarom is het soms lastig om het juiste moment te bepalen om in een bepaald project te investeren. Een technische analyse kan bijvoorbeeld helpen bij het bepalen binnen welk tijdspan een cryptovaluta interessant (kan) zijn om te kopen of verkopen. Op basis van bijvoorbeeld de beleggingsgeschiedenis en het identificeren van patronen in prijsbewegingen.
Technische analyse NEAR koers
Op 4 augustus hebben de analisten in de Discord community van Crypto Insiders een analyse gedeeld van NEAR. Hier zagen zij een mooie koopzone ontstaan rond de $4,39. Zij hadden vanaf hier een flinke stijging verwacht. Uiteindelijk kwam deze stijging ook. Zowel de eerste target op $5,44 als de tweede target op $5,88 werden geraakt. Sinds de koopzone is de koers dus met tussen de 24% en 34% gestegen. Op dit moment wordt er voor NEAR een daling verwacht door deze analisten.
Wil jij dit soort analyses eerder lezen? Neem dan ook een kijkje in de Premium omgeving. Hier kan je ook direct in contact komen met verschillende analisten en crypto enthousiastelingen die klaar staan om jou te helpen!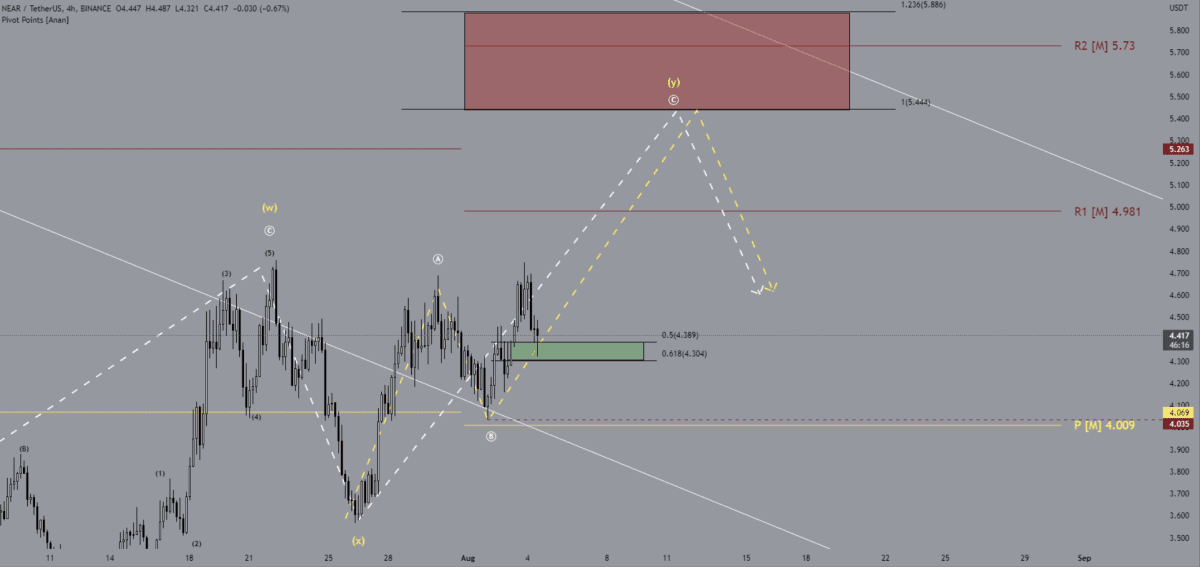 NEAR kopen of verkopen?
Zoek jij hulp met handelen in crypto? Dan verwijzen we je graag door naar onze Discord community voor leden. Hier bediscussiëren ervaren analisten en handelaren dagelijks hun analyses en handelsplannen. Ook delen we hier als eerst onze technische en fundamentele analyses. In onze Discord community kunnen we 24/7 kennis met elkaar delen en proberen we onze premium leden op de hoogte te houden.
Disclaimer: Beleggen brengt risico's met zich mee. Onze analisten zijn geen financieel adviseurs. Raadpleeg altijd een adviseur bij het maken van financiële beslissingen. De informatie en tips die op deze website zijn verstrekt is gebaseerd op eigen inzichten en ervaringen van onze analisten. Deze dienen daarom alleen voor educatieve doeleinden.