In de Premium omgeving van Crypto Insiders worden dagelijks actuele technische analyses gedeeld door ervaren analisten. De afgelopen periode kwam Chainlink (LINK) hier regelmatig ter sprake. In deze rubriek blikken we terug op deze technische analyse en brengen we de recente ontwikkelingen en verwachtingen voor de komende periode in kaart. Mocht je na het lezen van dit artikel nog vragen hebben kun je deze eenvoudig stellen in onze Discord community, hier worden onze technische analyses doorgaans 48 uur eerder gedeeld met onze leden.
Wat is Chainlink (LINK)?
Chainlink (LINK) is een gedecentraliseerd oracle netwerk waarmee smart contracts worden verbonden met externe informatie. Een oracle netwerk zorgt voor de verbinding tussen een gebruiker en de server waarop de gebruiker zit. Door deze verbinding kunnen de smart contracts de externe informatie verkrijgen. Chainlink werkt op de Ethereum (ETH) blockchain. De token van Chainlink is ontworpen om mee te betalen voor de oracle service op het netwerk.
Laatste Chainlink (LINK) nieuws
Chainlink is op het moment druk bezig met het organiseren van het SmartCon 2022 evenement. SmartCon is een tweedaags evenement waarbij er van alles wordt verteld over de ontwikkelingen binnen de Web3 sector. Hierbij zullen er verschillende sprekers zijn waaronder: onderzoekers, ontwikkelaars en oprichters van grote Web3 of blockchain bedrijven. Het team van Chainlink maakt via Twitter steeds nieuwe sprekers bekend. In totaal zullen het er zo'n 100 zijn.
#SmartCon 2022 by #Chainlink this September 28-29 is the conference of the year for #Web3 builders:

• 2 jam-packed days
• 100+ speakers
• Hands-on hacking

And much more.

Early Bird Pricing is now open. Register today for just $777. https://t.co/Qddvof73NO

— Chainlink (@chainlink) July 18, 2022
Technische analyse LINK koers
Vandaag zijn er weer drie nieuwe analyses gedeeld in de Discord omgeving van Crypto Insiders, waaronder bitcoin (BTC), ethereum (ETH) en Chainlink (LINK). Verder zullen er nog vijf andere analyses volgen.
Hier zullen we de nieuwe analyse van LINK bekijken. Het technische plaatje ziet er voor LINK erg goed uit. Voor de korte termijn zal er mogelijk nog een kleine daling komen die ons naar de koopzone brengt. Vanaf hier komt er een Elliott wave C in een wave 4 die ons ver naar boven kan brengen. Hier zou dus mogelijk nog een stijging van ongeveer 150% kunnen volgen. In de Discord community zullen wij het koersverloop strak in de gaten houden.
Wil jij dit soort analyses eerder lezen? Neem dan ook een kijkje in de Premium omgeving. Hier kan je ook direct in contact komen met verschillende analisten en crypto enthousiastelingen die klaar staan om jou te helpen!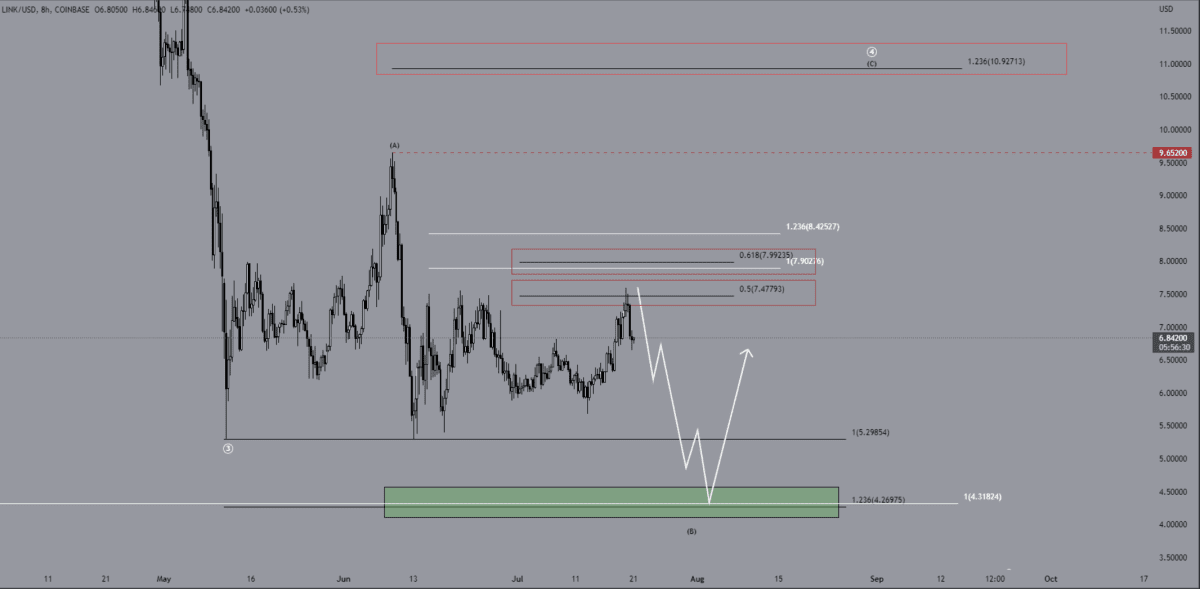 Wat zijn de verwachtingen voor LINK?
Of bovenstaande ontwikkelingen nog verdere impact gaat hebben op de prijs is afhankelijk van een groot aantal factoren die dagelijks verschillen. De crypto-markt is immers zwaar onderhevig aan economische gebeurtenissen en traditionele aandelenmarkten. Dit maakt het soms lastig om het juiste moment te bepalen om in een bepaald project te investeren.
LINK kopen of verkopen?
Zoek jij hulp met handelen in crypto? Dan verwijzen we je graag door naar onze Discord groep voor leden. Hier bediscussiëren ervaren analisten en handelaren dagelijks hun analyses en handelsplannen. Ook delen we hier als eerst onze technische en fundamentele analyses. In onze Discord community kunnen we 24/7 kennis met elkaar delen en proberen we samen met onze premium leden de markt voor te blijven.
Ook hield onze hoofdanalist, bekend als AppY, onlangs een ask me anything (AMA) sessie voor onze premium leden. Deze is nu voor iedereen terug te zien en staat vol met zeer interessante technische analyses!
Disclaimer: Beleggen brengt risico's met zich mee. Onze analisten zijn geen financieel adviseurs. Raadpleeg altijd een adviseur bij het maken van financiële beslissingen. De informatie en tips die op deze website zijn verstrekt is gebaseerd op eigen inzichten en ervaringen van onze analisten en dienen alleen voor educatieve doeleinden.