DESO is vandaag met maar liefst 44% gestegen. In dit artikel kijken we naar mogelijk fundamentele redenen waarom deze cryptovaluta in waarde is gestegen en analyseren we de DESO koers zodat je een weloverwogen beslissing kunt maken om DESO te kopen of verkopen.
Vandaag lijkt het weer een bloedbad te worden op de cryptocurrencymarkt. De meeste coins laten donkerrode cijfers zien. Gelukkig zijn er ook coins die het wel beter doen. Een daarvan is Decentralized Social (DESO). Deze coin steeg namelijk in de afgelopen 24 uur met ongeveer 44%. In de afgelopen zeven dagen zagen we een stijging van ongeveer 16% voorbijkomen. Door de stijging staat DESO nu op de 114e plaats op basis van marktwaarde.
Wat is Decentralized Social
Decentralized Social is opgezet naar aanleiding van discrepantie tussen de belangen van betrokkenen bij social media platformen. Op dit moment zijn er een aantal social media platformen die een monopolie hebben op bepaalde onderdelen van deze sector en hier ook veel geld mee verdiene terwijl degene die de content daadwerkelijk maakt en verschaft krijgt hier amper wat voor terug. Decentralized Social wil hier verandering in brengen. DeSo is een nieuwe blockchain die uiteindelijk Web3 sociale netwerken moet kunnen ondersteunen. Op deze manier wil DeSo verandering brengen aan de problemen die gecentraliseerde sociale media platformen met zich mee brengen.
Waarom stijgt DESO in waarde?
Een van de mogelijke redenen van de stijging zou deze update aan het platform kunnen zijn. Deze update is de 2.0 versie van DeSo. Dit is natuurlijk groot nieuws aangezien een volledig nieuwe versie een grote stap is. In de github code wordt er gesproken over een mogelijkheid om non-fungible tokens (NFT's) te kunnen kopen en verschillende andere kleinere fixen. Zo'n grote update toont aan dat het project erg druk bezig is met verbeteren. Dit is doorgaans een goed teken.
Daarnaast zou dit bericht van vandaag ook impact gehad kunnen hebben. De tweet is van Nader Al-Naji, de oprichter van Decentralized Social. Hierin geeft hij aan dat er morgen een hardfork zal plaatsvinden. Deze hardfork zorgt ervoor dat ontwikkelaars op het platform meer functionaliteiten krijgen. Het kan zijn dat investeerders snel nog deze token hebben gekocht om mee te kunnen profiteren van de snapshot van de hardfork.
Technische analyse
De grafiek van DESO ziet er op het moment niet zo goed uit. De coin is voor het eerst uitgegeven in juli van vorig jaar maar sinds die enkel gedaald, zoals te zien is in onderstaande grafiek. De koers heeft een verleden met harde korte stijgingen, dus de stijging van vandaag past binnen het patroon. Helaas bevinden we ons alsnog in een harde neerwaartse trend. Pas bij het opwaarts doorbreken van deze trend kan er een mooie entry gevonden worden bij DESO.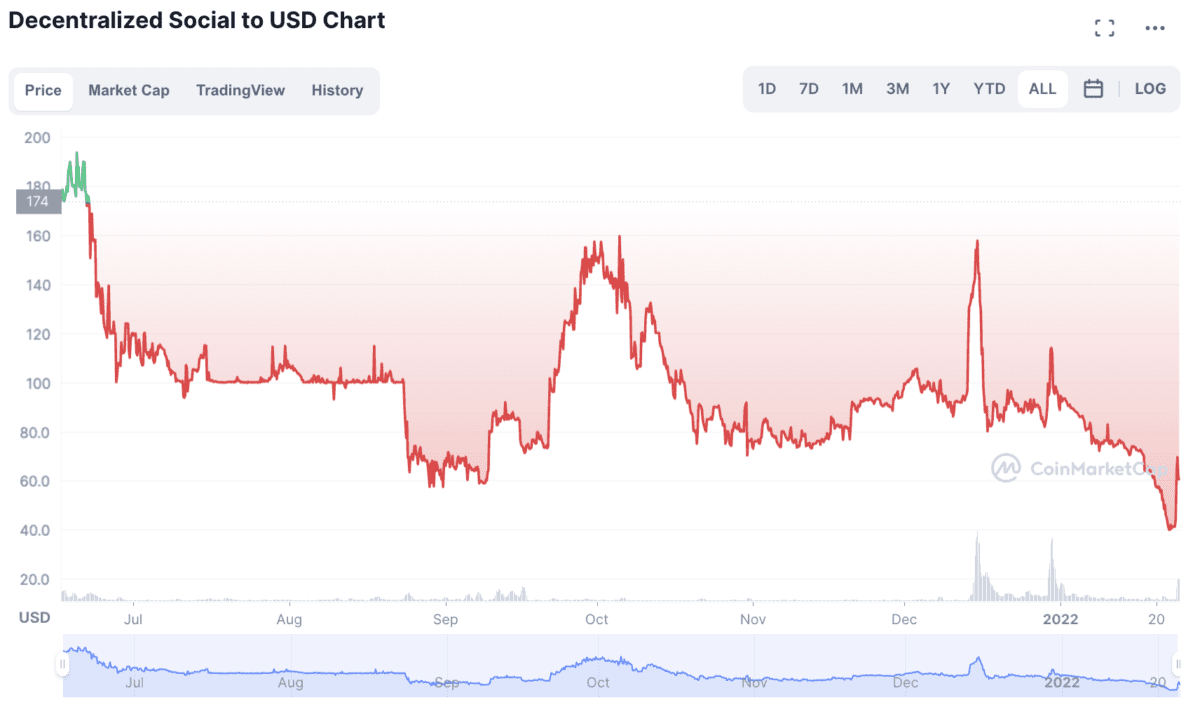 Wat zijn de verwachtingen voor de komende periode?
Of het nieuws nog verdere impact gaat hebben op de prijs is afhankelijk van een groot aantal factoren die dagelijks verschillen. Overweeg jij een positie te nemen in DESO? In ons Discord kanaal voor leden bediscussiëren we het nieuws en zullen we verdere updates met jullie blijven delen. Ook zullen hier additionele technische analyses gedeeld worden door een van onze analisten die dieper op de koers ingaan. Je komt hier eenvoudig in contact met onze analisten en crypto coaches, zij helpen je graag een weloverwogen beslissing te maken.