In de premium omgeving van Crypto Insiders worden dagelijks actuele technische analyses gedeeld door ervaren analisten. De afgelopen periode kwam Polkadot (DOT) hier regelmatig ter sprake. In deze rubriek blikken we terug op deze technische analyse en brengen we de recente ontwikkelingen en verwachtingen voor de komende periode in kaart. Mocht je na het lezen van dit artikel nog vragen hebben kun je deze eenvoudig stellen in onze Discord community, hier worden onze technische analyses doorgaans 48 uur eerder gedeeld met onze leden.
DOT is over de afgelopen 24 uur met ongeveer 5,4% gestegen, het handelsvolume steeg in hetzelfde tijdsbestek met 21%. Over de afgelopen zeven dagen ging het echter niet zo goed. In deze periode daalde de koers met ongeveer 5,4%. DOT staat op het moment van schrijven op de 11e plaats op basis van marktwaarde.
Wat is Polkadot (DOT)?
Polkadot wil de volgende stap zijn in de evolutie van blockchain-technologie. Polkadot is volledig open source en kan verschillende gespecialiseerde chains in eenzelfde netwerk verbinden. Polkadot richt zich ook volledig op het bouwen van een infrastructuur voor Web3. Het werkt daarnaast als platform waar ontwikkelaars hun eigen projecten en cryptocurrencies op kunnen bouwen.
Laatste Polkadot nieuws
Een van de meest recente interessante ontwikkelingen rondom Polkadot is een bericht dat op 4 mei op Crypto Insiders werd gepubliceerd. Hierin konden we lezen dat Polkadot een nieuwe update heeft doorgevoerd waardoor verschillende parachains, een blockchain die die een speciale plek heeft weten te bemachtigen waarmee die via het Polkadot netwerk met andere blockchains verbonden kan worden, nu ook echt met elkaar verbonden kunnen worden.  Deze update heeft de naam Cross-Consensus Messaging (XCM) gekregen.
Dit wil ook zeggen dat de bijbehorende cryptocurrencies via deze connectie naar andere chains verstuurd kunnen worden. Dit is een grote stap in de juiste richting voor Polkadot. Haar doel is namelijk de interoperabiliteit van netwerken te vergroten. Met deze update zullen meerdere blockchains gemakkelijk met elkaar kunnen communiceren.
Technische analyse DOT
DOT ziet er op het moment erg sterk uit en zou uiteindelijk zelfs verder kunnen stijgen richting de $13 (rode zone op de grafiek).
Echter verwachten we dat de koers eerst nog een stukje verder naar beneden gaat. De groene zone op de grafiek zou daarom ook een instapmoment kunnen bieden. Nadat we dat niveau hebben bereikt verwachten we een stijging richting de $13.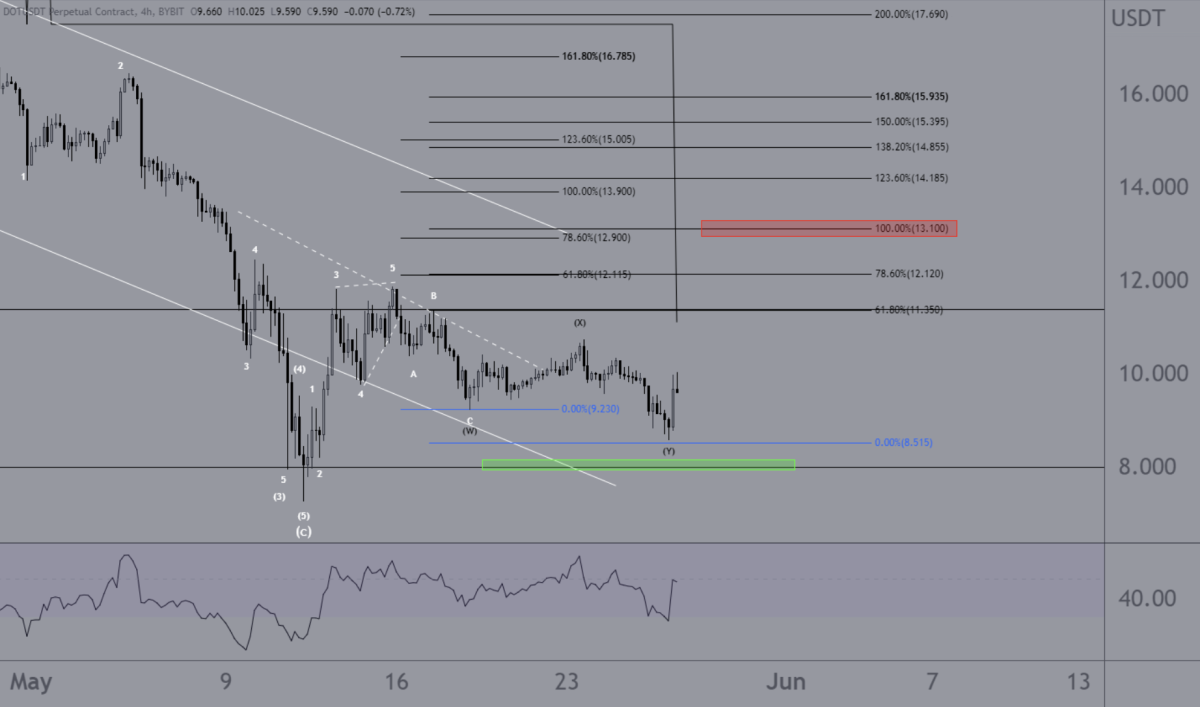 Wat zijn de verwachtingen voor Polkadot?
Via deze pagina kunnen we een kijkje nemen naar de roadmap, ofwel de lijst met doelen, van Polkadot. Hier is ook te zien dat Polkadot op het moment plannen heeft het XCM systeem te verbeteren. Dit kan erg interessant zijn aangezien de update zojuist is uitgerold. Deze updates zouden het gehele systeem toegankelijker kunnen maken.
Of bovenstaande ontwikkelingen nog verdere impact gaat hebben op de prijs is afhankelijk van een groot aantal factoren die dagelijks verschillen. De crypto-markt en zwaar onderhevig aan economische gebeurtenissen en traditionele aandelenmarkten. Dit maakt het soms lastig om het juiste moment te bepalen om in een bepaald project te investeren.
DOT kopen of verkopen?
Wil jij graag dit soort koersanalyses van crypto eerder zien? Dan verwijzen wij je graag door naar onze Premium omgeving voor leden. Hier bediscussiëren ervaren analisten en handelaren dagelijks hun eigen handelsplannen. Ook delen we hier regelmatig aanvullende koersanalyses en updates van projecten die we eerder in deze rubriek hebben behandeld. Via Discord kunnen we 24/7 kennis met elkaar delen en proberen we samen met onze leden de markt voor te blijven.
---
Disclaimer: Beleggen brengt risico's met zich mee. Onze analisten zijn geen financieel adviseurs. Raadpleeg altijd een adviseur bij het maken van financiële beslissingen. De informatie en tips die op deze website worden verstrekt zijn gebaseerd op eigen inzichten en ervaringen van onze analisten en dienen alleen voor educatieve doeleinden.