Vandaag zal Axie Infinity (AXS) worden behandeld in de Insiders-analyse. Deze coin werd aangevraag in de premium omgeving van Crypto-Insiders en zal daarom meegenomen worden in de Insider-analyse van vandaag. Axie Infinity is een play-to-earn blockchain game dat werkt met non-fungible tokens (NFT). Je kan kleine beestjes, genaamd Axies, kopen, verhandelen, broeden en laten paren door middel van Smooth Love Potion (SLP). Met je Axies kan je tegen andere vechten.
Hieronder kijken we eerst naar de recente ontwikkelingen rondom AXS en wat we nog in de toekomst van het project kunnen verwachten. Vervolgens wordt het sentiment op de markt gemeten en analyseren we op basis van technische analyse de grafiek van de cryptocurrency. 
Wil jij ook stemmen op jouw favoriete coin? Neem dan een kijkje in onze premium omgeving voor leden en laat je stem achter. Je kan dit nu de eerste 30 dagen gratis uitproberen!
Recente ontwikkelingen
Bij de start van het 20e seizoen is het spel flink op de schop gegaan. Dit is gedaan omdat de Smooth Love Potion te makkelijk te verkrijgen was. Er worden meer nieuwe SLP gemaakt dan dat er gebruikt worden zoals te zien is op de onderstaande grafiek.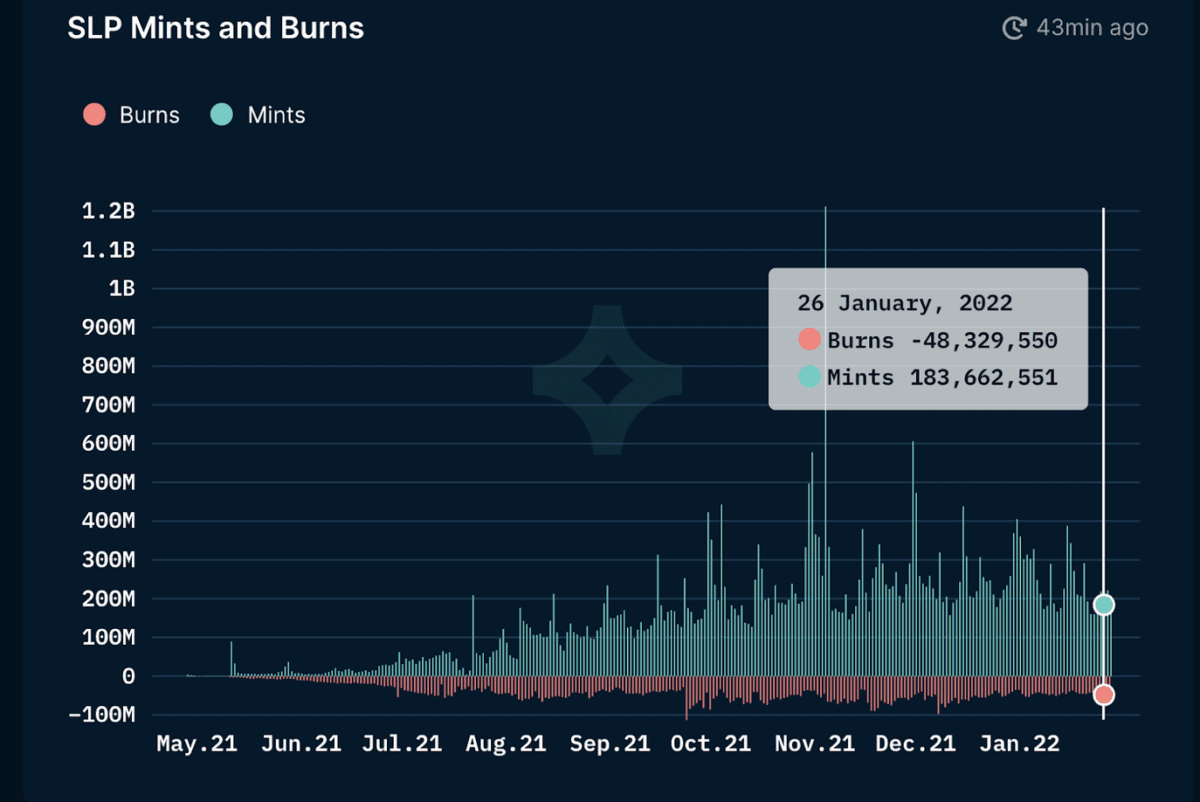 Doordat je deze eerst al kreeg bij het winnen van een gevecht tegen andere spelers en het voltooien van dagelijkse opdrachten kwam er een overvloed aan Smooth Love Potion in het spel. Om dat dagelijkse toestroom van nieuwe SLP te voorkomen heeft het team ervoor gezorgd dat deze niet zo gemakkelijk meer te verkrijgen zijn. Dit hebben ze gedaan door de beloning die je krijgt van de 'adventure mode' en de dagelijkse opdracht te verwijderen. Door dit te doen verminderen ze de toestroom van nieuwe SLP met 175 miljoen tokens per dag. Dit zorgde voor een flinke stijging in de koers van de coin. Dit heeft dus duidelijk geholpen.
Wat kunnen we nog van Axie Infinity verwachten?
Axie is een snel opkomend spel die nog lang niet klaar is met groeien. Zij hebben zelf een aantal aankondigingen gedaan. Voortbordurend op de reductie in SLP die zij al hebben doorgevoerd, willen ze nog verdere updates toevoegen om het burn element te versterken. Zij zullen veel updates doorvoeren om de economie van het spel te verbeteren. Zo willen ze nog mogelijkheden toevoegen om de SLP aan uit te geven zoals nieuwe outfits voor je Axies, nieuwe geüpgrade lichaamsdelen voor je Axies en zelfs nieuwe tournoois waar je SLP voor nodig hebt om je voor in te kunnen schrijven.  
Daarnaast zijn ze druk bezig met Axie Infinity: Origin. Dit zal een nieuwe ervaring worden binnen het Axie ecosysteem en gericht zijn op een mainstream publiek. Er worden nieuwe interfaces aangeboden, speciale game mechanics en storylines. De drempel om te beginnen zal ook lager liggen. In het huidige spel van Axie Infinity moet je eerst drie Axies hebben om te kunnen spelen. Deze moet je kopen van andere spelers in een NFT marktplaats. Dit kan best lastig zijn voor de beginnende crypto-enthousiasteling of gamers die nog niks met crypto doen. Dit is dus een erg goede stap in de juiste richting om het spel bij het mainstream publiek te krijgen. In de Premium omgeving voor leden zullen wij dit project strak in de gaten houden en ontwikkelingen met jullie blijven delen! Je kan dit nu de eerste 30 dagen gratis uitproberen.
Marktsentiment en adoptie
Om te kijken of het spel nog altijd zo populair is als het voorheen was is het belangrijk om te kijken naar de activiteit rondom het spel. Hieronder is te zien dat er in de afgelopen 24 uur ongeveer 23 duizend Axies verkocht zijn die in totaal goed waren voor 438 ETH, ofwel $1,14 miljoen. 

In de afgelopen 30 dagen zijn er zelfs bijna 1 miljoen Axies verkocht voor een totaal van 21.853 ETH. Dit zijn natuurlijk geweldige cijfers. Dit toont aan dat het spel verreweg van dood is en zelfs erg in trek is.

Technische analyse AXS
AXS is in de afgelopen 24 uur met 0,04% gedaald. Over de afgelopen zeven dagen zagen we ook een daling. In deze periode daalde de koers met 1%. AXS staat op het moment van schrijven op de 43e plaats op basis van marktwaarde. 
Ondanks al het goede nieuws en prachtige ontwikkelingen zagen we de koers over de afgelopen maanden alleen maar dalen. Er werd een duidelijke neerwaartse trend gevormd die uiteindelijk nu toch een bodem gevonden lijkt te hebben. We stuiteren op de steunlijn is in september van vorig jaar is gemaakt voor we zo hard omhoog gingen. Dit zou mogelijk een moment zijn waar we een uitbraak uit het trendkanaal kunnen zien. Mochten we toch weer onder deze steunlijn zakken dan kunnen we nog hard vallen. De volgende steunlijn ligt namelijk pas $10 lager op $36. Het worden dus nog interessante weken! Het zou kunnen zijn dat de toekomstige updates juist voor een harde prijsstijging zullen zorgen.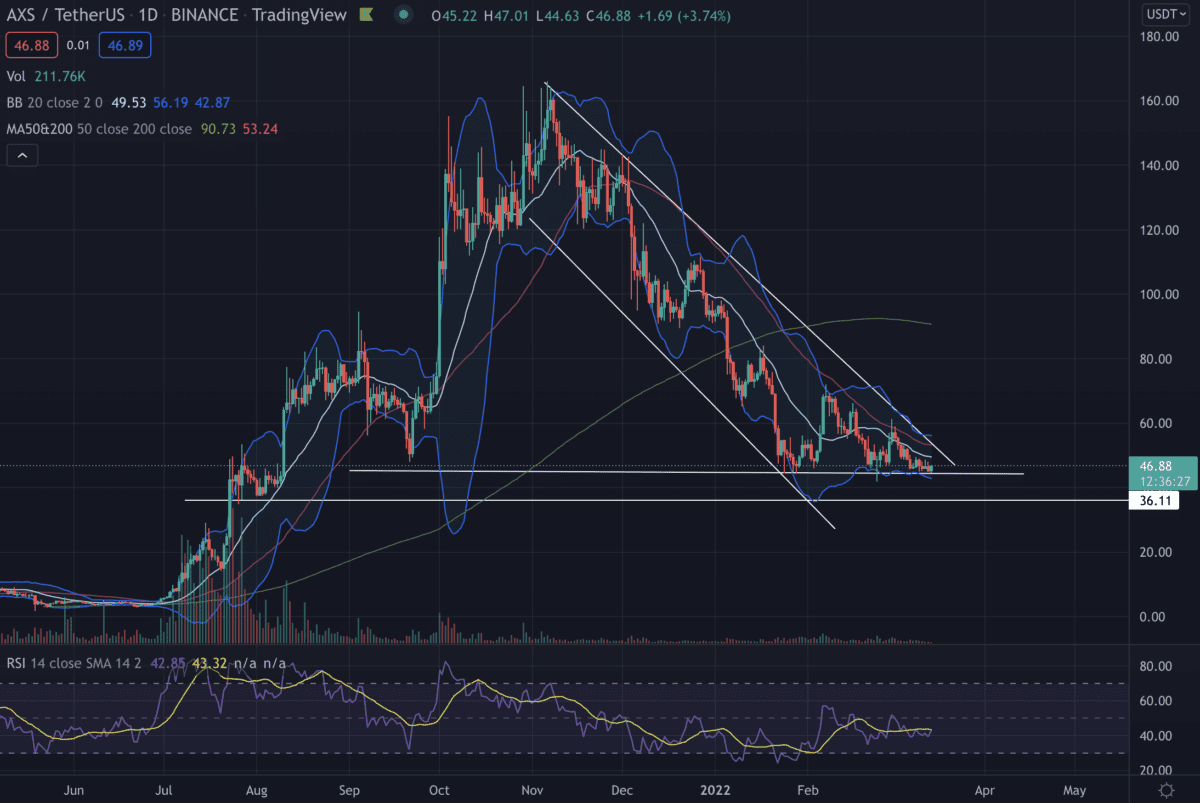 Hoe bepaal ik het juiste moment om te kopen?
Overweeg je een positie te nemen in AXS maar weet je niet zo goed wanneer je het best kunt instappen? Vraag het aan een ervaren analist in onze premium omgeving voor leden! Hier worden dagelijks additionele technische analyses gedeeld door verschillende analisten die dieper op de koers ingaan. Je komt hier vrij eenvoudig in contact met verschillende analisten en ervaren crypto coaches, zij helpen je graag een weloverwogen beslissing te maken. Je kan dit nu de eerste 30 dagen gratis en vrijblijvend uitproberen!