Vandaag nemen we een kijkje naar Uniswap (UNI) in deze Insider-analyse. Deze cryptocurrency werd uitgekozen door leden in de premium omgeving van Crypto Insiders en wordt daarom behandeld in deze editie. Uniswap is een set applicaties die op de Ethereum (ETH) blockchain draaien en gedecentraliseerde token-swaps mogelijk maken. Uniswap is met andere woorden dus een decentralized exchange (DEX).
Hieronder kijken we eerst naar de meest recente ontwikkelingen omtrent het project van UNI en wat we in de toekomst kunnen verwachten. Daarna wordt het sentiment op de markt gemeten en analyseren we op basis van een technische analyse de koersgrafiek van de crypto.
Wil jij ook stemmen op jouw favoriete coin? Neem dan een kijkje in onze premium omgeving voor leden en laat je stem achter. Je kan dit de eerste 30 dagen gratis uitproberen!
Recente ontwikkelingen Uniswap
Uniswap heet sinds vorig jaar eigenlijk Uniswap V3, wat betekent dat het huidige platform de derde versie is. De update van V2 naar V3 was een van de grootste gebeurtenissen die we rondom het platform zagen. Deze update nam veel verbeteringen met zich mee. De belangrijkste verbetering was Concentrated liquidity. Hierbij kunnen liquidity providers (LP) zelf kiezen voor welke prijs zij hun coins wegzetten en kunnen hierdoor ook hogere fee's verdienen. Daarnaast worden deze LP's in V3 beter beloond voor eventueel extra risico dat zij nemen. V3 heeft dus getracht het platform een stuk makkelijker en extra belonend te maken voor haar gebruikers. 
Toch ging de lancering van deze update niet geheel vlekkeloos. Veel gebruikers trokken naar Twitter om hun ongeluk te uiten over de update. Zo vonden ze het gek dat je als gebruiker van het platform nog een betere prijs kon krijgen op de oude versie (V2) terwijl V3 dit juist zou moeten bieden. Ook zou het platform een stuk moeilijker te gebruiken zijn. Een Twitteraar zei zelfs dat je een master opleiding gedaan moest hebben om het te snappen. Tot slot gingen ook veel opmerkingen over het feit dat V3 qua gas price veel duurder bleek te zijn dan de vorige versie. Inmiddels zouden deze problemen opgelost moeten zijn.
Wat kunnen we nog van UNI verwachten?
Helaas heeft het Uniswap team geen nieuwe roadmap voor 2022 of een eventuele Uniswap V4 gepubliceerd. We kunnen hierdoor dus nog niet met zekerheid stellen wat ze van plan zijn of waar ze naartoe willen en of er überhaupt wel een vierde versie van Uniswap komt. Wel is het zo dat Uniswap deels wordt gestuurd door de community. Zij kunnen zelf voorstellen doen waar op gestemd kan worden. Zo staat er op het moment een poll klaar waarin gestemd kan worden of Uniswap governance geld moet doneren aan de Nomic Foundation. Vanaf morgen kunnen UNI token houders voor of tegen stemmen. 
Uniswap heeft zelfs een forum opgezet voor gebruikers om hun ideeën uit te kunnen wisselen. Hier kan een gebruiker bijvoorbeeld haar visie en voorstel delen. Door middel van opmerkingen kunnen andere gebruikers vragen stellen of opbouwende kritiek leveren om zo het voorstel nog beter te maken. Mocht je de menigte voor willen blijven wat betreft Uniswap updates, dan is dit zeker een goede plek om in de gaten te houden. Daarnaast proberen we je in de premium Crypto-Insiders omgeving voor leden ook up-to-date te houden over het project. Je kan dit de eerste 30 dagen gratis uitproberen!
Marktsentiment en adoptie
Als we kijken naar de statistieken zien we al snel dat Uniswap veruit de grootste gedecentraliseerde exchange ter wereld is. In de afgelopen zeven dagen zag het platform een handelsvolume van ongeveer $11,6 miljard. Als we naar de nummer 2 kijken, Curve, zien we dat er op dat platform slechts een volume is gedraaid van ongeveer $1 miljard. Een flink verschil dus.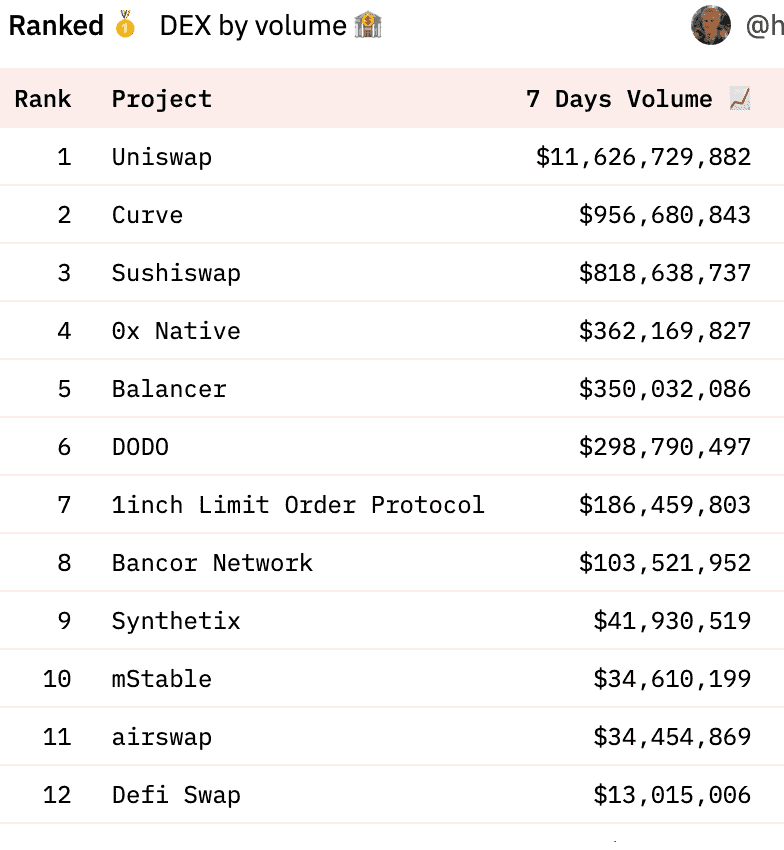 Bij het handelsvolume op Uniswap is een duidelijke groei te zien. Waar we in mei 2020 een heel laag volume zagen, wist Uniswap de duidelijke marktleider te worden aan het eind van 2021. Helaas zien we dat de volumes de laatste maanden aan het afnemen zijn, echter komt dit overeen met het sentiment op de markt.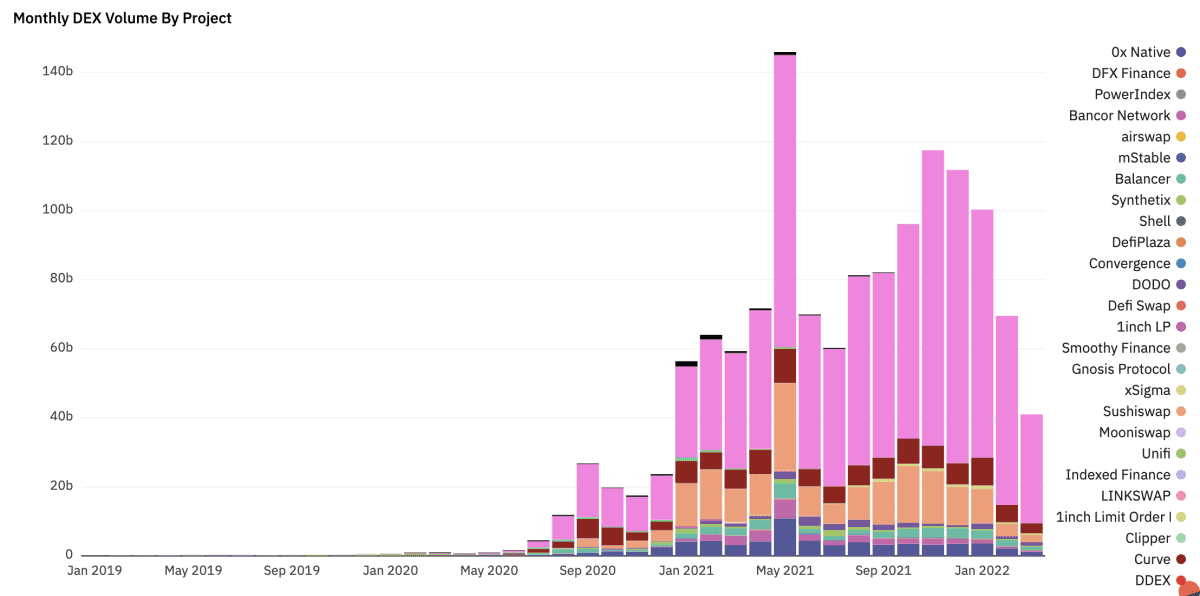 In de onderstaande tabel zien we ook duidelijk dat nieuwe traders sneller naar Uniswap trekken dan naar andere platformen. Uniswap heeft bijna drie keer zoveel nieuwe unieke gebruikers als 1inch. Dit laat goed zien dat Uniswap de eerste DEX is waar handelaren naartoe gaan.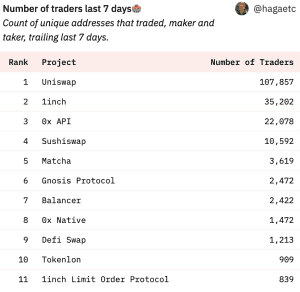 Ook zien we dat de total value locked (TVL) in Uniswap een stijgende lijn toont. Dit wil met andere woorden zeggen dat er steeds meer geld in het platform wordt vastgezet. Dat dit cijfer blijft stijgen is natuurlijk een goed teken, het platform wordt steeds meer gebruikt. Op het moment van schrijven staat er voor $7,2 miljard aan ethereum (ETH) vast, waarmee het grootste gedeelte van de $7,53 miljard TVL uit ethereum bestaat.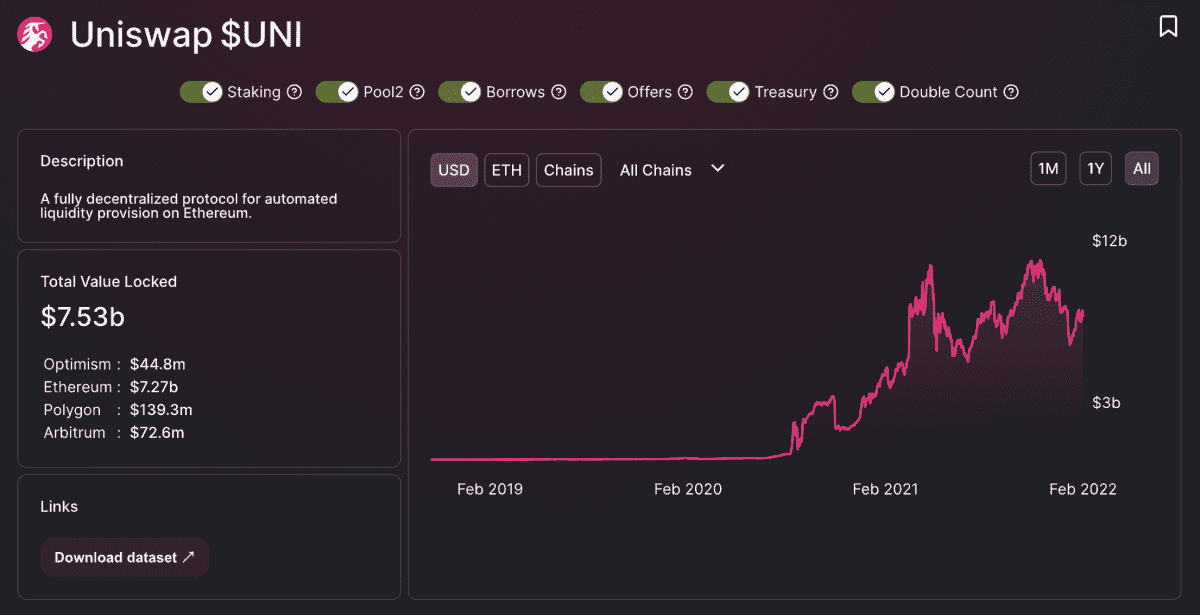 Technische analyse Uniswap
UNI is over de afgelopen 24 uur met ongeveer 2% gedaald maar gelukkig ging het over de afgelopen zeven dagen iets beter. In deze periode steeg de koers met ongeveer 10%. Uniswap staat op het moment van schrijven op de 24e plaats op basis van marktwaarde. Als we naar de grafiek van UNI kijken zien we dat er over de lange termijn toch een neerwaartse trend is gevormd. De pieken worden steeds lager, maar de bodems dalen minder snel. Hierdoor wordt er een falling wedge patroon gevormd. Dit patroon is in de theorie een bullish patroon. Mocht dit patroon zich verder uitspelen dan gaan we een uitbraak aan de bovenkant zien. Bij een harde stijging zouden we hierdoor zelfs nog een golden cross kunnen zien wat de stijging nogmaals kan bevestigen. 

Hoe bepaal ik het juiste moment om te kopen?
Overweeg je een positie te nemen in UNI, maar weet je niet zo goed wanneer je het best kunt instappen? Vraag het aan een ervaren analist in onze premium omgeving voor leden! Hier worden dagelijks additionele technische analyses gedeeld door verschillende analisten die dieper op de koers ingaan. Je komt hier vrij eenvoudig in contact met verschillende analisten en ervaren crypto coaches, zij helpen je graag een weloverwogen beslissing te maken. Je kan dit nu de eerste 30 dagen gratis en vrijblijvend uitproberen!