In onze Discord community voor leden was er veel aandacht omtrent het risico van stablecoins. Recent kwamen er geruchten op over een mogelijk faillissement van Tether, het bedrijf achter Tether USD (USDT). Om beter inzicht te krijgen of deze zorgen terecht zijn nemen we een kijkje naar de fundamentals en on-chain data van de drie grootste stablecoins. In onze Discord community voor leden hebben we deze zaken uitgebreid toegelicht en geanalyseerd. In dit artikel lichten we onze analyses omtrent USDT, USD Coin (USDC) en Binance USD (BUSD) verder toe en vatten we samen wat er in onze community besproken is. Wil je als eerste toegang tot deze informatie, check dan onze community.  
Wat is een Stablecoin?
Een stablecoin is een digitale munt die gekoppeld is aan een ander goed/activa. Fiat stablecoins zijn gekoppeld aan fiat, meestal is dit de dollar. De drie grootste stablecoins zijn dollar gekoppelde coins. Deze coins houden hun waarde stabiel door te garanderen dat de betreffende stablecoin ten alle tijden voor een dollar is in te wisselen op een 1:1 ratio (en vice versa). Dit doen zij door reserves bij te houden die op een 1:1 dollar verhouding staan met het totaal volume aan uitstaande stablecoins. Afhankelijk van de stablecoin en achterliggende organisaties worden de reserves op verschillende manieren bijgehouden en gecontroleerd. Daarnaast is de communicatie en transparantie omtrent de reserves ook verschillend. 
Wil je meer weten over stablecoins en welke stablecoins onze analisten en traders gebruiken? Vraag het in de Discord community aan onze analisten. 
De 3 grootste Stablecoins
In Figuur 1 zijn de drie grootste stablecoins aan de hand van marketcap te zien. Samen hebben ze een waarde van $138,7 miljard, gelijk aan 13,6% van de gehele crypto industrie waarde. Hieruit is duidelijk dat stablecoins een groot volume aan geld aantrekken en dat er veel vraag naar is. 
Opvallend is dat USDT een veel groter handelsvolume heeft met ruim 40% van het totale aanbod dat dagelijks wordt verhandelt. 
| | | | |
| --- | --- | --- | --- |
| | USDT | USDC | BUSD |
| Marketcap | $67,5 miljard | $51,8 miljard | $19,4 miljard |
| Handelsvolume (24h) | $27,1 miljard | $5,5 miljard | $5,3 miljard |
| Handelsvolume t.o.v. marketcap | 40,1% | 10,6% | 27,3% |
Figuur 1: Marketcap en handelsvolume van de drie grootste stablecoins op 05/09/2022 (bron; coinmarketcap) 
Transparantie
Belangrijk met stablecoins is de transparantie die ze bieden en de mate van auditing (waarbij derde partijen verifiëren of de reserves overeenkomen met de beloftes) die ze bieden. In Figuur 2 is een overzicht te zien van de mate van transparantie en derde partij verificatie van de drie stablecoins. Wat direct duidelijk is dat USDT sterk tekort komt, zo zijn er geen derde partijen die audits uitvoeren en moeten we daarom volledig vertrouwen op de integriteit van Tether. Daarnaast is Tether pas transparant informatie gaan delen over de reserves sinds 2021. USDC en BUSD hebben beide 3de partijen die audits uitvoeren en USDC heeft zelfs de reserves in beheer bij grote instanties. 
| | | | |
| --- | --- | --- | --- |
| | USDT | USDC | BUSD |
| Achterliggende partij | Tether | Circle & Coinbase | Binance & Paxos |
| Transparantie | Sinds 2021 pas inzicht in reserves | Inzicht in reserves en gecheckt door 3de partijen | Inzicht in reserves en gecheckt door 3de partijen |
| Auditing | Geen 3de partij die audit uitvoert | Reserves beheert door BlackRock en Bank of New York Mellon | Paxos geeft regelmatig audits uit die vervuld worden door Withum |
Figuur 2: Overzicht van transparantie en auditing
Uit deze analyse wordt duidelijk dat USDT tekort komt wat betreft transparantie en dat het weinig vertrouwen geeft in de reserves. USDC is het meest transparant en laat de reserves beheren bij grote instanties die veel ervaring hebben en voldoen aan overheidsregelingen en elk apart ook weer audits ondervinden. Hierdoor is USDC beter bestendig tegen toekomstige wetgeving wat de stablecoin meer resistent maakt voor de toekomst.
On-chain Analyse
De onzekerheid omtrent de grootste stablecoin USDT brengt mensen in spanning om stablecoins te gebruiken. In onze Discord community deelden onze analisten al on-chain analyses van verschillende stablecoins om inzicht te krijgen of de onzekerheid terecht is. 
In Figuur 3 is het circulerend aanbod van de drie verschillende stablecoins te zien. Het valt op dat sinds mei 2022 USDT sterk in aanbod is afgenomen, dit gebeurt wanneer gebruikers hun stablecoin (in dit geval USDT) inruilen voor de onderliggende activa (de dollar). Dit laat zien dat de vraag en mogelijk vertrouwen in USDT sterk aan het afnemen is (een daling van bijna 19% in 5 maanden). USDC houdt zich een stuk sterker dan USDT maar is wel lichtelijk gezakt met 6.8%. Het valt op dat BUSD, de stablecoin van het Binance ecosysteem, in dezelfde periode juist is toegenomen, mogelijk heeft dit ook te maken met de recente aankondiging dat Binance, een van de grootste crypto handelsplatformen, BUSD gaat verplichten als stablecoin op haar platform.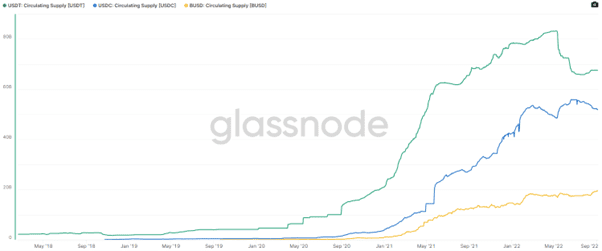 In Figuur 4 is te zien wat het aandeel is van het circulerend aanbod voor elk van de drie stablecoins ten opzichte van het cumulatieve aanbod van de drie stablecoins samen (USDT, USDC en BUSD). Hier zie je duidelijk hoe het aandeel van USDT sterk aan het afnemen is in de afgelopen maanden. Hier zien we dat ondanks de afname van USDC aanbod USDC duidelijk als hardste stijgt en op weg is om USDT over te nemen als grootste stablecoin. Zo had USDC een jaar geleden nog 26% van het circulerend aanbod in handen nu is dat al ruim 37%. BUSD stijgt ook maar een stuk langzamer, van ongeveer 11.5% naar 14%.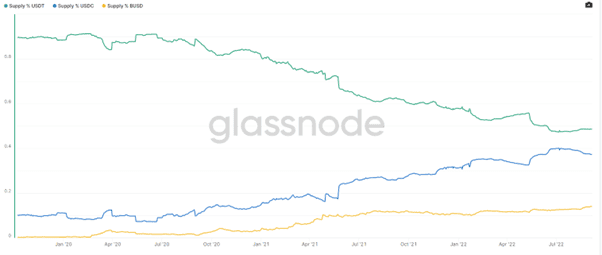 Conclusie
Uit de on-chain analyses valt direct op dat het USDT aanbod sterk afneemt, dit laat zien dat de vraag naar USDT en het gebruik ervan in een negatieve trend zit. USDC is daarentegen opweg om de grootste stablecoin te worden.  BUSD houdt zich verassend sterk en steeg zelfs in circulerend aanbod terwijl de andere stablecoins daalden. Desondanks zien we dat BUSD een stuk minder hard groeit dan USDC. 
Het is niet gek dat USDC op weg is om USDT in te halen, zo zien we in Figuur 2 dat USDC veel transparantie biedt en audits heeft van derde partijen om te verifiëren dat hun reserves voldoende zijn. Daarnaast lijkt USDC het meest toekomstbestendig te zijn doordat ze het best lijken mee te werken met overheidsreguleringen. 
Crypto kopen of verkopen?
Om antwoord te krijgen op de vraag of dit het juiste moment is om te kopen of verkopen verwijzen we je graag door naar onze Discord groep voor leden. Daar bediscussiëren onze analisten en ervaren handelaren dagelijks hun eigen in- of uitstapmomenten. Ook delen we hier regelmatig aanvullende koers analyses en updates van projecten die we eerder in deze rubriek hebben behandeld. Via Discord kunnen we 24/7 kennis met elkaar delen en proberen we samen met onze leden de markt voor te blijven. 
---
Disclaimer: Beleggen brengt risico's met zich mee. Onze analisten zijn geen financieel adviseurs. Raadpleeg altijd een adviseur bij het maken van financiële beslissingen. De informatie en tips die op deze website worden verstrekt zijn gebaseerd op eigen inzichten en ervaringen van onze analisten en dienen alleen voor educatieve doeleinden.