Crypto Insiders leden ontvangen in onze Discord omgeving dagelijks nieuwe technische analyses voor cryptocurrencies. In dit artikel delen we een recente analyse van ethereum classic (ETC) uit onze Premium groep. Ben je nog geen lid of mocht je na het lezen van dit artikel nog vragen hebben, probeer dan een Premium-lidmaatschap 30 dagen volledig gratis.
Wat is Ethereum Classic?
Ethereum Classic is een hard fork die is afgeleid van Ethereum (ETH). Ethereum Classic is een smart contract platform waardoor gebruikers verschillende decentralized applications (dApps) op het netwerk kunnen bouwen. Ethereum Classic ontstond in 2016 na een grote diefstal en bevat de oorspronkelijke Ethereum blockchain.
Technische analyse ETC koers
De grafiek van ethereum classic ziet er interessant uit, maar de analisten zijn er inmiddels minder bullish over dan zij in een oudere ETC analyse waren. Uiteindelijk bleek de donkerrode dynamische trendlijn die de analisten getekend hadden, een erg belangrijk weerstandsniveau te zijn en remde een potentiële stijging.
Toch is de analyse bullish als deze dynamische trendlijn alsnog doorbroken kan worden. ETC kon vandaag stijgen en test momenteel deze weerstand. Mocht deze uitbraak plaatsvinden, dan zullen de analisten onmiddelijk een nieuwe analyse van de ETC koers delen in de Premium omgeving van Crypto Insiders.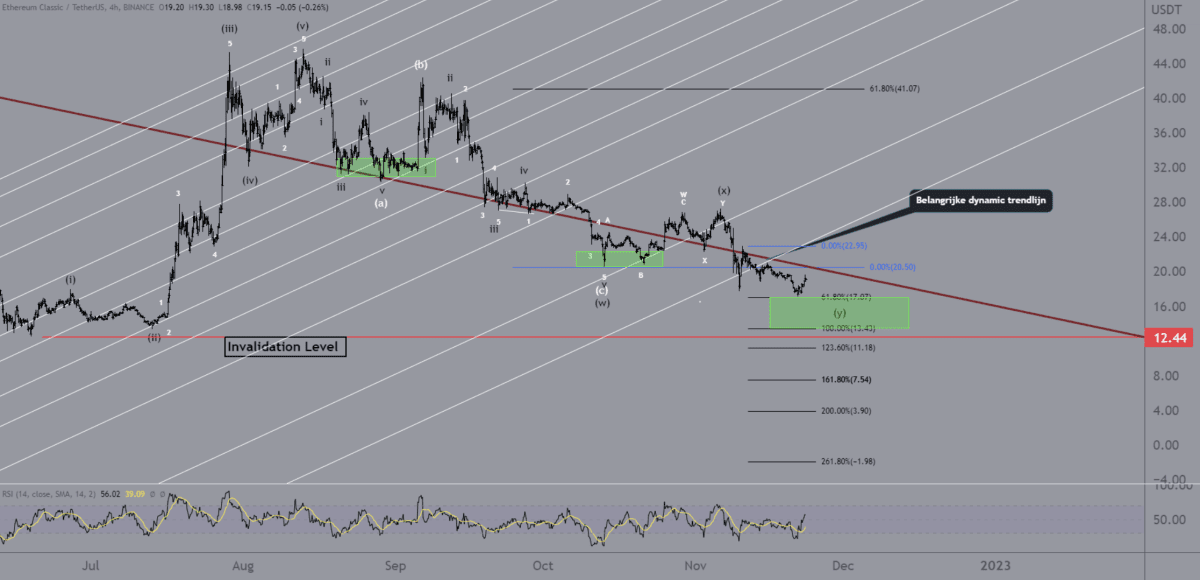 Mogelijk ook een interessante analyse
Een andere coin die vandaag hard steeg, en dat mogelijk nog op de korte termijn doorzet, is solana (SOL). Op Crypto Insiders was eerder vandaag een SOL analyse te vinden waarin staat dat de SOL koers nu met een correctieve opwaartse beweging bezig is. Echter waarschuwen de analisten dat de koers daarna weer een omkeer kan maken.
Ethereum classic kopen of verkopen?
Overweeg jij ETC te kopen of verkopen? Zoek jij hulp met handelen in crypto? Dan verwijzen we je graag door naar onze Premium membersgroep. Hier ontvangen leden als eerst de nieuwste technische analyses van een groot aanbod aan crypto.
Ook krijg je toegang tot exclusieve crypto-projecten, koersvideo's, handelsplannen en ask me anything (AMA) sessies met onze analisten. In onze Discord kunnen we 24/7 kennis met elkaar delen en proberen we samen met onze leden de markt voor te blijven. Voor meer informatie, neem een kijkje op onze Premium informatiepagina en probeer de eerste 30 dagen gratis.
Disclaimer: Beleggen brengt risico's met zich mee. Onze analisten zijn geen financieel adviseurs. Raadpleeg altijd een adviseur bij het maken van financiële beslissingen. De informatie en tips die op deze website zijn verstrekt is gebaseerd op eigen inzichten en ervaringen van onze analisten. Deze dienen daarom alleen voor educatieve doeleinden.