Premium leden van Crypto Insiders ontvangen dagelijks actuele technische analyses voor cryptocurrencies. In dit artikel delen we recente analyses van LUNA classic (LUNC) en Binance coin (BNB). Ben je nog geen lid of mocht je na het lezen van dit artikel nog vragen hebben, neem dan eens een kijkje op onze Premium informatie pagina.
De bizarre stijging van LUNA classic
LUNC kwam de afgelopen tijd uitgebreid voorbij in het laatste crypto nieuws. En dat is geen al te grote verrassing als we kijken naar de recente prijsstijgingen. De altcoin steeg van midden augustus tot begin september met ruim 580% in waarde!
Deze stijging leek het gevolg te zijn van een mengelmoes van updates en hype. De voorraad van LUNC wordt als het goed is steeds kleiner door het nieuwe burn mechanisme, en dit veroorzaakte een enorme hype. Maar die hype lijkt nu ten einde te zijn gekomen zoals we in de volgende analyse zullen zien. Toch is er nog hoop.
Wanneer breekt LUNC uit zijn neerwaartse trend?
LUNC bereikte op 8 september een piek en zit sindsdien in een neerwaartse trend. De analisten binnen de Crypto Insiders Premium omgeving zien echter licht aan het einde van de tunnel:
"We zien aan de hand van de Elliott Wave Theorie dat LUNC mogelijk een 'corrective WXY wave' heeft afgerond. We verwachten daarom een stijging tussen het 100 en 1.236 Fibonacci level. Deze zone is op de [onderstaande] grafiek kenbaar gemaakt aan de hand van de groene zone."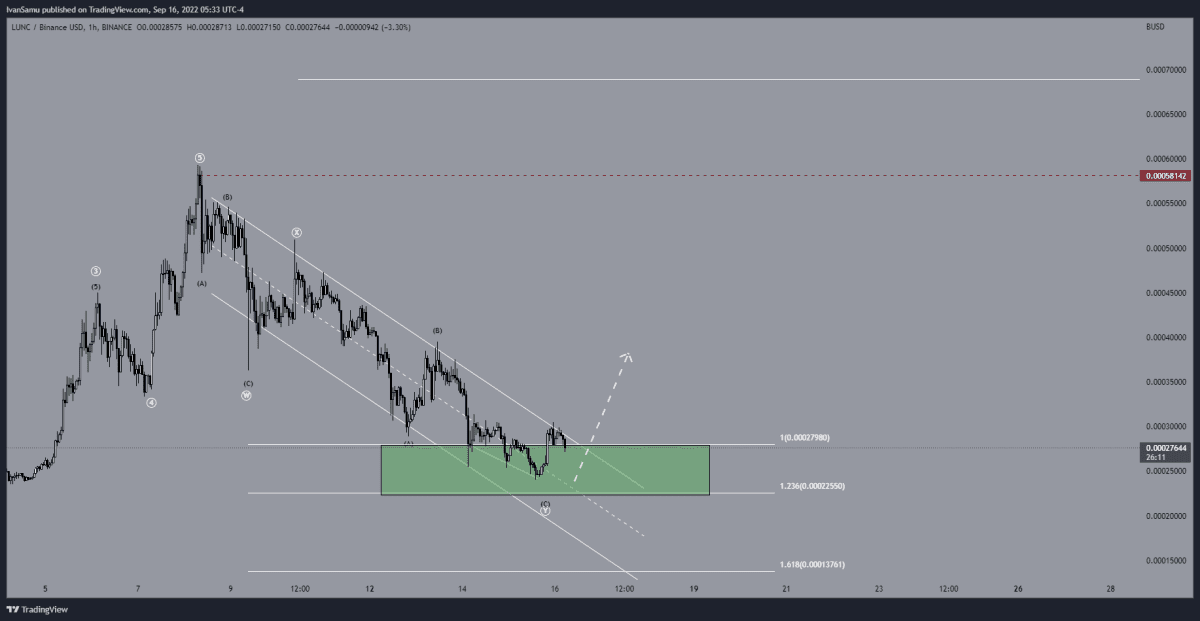 Volgens de Elliot Wave Theorie is dit de zone waarin zo'n corrective wave afrondt en dus een trendverandering kan plaatsvinden. De analisten in CI Premium hebben de verwachting dat van hieruit een stijging kan plaatsvinden richting de vorige top op $0,0005814.
Premium sneak peek: BNB ketst zoals verwacht af
De analisten houden een enorm scala aan cryptocurrencies in de gaten en delen hun analyses binnen de Discord-omgeving. Onze leden zijn daarom goed voorbereid om hun eigen plan te maken. Een voorbeeld van dit soort interessante analyses is de recente BNB analyse.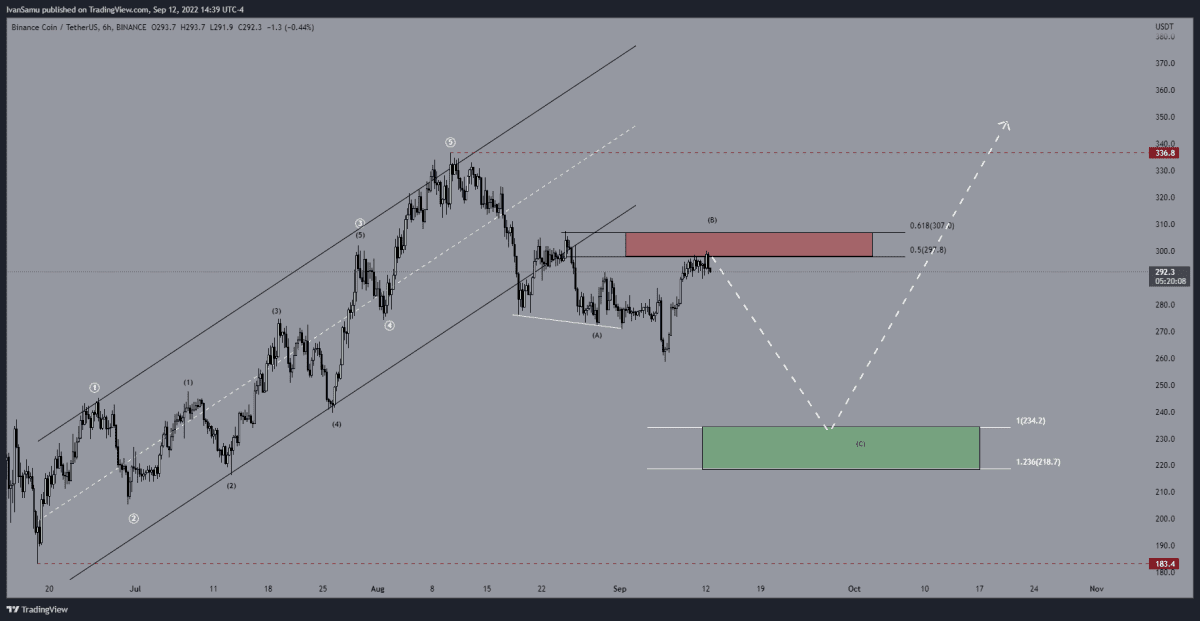 In de op 12 september gedeelde analyse vertelden de analisten de Premium leden dat er rond het $300 level een sterke weerstand kon ontstaan voor de BNB koers. Op dit level lag namelijk de 0.5 Fibonacci van de voorgaande wave. Vanaf dit punt zien we vaak een sterke afwijzing van de koers met dus een daling tot gevolg. Voor BNB zou dit de start van zijn (C) wave omlaag betekenen. We zien momenteel dat BNB ongeveer 8% gezakt is sinds onze verkoopzone.
De analisten stellen verder dat zij een target voor de BNB koers hebben liggen op $234 en er dus nog meer dalingen in het verschiet kunnen liggen. Maar zodra deze prijszone bereikt is dan kunnen de bulls mogelijk het stokje weer overnemen:
"We verwachten dat wanneer BNB zijn koopzone op $234 heeft geraakt, de trend kan omslaan van bearish naar bullish. Dit zou betekenen dat we voor BNB nieuwe highs kunnen verwachten boven het $336 level."
LUNC of BNB kopen of verkopen?
Overweeg jij LUNC of BNB te kopen of verkopen? Volg de in- en verkoop momenten van andere ervaren handelaren en analisten. Word lid en probeer een Premium-lidmaatschap 30 dagen gratis uit. Naast analyses krijg je als lid ook de mogelijkheid vragen te stellen aan onze analisten en coaches. Ook vind je een breed scala aan interessante discussiekanalen over allerlei aan crypto-gerelateerde onderwerpen!
---
Disclaimer: Beleggen brengt risico's met zich mee. Onze analisten zijn geen financieel adviseurs. Raadpleeg altijd een adviseur bij het maken van financiële beslissingen. De informatie en tips die op deze website zijn verstrekt is gebaseerd op eigen inzichten en ervaringen van onze analisten en dienen alleen voor educatieve doeleinden.