In dit artikel delen we analyses uit de premium omgeving van twee cryptocurrencies die vandaag hard gedaald zijn. Komt dit beeld overeen met de visie die de analisten uit de Premium omgeving van Crypto Insiders hebben? Het gaat dan om polygon (MATIC) en solana (SOL). Ben je nog geen lid of mocht je na het lezen van dit artikel nog vragen hebben, neem dan eens een kijkje op onze Premium informatiepagina.
Polygon voorlopig nog bearish
De MATIC koers toont de laatste tijd interessante prijsactie. Alhoewel de analisten op dit moment nog eerst een kleine daling verwachten, zien zij over het grote plaatje dat de koers bullish is. De analisten van Crypto Insiders hadden de rode verkoopzone op de juist plek aangegeven en verwachten dat de huidige daling eerst nog doorzet. Daarna biedt MATIC mogelijk nieuwe kansen. De analisten deelden onlangs het volgende over de polygon koers:
"MATIC heeft perfect onze verkoopzone geraakt. Vanuit hier verwachten we een korte correctie richting de koopzone. Deze correctie zal in drie waves, ofwel een ABC Elliott Wave patroon verlopen om een groter WXY EW patroon af te ronden. Het feit dat de verschillende wavecounts hier samenkomen, kan betekenen dat de koers hier een omkeer maakt naar boven toe."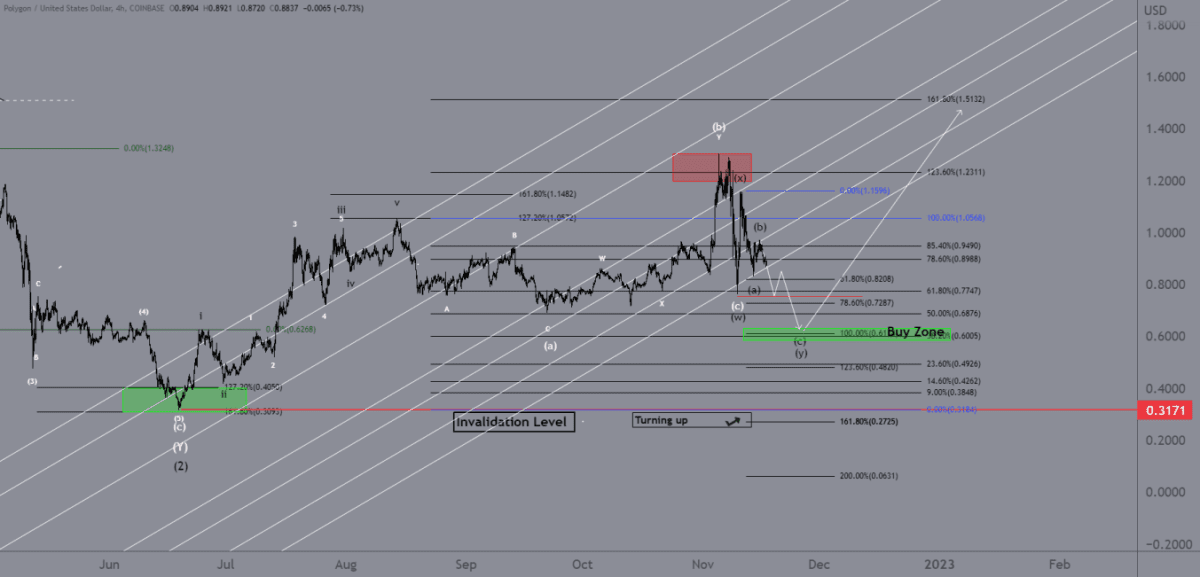 Solana daling was ruim van te voren te zien
Terwijl MATIC vandaag bijna 4% in de min staat, is dat voor SOL zelfs 6%. Alhoewel de Crypto Insiders analisten al een daling hadden voorspeld, verliep dit een stuk sneller door de recente FTX crash. De analisten vrezen echter dat SOL nog dieper kan zakken:
"SOL staat al langere tijd op onze radar. Wij zagen sinds begin oktober al aan verschillende indicatoren dat de koers van de cryptocurrency onder druk stond. Dat de daling zo snel zou gaan hadden we echter niet verwacht.

Op dit moment is de koers nog bezig met een diagonal 12345 EW patroon die SOL nog een stuk verder naar beneden kan duwen. Wij plaatsen onze koopzone daarom rond de $10,2. Mocht de koers nog verder doorzakken, is de zone rond de $3 naar onze mening de uiterste bodem.

Voor nu zullen we goed op de koersontwikkeling letten om te kijken hoe de koers reageert op belangrijke punten. Mocht hier iets veranderen, dan laten we het direct weten aan alle leden in de Premium omgeving."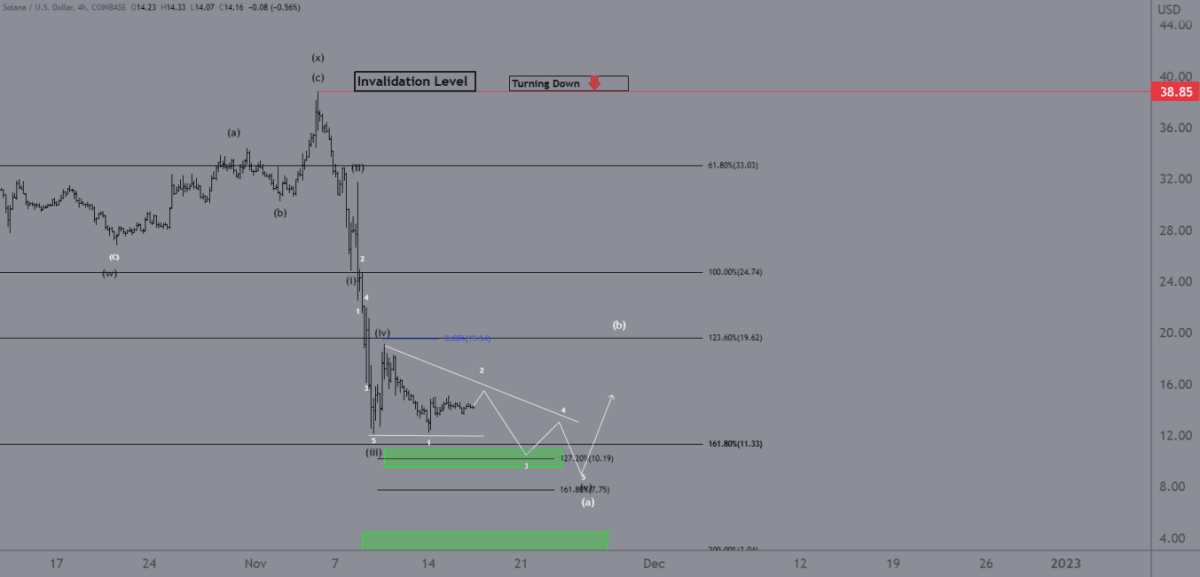 Polygon of Solana kopen of verkopen?
Overweeg jij MATIC of SOL te kopen of verkopen? Zoek jij hulp met handelen in crypto? Dan verwijzen we je graag door naar onze Premium membersgroep. Hier ontvangen leden als eerst de nieuwste technische analyses van een groot aanbod aan crypto.
Ook krijg je toegang tot exclusieve crypto-projecten, koersvideo's, handelsplannen en ask me anything (AMA) sessies met onze analisten. In onze Discord kunnen we 24/7 kennis met elkaar delen en proberen we samen met onze leden de markt voor te blijven. Word lid en probeer een Premium-lidmaatschap 30 dagen gratis.
Disclaimer: Beleggen brengt risico's met zich mee. Onze analisten zijn geen financieel adviseurs. Raadpleeg altijd een adviseur bij het maken van financiële beslissingen. De informatie en tips die op deze website zijn verstrekt is gebaseerd op eigen inzichten en ervaringen van onze analisten en dienen alleen voor educatieve doeleinden.