MANA heeft vandaag een prachtige stijging achter de rug van maar liefst 20% in een paar uur. In deze rubriek kijken we naar fundamentele redenen die de stijging kunnen verklaren. Daarnaast analyseren we de koers op basis van technische analyse zodat je een doordachte beslissing kunt maken om MANA te kopen of juist te verkopen.
Het is drama op de markt. de grootste spelers hebben zware klappen te verduren gehad. Daarom is het lekker dat er toch een lichtpuntje is in de zee van rode cijfers. Deze coin is Decentraland (MANA). De cryptocurrency steeg in de afgelopen paar uur met ongeveer 20%. Dit maakt het verlies van de crash weer helemaal goed. Door de stijging staat de coin op de 30e plaats op basis van marktwaarde.
Wat is Decentraland?
Decentraland is een op Ethereum (ETH) gebaseerd virtual reality platform dat het mogelijk maakt voor haar spelers om eigen content te maken, beleven en er geld mee te verdienen. In deze virtuele wereld kunnen spelers stukken land kopen en daar mee doen wat ze willen. Decentraland valt hierdoor dus onder de sector metaverse en is vergelijkbaar met projecten zoals The Sandbox (SAND).
Waarom stijgt MANA in waarde?
Er zijn twee verschillende mogelijke redenen die er samen voor gezorgd hebben dat de coin ondanks de crash toch een stijging heeft weten te maken. De eerste reden is deze aankondiging van het bedrijf Samsung. In deze aankondiging wordt aangegeven dat Samsung ook de metaverse wilt betreden. Dit gaan zij dus doen door een samenwerking met Decentraland. Samsung zal ervoor zorgen dat ze een online winkel in de metaverse zullen bouwen die gebaseerd is op hun Samsung 837 winkel in New York. 
Samsung gaat hiermee voor een complete experience zorgen. Spelers kunnen door de Connectivity Theater en Sustainability Forest verschillende opdrachten uitvoeren om zo uiteindelijk een 837X Non-Fungible Token (NFT) te verdienen. 
Deze aankondiging kwam net op een mooi moment aangezien de gehele markt aan het instorten was. Doordat er goed nieuws kwam in een periode waarin alles daalt, zorgt dit voor een extra boost in de prijs. Investeerders springen direct op de kans aangezien er nergens anders op de markt kansen liggen. Dus door deze twee redenen wist MANA een mooie sprong te maken. 
Technische analyse
De koers lijkt vooralsnog een korte neerwaartse trend te vertonen. Dit patroon zou echter ook nog een bull flag patroon kunnen zijn, waar we na de uitbraak uit het neerwaartse kanaal verder de weg omhoog vervolgen. Hierbij zou de breakout over de bovenste lijn van het kanaal een potentiële entry kunnen zijn. En waar de pieken van binnen het kanaal als targets kunnen fungeren.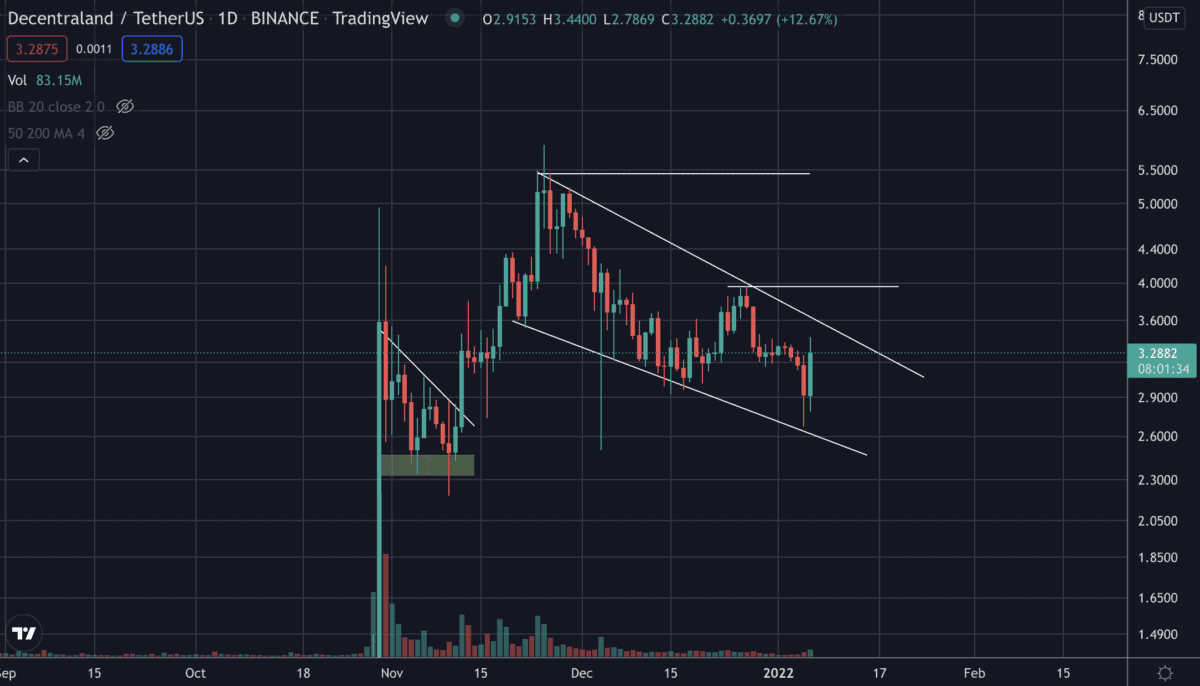 Wat zijn de verwachtingen voor de komende periode?
Of het nieuws nog verdere impact gaat hebben op de prijs is afhankelijk van een groot aantal factoren die dagelijks verschillen. Overweeg jij een positie te nemen in MANA? In ons Discord kanaal voor leden bediscussiëren we het nieuws en zullen we verdere updates met jullie blijven delen. Ook zullen hier additionele technische analyses gedeeld worden door een van onze analisten die dieper op de koers ingaan. Je komt hier eenvoudig in contact met onze analisten en crypto coaches, zij helpen je graag een weloverwogen beslissing te maken.