In de premium omgeving van Crypto Insiders worden dagelijks actuele technische analyses gedeeld door ervaren analisten. De afgelopen periode kwam Polygon (MATIC) hier regelmatig ter sprake. In deze rubriek blikken we terug op deze technische analyse en brengen we de recente ontwikkelingen en verwachtingen voor de komende periode in kaart. Mocht je na het lezen van dit artikel nog vragen hebben kun je deze eenvoudig stellen in onze Discord community, hier worden onze technische analyses doorgaans 48 uur eerder gedeeld met onze leden.
MATIC is over de afgelopen 24 uur met ongeveer 4% gedaald. Over de afgelopen zeven dagen ging het echter iets beter. In deze periode steeg de koers met ongeveer 2%. Het volume over de afgelopen 24 uur is met 11% gedaald. MATIC staat op het moment van schrijven op de 17e plaats op basis van marktwaarde. 
Wat is Polygon (MATIC)?
Polygon wil naar eigen zeggen de oplossing zijn voor de vele problemen die Ethereum (ETH) gebruikers ervaren. Dit zijn bijvoorbeeld de problemen die iedereen wel kent, waaronder de hoge transactiekosten en lage transactiedoorvoer. Wat Polygon probeert te bereiken is een gebruiksvriendelijk platform te bieden voor Ethereum-schaling en infrastructuurontwikkeling. Het doel van MATIC is dus met andere woorden dat Ethereum in een multi-chain-systeem verandert, ookwel het Internet of Blockchains genoemd.
Laatste nieuws Polygon (MATIC)
Een interessante gebeurtenis rondom Polygon is dit bericht dat het team op Twitter heeft gedeeld. Hierin staat dat Polygon 'soon' met een nieuw product zal komen. Later voegde het team hier aan toe dat het 'huge' zal worden. Wat het nieuwe product precies is is nog onduidelijk. In de reacties op Twitter wordt er gespeculeerd over verschillende mogelijkheden. De een zegt dat het mogelijk een non-fungible token (NFT) sportplatform wordt en de ander geeft aan te denken dat de lancering te maken zal hebben met de Web3 sector. Mocht je live bij de onthulling willen zijn kan je je via deze pagina inschrijven. 
Helaas heeft deze aankondiging van een aankondiging weinig tot niks met de koers gedaan. Ondanks dat het nieuws naar eigen zeggen 'Huge' zal worden is de koers enkel nog maar gedaald. Hier zou natuurlijk verandering in kunnen komen zodra er meer bekend is over het nieuwe product. Wij zullen de ontwikkelingen in ieder geval in de gaten blijven houden! 
Technische analyse MATIC
Voor MATIC is het helaas nog onzeker welke kant we opgaan. Hier lijkt het erop dat we eerst een korte beweging naar boven zullen zien. Dit komt overeen met het iets positievere sentiment dat we op het moment in de markt zien. 
Toch zal dit niet voor lange duur zijn. Mocht de korte stijging niet te ver omhoog gaan, verwachten we een scherpe daling. Het is vooralsnog te vroeg om te zeggen, echter zou er mogelijk een verdere dip aan kunnen komen. We zullen je binnen de Discord omgeving natuurlijk op de hoogte houden van verdere ontwikkelingen. Hier zijn ook alle bijbehorende prijsniveau's en de volledige analyse gedeeld.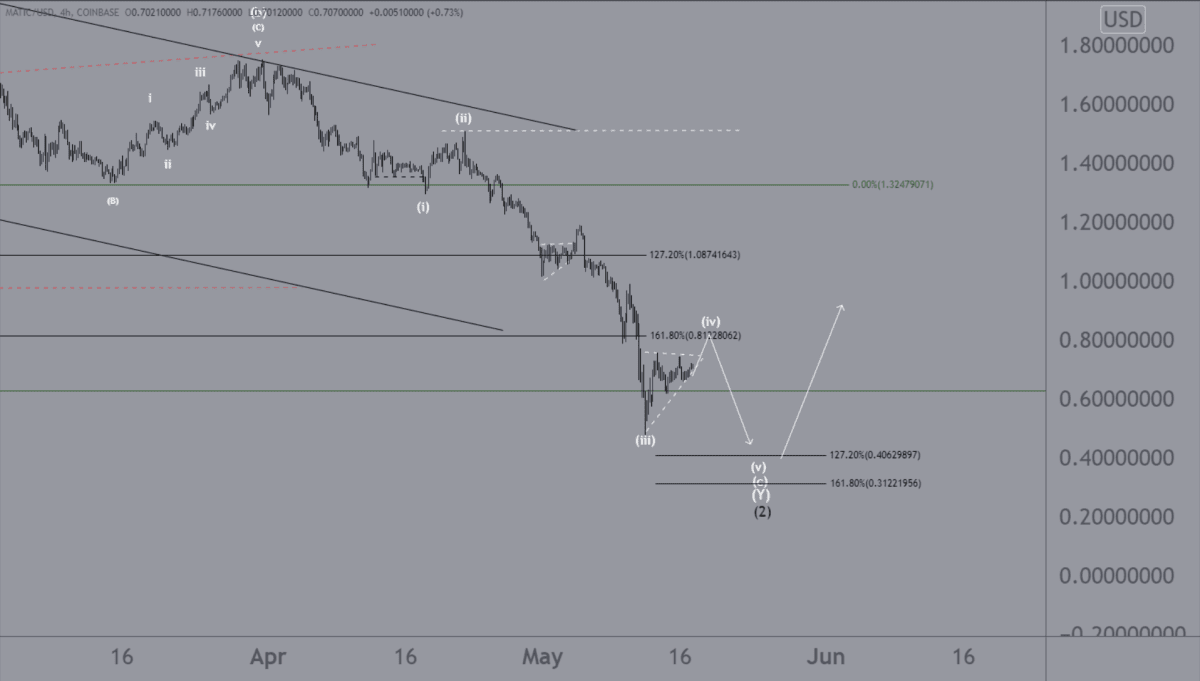 Wat zijn de verwachtingen voor MATIC?
Voor MATIC zitten er nog een aantal interessante dingen aan te komen. Zo zijn ze druk bezig met het ontwikkelen van Polygon Miden en Polygon Hermez. Hier wordt het testnet in het tweede of derde kwartaal verwacht. Er zit dus nog genoeg aan te komen voor Polygon!
Of bovenstaande ontwikkelingen nog verdere impact gaat hebben op de prijs is afhankelijk van een groot aantal factoren die dagelijks verschillen. De crypto-markt en zwaar onderhevig aan economische gebeurtenissen en traditionele aandelenmarkten. Dit maakt het soms lastig om het juiste moment te bepalen om in een bepaald project te investeren.
MATIC kopen of verkopen?
Wil jij graag dit soort koersanalyses van crypto eerder zien? Dan verwijzen wij je graag door naar onze Premium community voor leden. Hier bediscussiëren ervaren analisten en handelaren dagelijks hun eigen handelsplannen. Ook delen we hier regelmatig aanvullende koersanalyses en updates van projecten die we eerder in deze rubriek hebben behandeld. Via Discord kunnen we 24/7 kennis met elkaar delen en proberen we samen met onze leden de markt voor te blijven. 
Disclaimer: Beleggen brengt risico's met zich mee. Onze analisten zijn geen financieel adviseurs. Raadpleeg altijd een adviseur bij het maken van financiële beslissingen. De informatie en tips die op deze website worden verstrekt zijn gebaseerd op eigen inzichten en ervaringen van onze analisten en dienen alleen voor educatieve doeleinden.