ONE heeft vandaag een prachtige stijging achter de rug van maar liefst 15%. In deze rubriek kijken we naar fundamentele redenen die de stijging kunnen verklaren. Daarnaast analyseren we de koers op basis van technische analyse zodat je een doordachte beslissing kunt maken om ONE te kopen of juist te verkopen.
Een van de top stijgers van de dag vandaag is Harmony (ONE). De coin steeg in de afgelopen 24 uur met ongeveer 15%. Over de afgelopen zeven dagen ging het zelfs nog beter. In deze periode steeg ONE met ongeveer 33%. Door de stijging staat Harmony op de 46e plaats op basis van marktwaarde. 
Wat is Harmony?
Harmony is een op blockchain gebaseerd platform dat is ontworpen om het ontwerpen en maken van decentralized applications (DApps) mogelijk te maken. Harmony wil de manier waarop DApps werken compleet vernieuwen. Dit willen zij doen door ervoor te zorgen dat blocks in slechts seconden gemaakt kunnen worden. Daarnaast houden ze zich ook bezig met collectibles en governance.
Waarom stijgt ONE in waarde?
Een mogelijke reden van de stijging zou deze aankondiging kunnen zijn van de exchange OKEx. Hierin wordt aangegeven dat ONE vanaf gister ook gelist is op de exchange OKEx. OKEx is een van de grootste exchanges die er is. Vandaag heeft de exchange bijvoorbeeld al $8 miljard gedraaid aan volume en het platform heeft daarnaast ook nog 20 miljoen actieve gebruikers. Dat ONE nu op deze exchange te verhandelen is is een goed teken voor het volume van de coin. 
Daarnaast heeft ONE in samenwerking met AAG ventures en Vinfast een non-fungible token (NFT) lijn uitgebracht. Deze samenwerking is mooi voor Harmony aangezien zij hierdoor weer kunnen doen waar zij het beste in zijn en waar zij Harmony voor begonnen zijn. Goed om te zien dat ze zich houden bij het project.
Technische analyse
Wat opvalt bij de grafiek van ONE is dat de koers zich elke keer in duidelijk trendkanalen bevindt. Zo hebben we sinds maart een neerwaarts kanaal en nu twee opwaartse kanalen gezien. Het tweede kanaal wordt op het moment gevormd. Dit zou eventueel een entry kunnen zijn, waar een strakke stoploss ligt bij het uitbreken aan de onderkant van het kanaal. Een eerste target zou de all-time high (ATH) kunnen zijn.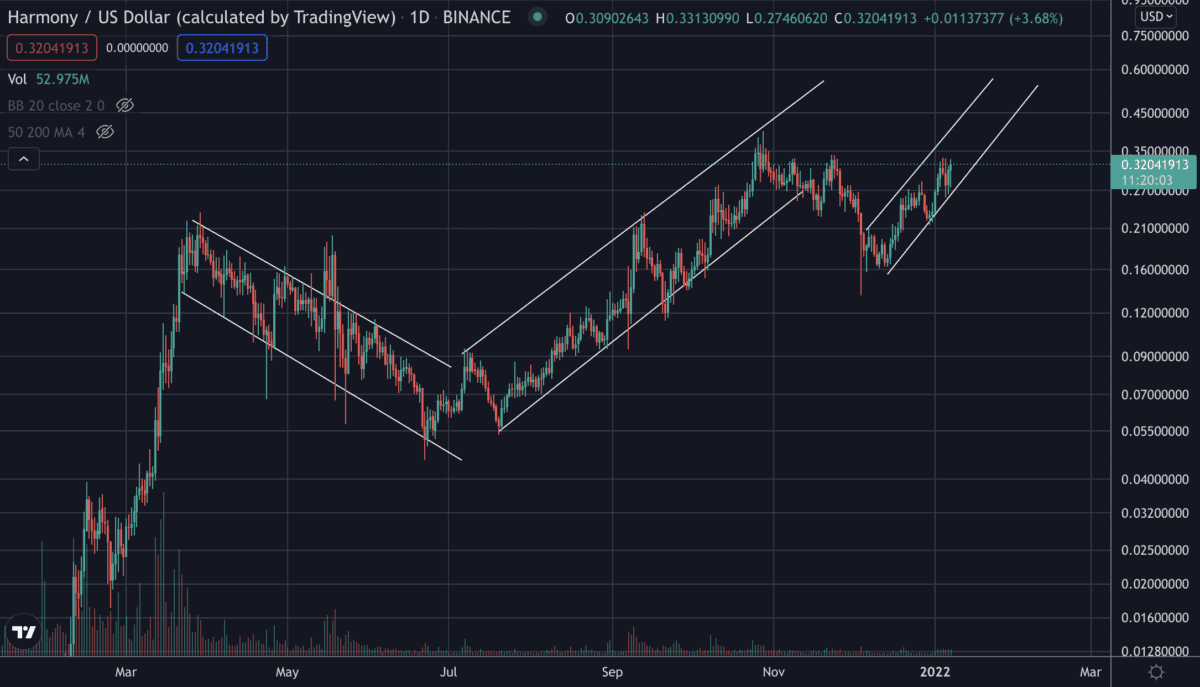 Wat zijn de verwachtingen voor de komende periode?
Of het nieuws nog verdere impact gaat hebben op de prijs is afhankelijk van een groot aantal factoren die dagelijks verschillen. Overweeg jij een positie te nemen in ONE? In ons Discord kanaal voor leden bediscussiëren we het nieuws en zullen we verdere updates met jullie blijven delen. Ook zullen hier additionele technische analyses gedeeld worden door een van onze analisten die dieper op de koers ingaan. Je komt hier eenvoudig in contact met onze analisten en crypto coaches, zij helpen je graag een weloverwogen beslissing te maken.