De markt heeft vandaag flinke klappen gekregen. Een aantal cryptocurrencies staan zelfs met dubbele cijfers in het rood. In dit artikel delen we recente analyses van twee crypto waarvan de analisten van Crypto Insiders al voor een daling waarschuwden.
Het gaat dan om VeChain (VET) en Chainlink (LINK). Ben je nog geen lid of mocht je na het lezen van dit artikel nog vragen hebben, neem dan eens een kijkje op onze Premium informatiepagina.
VeChain lijkt te corrigeren
Gisteren deelden de analisten de onderstaande grafiek voor de VET koers. De analisten zagen dat VET een 12345 Elliott Wave patroon vormt en met de laatste waves bezig was. Deze waves zijn precies uitgekomen zoals de analisten hadden verwacht.
De derde wave zou naar verwachting uitkomen rond de $0,02755 en de vijfde en laatste wave van dit patroon rond de $0,0285, waarna een daling zou volgen. VET wist uiteindelijk een lokale piek rond de $0,02844 te maken. Na het behalen van dit niveau is de koers inderdaad omlaag gegaan. VET was sinds de verkoopzone met ongeveer 10% gedaald.
Door onverwachts nieuws omtrent FTX en Binance, schoot de koers zojuist weer omhoog richting de verkoopzone en hangt hier op het moment van schrijven net onder. Toch is de verwachting dat VET koers zijn correctie zal vervolgen. Waar deze uiteindelijk kan eindigen is nog niet zeker, dat wordt zo snel mogelijk gedeeld door onze analisten in de premium omgeving van Crypto Insiders.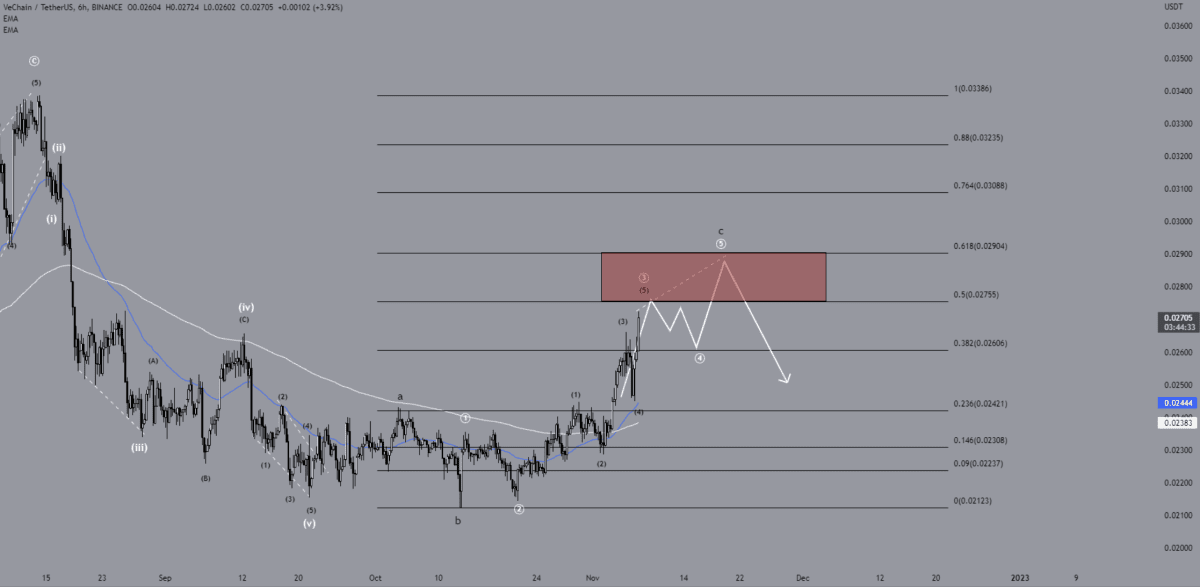 Chainlink raakt bovenkant verkoopzone
Naast VET hebben de analisten ook een daling voor LINK voorspeld. Hier zagen zij een vergelijkbaar 12345 Elliott Wave patroon vormen die ten einde liep. Om deze reden wisten zij een verkoopzone op te stellen rond de 100% en 123,6% Fibonacci, ofwel $8,657 en $9,20 respectievelijk.
LINK raakte precies de bovenkant van deze verkoopzone voordat de koers naar beneden zakte. LINK wist net als VET even te herstellen en schoot ook terug zijn verkoopzone in. Toch blijven de analisten bearish over LINK en verwachten nog een verdere daling.
De gehele crypto-markt lijkt te willen corrigeren waardoor de analisten nog slechter weer verwachten op de markt. Ook de vooruitgang voor LINK zal binnen de Premium omgeving gedeeld worden met alle leden.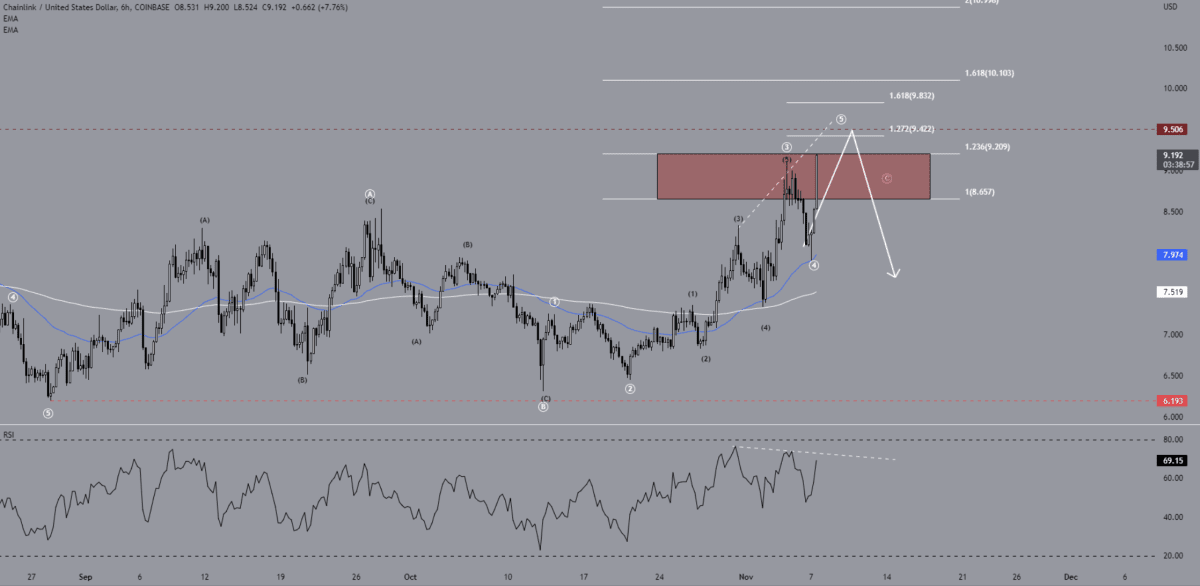 VeChain of Chainlink kopen of verkopen?
Overweeg jij VET of LINK te kopen of verkopen? Zoek jij hulp met handelen in crypto? Dan verwijzen we je graag door naar onze Premium membersgroep. Hier ontvangen leden als eerst de nieuwste technische analyses van een groot aanbod aan crypto. Ook krijg je toegang tot exclusieve crypto-projecten, koersvideo's, handelsplannen en ask me anything (AMA) sessies met onze analisten. In onze Discord kunnen we 24/7 kennis met elkaar delen en proberen we samen met onze leden de markt voor te blijven. Word lid en probeer een Premium-lidmaatschap 30 dagen gratis.
Disclaimer: Beleggen brengt risico's met zich mee. Onze analisten zijn geen financieel adviseurs. Raadpleeg altijd een adviseur bij het maken van financiële beslissingen. De informatie en tips die op deze website zijn verstrekt is gebaseerd op eigen inzichten en ervaringen van onze analisten en dienen alleen voor educatieve doeleinden.