Premium leden van Crypto Insiders ontvangen dagelijks actuele technische analyses voor cryptocurrencies. In dit artikel delen we recente analyses van ethereum (ETH) en chainlink (LINK). Ben je nog geen lid of mocht je na het lezen van dit artikel nog vragen hebben, neem dan eens een kijkje op onze Premium informatie pagina.
Ethereum merge is live
Vanochtend vond eindelijk de zogenaamde "merge" plaats. Ethereum maakte de overstap van proof-of-work naar proof-of-stake. Dat betekent dat transacties voortaan niet meer door miners worden verwerkt, maar door stakers, of beter gezegd validators.
Alhoewel de spanning hoog opliep in aanloop naar de merge, reageert de koers vooralsnog nauwelijks op het evenement. Daarom kijken onze analisten wat we de komende tijd kunnen verwachten van de koers.
Ethereum daalt eerst voordat koers bullish wordt
ETH creëerde een zeer bullish structuur nadat de koers onlangs helemaal naar $880 dipte. Dat komt wellicht door de merge, maar voornamelijk omdat de koers vanaf de bodem een 12345 Elliott Impulse Wave toont. Crypto Insiders analisten verwachten daarom dat de ether koers op de middellange termijn nog goed kan ontwikkelen, wellicht zelfs richting $2.300 – $2.600.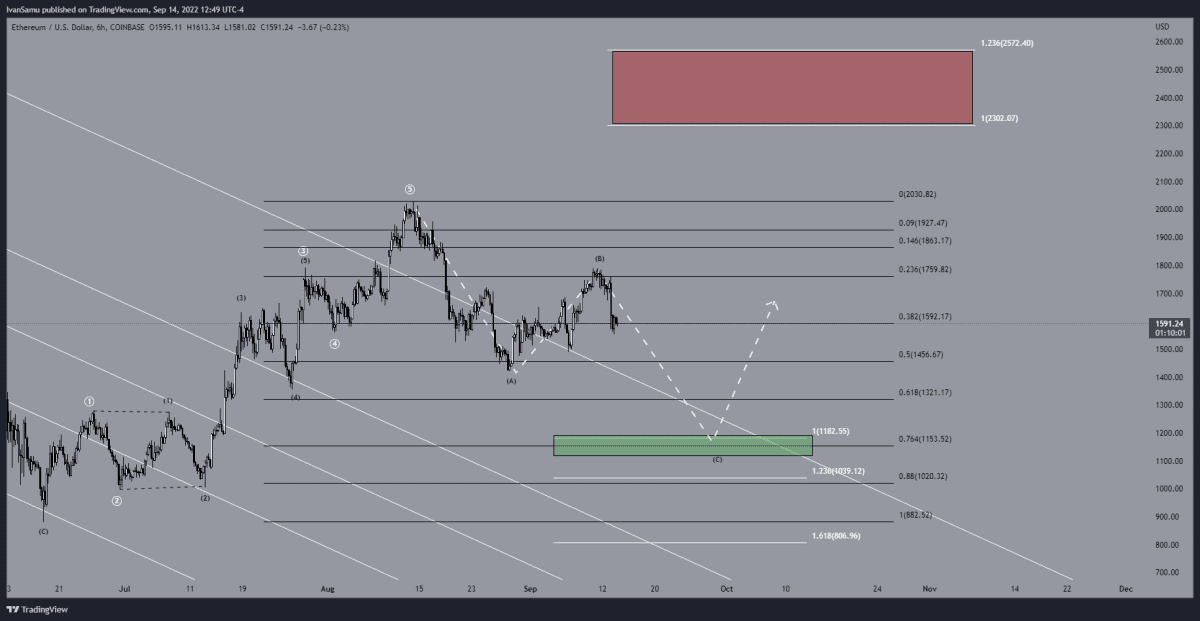 Voordat ETH aan deze stijging kan beginnen, moet de koers wellicht eerst een corrective patroon afronden. Het ziet er naar uit dat de koers eerst nog een wave omlaag moet maken. De analisten verwachten dat de ETH koers met deze wave onder $1.200 kan zakken. Daarna zou het corrigerende patroon afgerond moeten zijn en kan ETH aan een flinke stijging beginnen.
Extra premium sneak peak: Hoe diep zakt chainlink?
Vandaag hebben we nog een sneak peak uit de premium omgeving voor jullie: de chainlink (LINK) koers. Onze analisten hadden al verwacht dat er flink wat weerstand zou liggen voor LINK in de rode zone. Ze vrezen nu voor een flinke koersdaling, wellicht helemaal naar $4.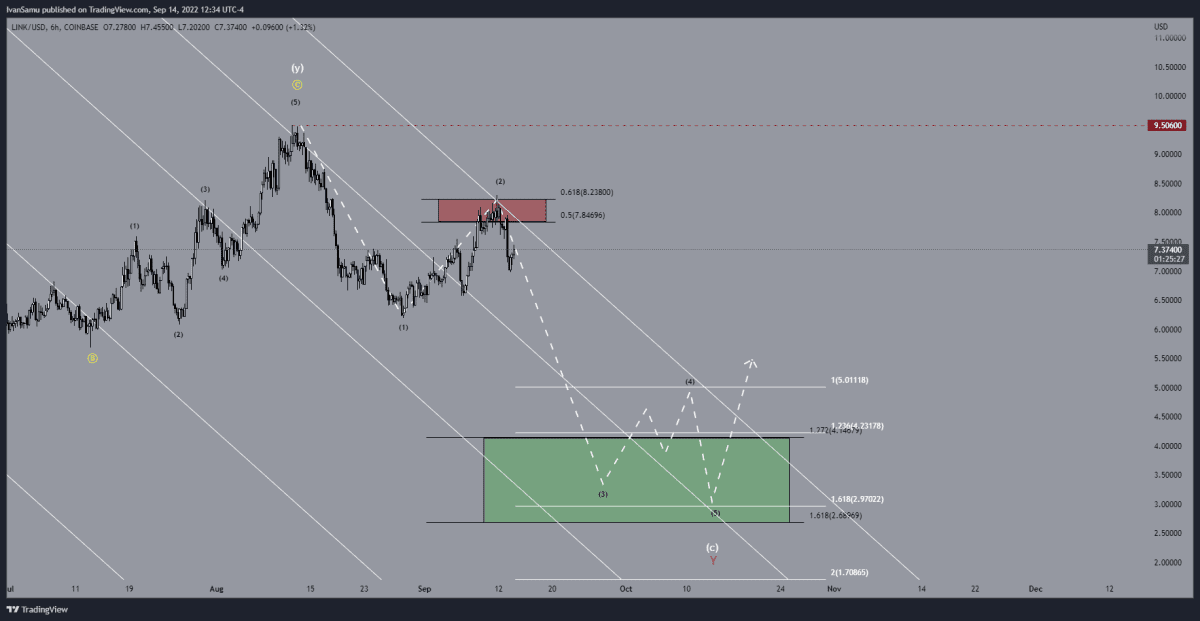 Dat heeft ermee te maken dat de LINK koers momenteel in een 12345 Elliott Impulse Wave omlaag beweegt. We zagen een sterke afwijzing van de 0.618 Fibonacci en daarmee eindigde wave twee. Momenteel is het afwachten hoe wave drie uitpakt, maar dat zou dus een flinke daling kunnen zijn voordat de koers weer stijgt. Meer leren over bovenstaande analyse? In onze Discord omgeving vinden regelmatig interessante discussies plaats tussen ervaren handelaren en analisten.
Ethereum kopen of verkopen?
Overweeg jij Ethereum te kopen of verkopen? Volg de in- en verkoop momenten van andere ervaren handelaren en analisten. Word lid en probeer een Premium-lidmaatschap 30 dagen gratis uit. Naast analyses krijg je als lid ook de mogelijkheid vragen te stellen aan onze analisten en coaches. Ook vind je een breed scala aan interessante discussiekanalen over allerlei aan crypto-gerelateerde onderwerpen!
---
Disclaimer: Beleggen brengt risico's met zich mee. Onze analisten zijn geen financieel adviseurs. Raadpleeg altijd een adviseur bij het maken van financiële beslissingen. De informatie en tips die op deze website zijn verstrekt is gebaseerd op eigen inzichten en ervaringen van onze analisten en dienen alleen voor educatieve doeleinden.