Crypto Insiders leden ontvangen in onze Discord omgeving dagelijks nieuwe technische analyses voor cryptocurrencies. In dit artikel delen we een recente analyse van ethereum (ETH) uit onze Premium groep. Ben je nog geen lid of mocht je na het lezen van dit artikel nog vragen hebben, neem dan eens een kijkje op onze Premium informatiepagina.
Staat ethereum op het punt om te stijgen?
Ethereum lanceerde vorige week de langverwachte 'merge.' Hiermee maakte het netwerk de overstap naar proof-of-stake, maar de koers blijft vooralsnog in zijn neerwaartse trend hangen. Desondanks zijn onze analisten uit onze Discord omgeving bullish over de ether koers en dat leggen zij als volgt uit: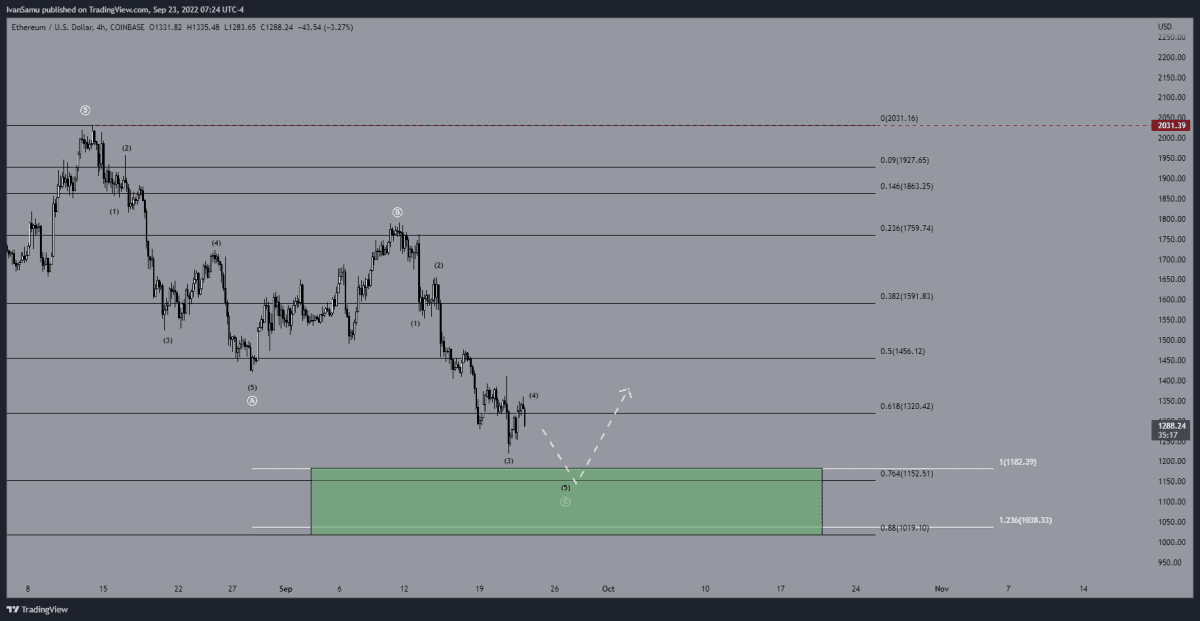 "ETH bevindt zich al langere tijd in een corrigerende wave. Vanaf de top van $2.035 vormt de koers een 3 wave structuur. Wij verwachten dat deze 3 wave structuur rond de $1.180 zal eindigen. ETH is namelijk sinds het dieptepunt van 18 juni, toen de koers onder $1.000 uitkwam, een bullish 5 wave structuur aan het vormen. We verwachten daarom dat de trend binnenkort van bearish naar bullish zal omslaan. De ETH prijs kan dan stijgen naar $2.300 en wellicht zelfs $2.580.

Toch moeten we rekening houden met de slechte macro-economische situatie waardoor de koers in een bearish trend kan blijven hangen. ETH mag dan niet onder $880 zakken. Dan invalideert namelijk deze analyse."
ETH 2.0 validator staking contract blijft groeien
Ook keken onze analisten naar on-chain data van Ethereum. Het aantal actieve validators op het nieuwe Ethereum netwerk blijft namelijk stijgen, zelfs na de merge. Dat is een goed teken voor de stabiliteit van het netwerk en toont een sterk vertrouwen aan onder investeerders.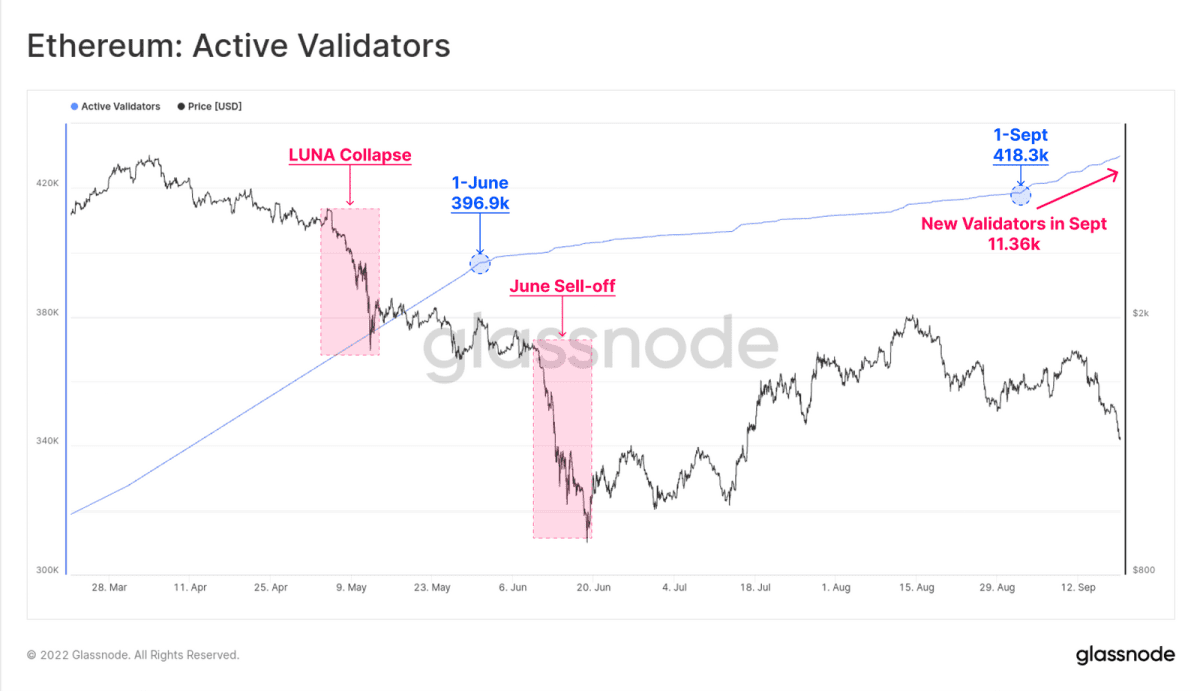 Validators zijn de nieuwe miners op Ethereum die de transacties verwerken. Je kunt pas validator worden als je minimaal 32 ETH vastzet (staking) in het ETH 2.0 contract. Op de grafiek is te zien dat in september het aantal nieuwe validators zelfs in een versnelling terechtkwam. Ook na de merge blijft dit tempo van nieuwe validators aanhouden.
Er moet wel bij gezegd worden dat validators momenteel nog niet hun ETH uit het contract kunnen halen. Die mogelijkheid volgt pas in een latere update. Desondanks zullen de validators hier bewust van zijn en ze kiezen er alsnog voor om hun ETH vast te zetten. Ondertussen worden deze ETH uit circulatie gehaald wat een positief effect kan hebben op de koers.
ETH kopen of verkopen?
Overweeg jij ETH te kopen of verkopen? Volg dan de handelsplannen van andere ervaren handelaren en analisten. Word lid en probeer een Premium-lidmaatschap 30 dagen gratis. Naast analyses krijg je als lid ook de mogelijkheid om vragen te stellen aan onze analisten en coaches. Ook vind je een breed scala aan interessante discussiekanalen over allerlei aan crypto-gerelateerde onderwerpen!
Disclaimer: Beleggen brengt risico's met zich mee. Onze analisten zijn geen financieel adviseurs. Raadpleeg altijd een adviseur bij het maken van financiële beslissingen. De informatie en tips die op deze website zijn verstrekt is gebaseerd op eigen inzichten en ervaringen van onze analisten en dienen alleen voor educatieve doeleinden.