In de premium omgeving van Crypto Insiders worden dagelijks actuele technische analyses gedeeld door ervaren analisten. De afgelopen periode kwam Reserved Rights (RSR) hier regelmatig ter sprake. In deze rubriek blikken we terug op deze technische analyse en brengen we de recente ontwikkelingen en verwachtingen voor de komende periode in kaart. Mocht je na het lezen van dit artikel nog vragen hebben kun je deze eenvoudig stellen in onze Discord community, hier worden onze technische analyses doorgaans 48 uur eerder gedeeld met onze leden.
RSR is over de afgelopen 24 uur met ongeveer 0,88% gedaald. Over de afgelopen zeven dagen zagen we echter een positiever resultaat. In deze periode steeg de koers met ongeveer 15%. De BTC waarde van RSR daalde met ongeveer 1%. Bitcoin (BTC) deed het vandaag dus beter. RSR staat op het moment van schrijven op de 308e plaats op basis van marktwaarde. 
Wat is Reserved Rights (RSR)?
Reserve Rights is een 'dual-token stablecoin platform'. Reserve Rights biedt via dit platform de stablecoin Reserve stablecoin (RSV). Deze stablecoin wordt ondersteund door activa die op basis van smart contracts lopen. Hier komt de RSR token van pas. Deze token zorgt er namelijk voor dat de stablecoin de waarde van $1 behoudt. Reserve Rights geeft aan dat dit wordt gedaan op basis van een systeem van verschillende arbitrage mogelijkheden. Dit zorgt er ook voor dat de RSV token stabiel kan blijven, maar de RSR token volatiel is. De RSR token kan ook gebruikt worden door gebruikers om stemmen uit te brengen. Tokenhouders kunnen stemmen op verschillende stellingen die het ontwikkelingsteam uitbrengt, hierdoor kunnen zij meedenken over de toekomst van het project.
Recente ontwikkelingen Reserved Rights (RSR)
Een van de meest recente ontwikkelingen is het feit dat ontwikkelaars van het project erg dichtbij het uitgeven van het mainnet komen. Op het moment is deze grote lancering al voor 88% voltooid, zoals blijkt uit informatie op deze pagina. Hetgeen waar nog de meeste tijd in zal zitten is het nagaan van de code en het testen van deze update. 
Er is echter daarnaast wel iets minder positief crypto nieuws naar buiten gekomen rondom RSR. Handelaren kunnen namelijk geen derivaten van RSR meer verhandelen via Binance. Samen met een aantal andere trading pairs is RSR/BTC uit de derivatenhandel en spothandel van Binance gehaald. Dit is natuurlijk geen leuk nieuws voor het project, echter is deze nog wel via ByBit te verhandelen. 
Technische analyse Reserved Rights (RSR)
RSR heeft onze instapzone van tussen de $0,0044 en $0,0038 bereikt. Om even technisch te worden traden wij hiermee de laatste wave 5 van de grotere cycle (C) in de supercycle Y. Hierbij is de 5 wave de kleinste wave, de C wave iets groter en de Y wave heel groot. Het verschil tussen deze verschillende waves is de tijd die nodig is om het patroon af te maken. De grotere waves duren langer voor deze compleet zijn en de kleinere waves natuurlijk minder lang. Deze waves zijn op de grafiek terug te vinden als de witte lettertype.
Wij willen RSR niet meer vasthouden als de koers onder $0,001715 zakt. Zolang de koers hier boven blijft lijkt het erg positief en zouden we verder naar boven kunnen. Waar we RSR het liefst willen verkopen is in de Discord omgeving gedeeld.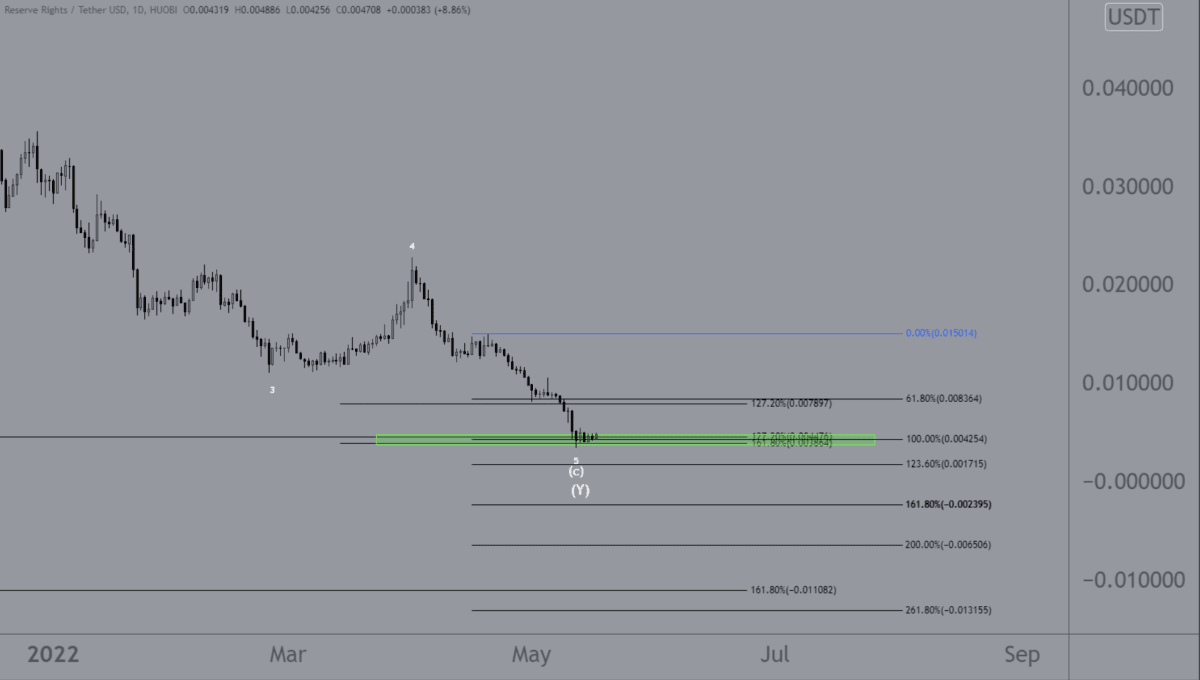 Wat zijn de verwachtingen voor Reserved Rights (RSR)?
Het lange termijn doel van RSR is om een daadwerkelijk sterke en stabiele stablecoin te creëren. Uiteindelijk willen ze ook van hun governance systeem af die gebruikers op dit moment de mogelijkheid geeft om mee te beslissen over de toekomst van het project. Dit zijn een aantal uitdagingen waar zij aan zullen werken. Het zal interessant zijn om te zien of dit ze gaat lukken en hoe dat eruit komt te zien.
Of bovenstaande ontwikkelingen nog verdere impact gaat hebben op de prijs is afhankelijk van een groot aantal factoren die dagelijks verschillen. De crypto-markt en zwaar onderhevig aan economische gebeurtenissen en traditionele aandelenmarkten. Dit maakt het soms lastig om het juiste moment te bepalen om in een bepaald project te investeren.
RSR kopen of verkopen?
Om antwoord te krijgen op de vraag om te kopen of verkopen verwijzen we je graag door naar onze Discord community voor leden. Hier bediscussiëren ervaren analisten en handelaren dagelijks hun eigen in- of uitstapmomenten. Ook delen we hier regelmatig aanvullende koers-analyses en updates van projecten die we eerder in deze rubriek hebben behandeld. Via Discord kunnen we 24/7 kennis met elkaar delen en proberen we samen met onze leden de markt voor te blijven. 
Disclaimer: Beleggen brengt risico's met zich mee. Onze analisten zijn geen financieel adviseurs. Raadpleeg altijd een adviseur bij het maken van financiële beslissingen. De informatie en tips die op deze website worden verstrekt zijn gebaseerd op eigen inzichten en ervaringen van onze analisten en dienen alleen voor educatieve doeleinden.