In de Premium omgeving van Crypto Insiders worden dagelijks actuele technische analyses gedeeld door ervaren analisten. De afgelopen periode kwam The Sandbox (SAND) hier regelmatig ter sprake. In deze rubriek blikken we terug op deze technische analyse en brengen we de recente ontwikkelingen en verwachtingen voor de komende periode in kaart. Mocht je na het lezen van dit artikel nog vragen hebben kun je deze eenvoudig stellen in onze Discord community, hier staan onze technische analyses doorgaans 48 uur eerder klaar voor onze leden.
Wat is The Sandbox (SAND)?
The Sandbox is een op blockchain gebaseerd spel dat probeert een metaverse te bieden aan haar gamers. Deze gamers kunnen in de metaverse hun eigen virtuele landgoed beheren en hun eigen wereld maken waarin ze kunnen doen wat ze willen.
Binnen deze wereld kunnen zij bijvoorbeeld ook eigen voorwerpen maken en verhandelen voor echt geld. Dit kunnen ze doen doordat de voorwerpen die zij maken non-fungible tokens (NFT's) zijn. Deze zijn via speciaal daarvoor gemaakte marktplaatsen te verhandelen.
Laatste The Sandbox nieuws
Het team van The Sandbox heeft onlangs op Twitter aangekondigd dat er een nieuwe open alpha fase aan zit te komen. Dit wil zeggen dat het spel The Sandbox weer te spelen is, en dit keer weer voor iedereen. Spelers kunnen meer dan 90 verschillende experiences spelen en hier ook beloningen mee verdienen in de vorm van SAND tokens. In deze Medium post wordt alles uitgebreid beschreven. De alpha zal vanaf 24 augustus te spelen zijn.
🔷 SAVE THE DATE 🔷 Alpha Season 3 begins on August 24! #SandboxAlphaS3

Everything you need to know ⤵️https://t.co/ZkFeURoV66 pic.twitter.com/TMibIYRxZY

— The Sandbox (@TheSandboxGame) August 17, 2022
Wat zijn de verwachtingen voor SAND?
Of bovenstaande ontwikkelingen nog verdere impact gaat hebben op de prijs is afhankelijk van een groot aantal factoren die dagelijks verschillen. De crypto-markt is immers zwaar onderhevig aan economische gebeurtenissen en traditionele aandelenmarkten. Daarom is het soms lastig om het juiste moment te bepalen om in een bepaald project te investeren. Een technische analyse kan bijvoorbeeld helpen bij het bepalen binnen welk tijdspan een cryptovaluta interessant (kan) zijn om te kopen of verkopen. Op basis van bijvoorbeeld de beleggingsgeschiedenis en het identificeren van patronen in prijsbewegingen.
Technische analyse SAND koers
Helaas zijn de analisten in de Discord community van Crypto Insiders iets minder positief over SAND. Zij geven namelijk aan dat het erop lijkt dat SAND op het moment een Elliott Wave neerwaartse impulsive aan het vormen is. Dit zou zowel een 12345 als een ABC patroon kunnen zijn. Mochten we het eerste zien dan kan de koers nog een flink stuk verder zakken.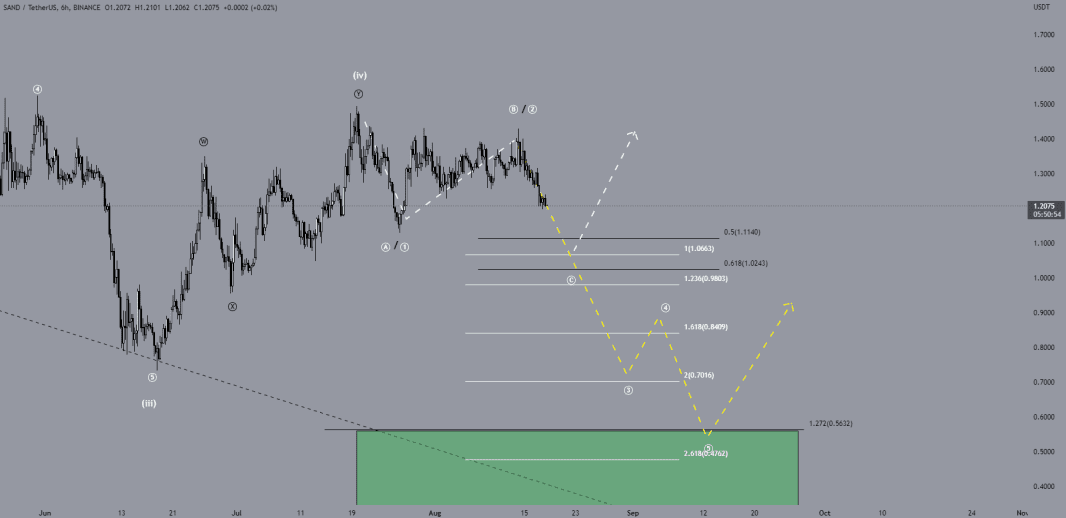 SAND kopen of verkopen?
Zoek jij hulp met handelen in crypto? Dan verwijzen we je graag door naar onze Discord community voor leden. Hier bediscussiëren ervaren analisten en handelaren dagelijks hun analyses en handelsplannen. Ook delen we hier als eerst onze technische en fundamentele analyses. In onze Discord community kunnen we 24/7 kennis met elkaar delen en proberen we onze premium leden op de hoogte te houden.
Disclaimer: Beleggen brengt risico's met zich mee. Onze analisten zijn geen financieel adviseurs. Raadpleeg altijd een adviseur bij het maken van financiële beslissingen. De informatie en tips die op deze website zijn verstrekt is gebaseerd op eigen inzichten en ervaringen van onze analisten. Deze dienen daarom alleen voor educatieve doeleinden.