SHIB is vandaag met maar liefst 10% gestegen. In dit artikel kijken we naar mogelijk fundamentele redenen waarom deze cryptovaluta in waarde is gestegen en analyseren we de SHIB koers zodat je een weloverwogen beslissing kunt maken om SHIB te kopen of verkopen.
Vandaag zag er al iets positiever uit op de cryptocurrencymarkt ten opzichte van gisteren. Gelukkig waren er een aantal uitschieters, waarvan Shib Inu (SHIB) er een was. Deze cryptocurrency steeg in de afgelopen 24 uur met ongeveer 10%. In de afgelopen zeven dagen ging het echter wat minder. In deze periode daalde de coin namelijk met ongeveer 30%. Dit kan verklaard worden door de crash die we zagen over de gehele markt. Door de stijging staat SHIB op de 14e plaats op basis van marktwaarde. 
Wat is Shiba Inu?
Shiba Inu is ooit opgezet als de tegenhanger van de meme-coin Dogecoin (DOGE). SHIB kan gemined worden door middel van het Srypt algoritme, maar dan via Ethereum (ETH). SHIB heeft verder niet echt een duidelijk doel of een serieuze usecase naast dat het een meme-coin is. De coin heeft haar naam ontleend aan DOGE, wat ook een meme-coin was in het honden thema. 
Waarom stijgt SHIB in waarde?
Er zijn een aantal mogelijke redenen achter de stijging. De eerste is dit bericht van de cryptocurrency exchange Uphold. Hierin geven zij aan dat het vanaf eergister mogelijk is om SHIB te verhandelen via hun platform. Daarnaast gaan er geruchten in de ronde dat de aandelenbeurs Robinhood binnenkort ook SHIB wil gaan listen. Dit zou voor de coin helemaal een geweldige ontwikkeling zijn aangezien Robinhood ervoor kan zorgen dat ook handelaren uit de traditionele markt die normaliter niet in cryptocurrencies handelen SHIB kunnen kopen.
Daarnaast zou de stijging een reactie kunnen zijn op de daling die de markt de afgelopen paar dagen heeft ingezet. De bounce zou veroorzaakt kunnen worden door investeerders die gebruik maken van de daling om hun portfolio uit te breiden. 
Technische analyse
Op de grafiek van SHIB is een duidelijke neerwaartse weerstandslijn te tekenen. Dit is helaas nog wel een bearish teken. In eerste instantie leken we ook door de steunlijn te breken maar dit niveau wordt nog redelijk in stand gehouden. Dit zijn de belangrijke niveaus voor SHIB. Binnen dit kanaal zou SHIB ook te traden kunnen zijn, echter met een negatieve markt en een neerwaartse trend kan dit extra risico opleveren.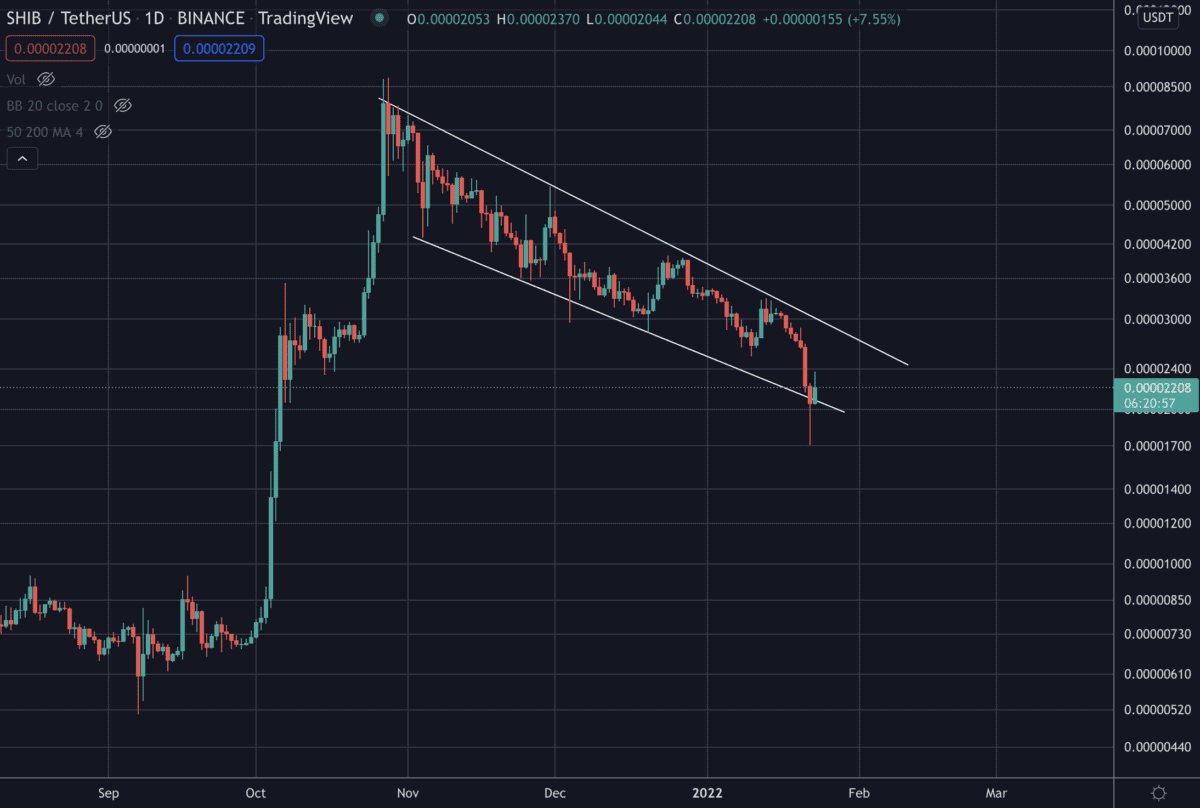 Wat zijn de verwachtingen voor de komende periode?
Of het nieuws nog verdere impact gaat hebben op de prijs is afhankelijk van een groot aantal factoren die dagelijks verschillen. Overweeg jij een positie te nemen in SHIB? In ons Discord kanaal voor leden bediscussiëren we het nieuws en zullen we verdere updates met jullie blijven delen. Ook zullen hier additionele technische analyses gedeeld worden door een van onze analisten die dieper op de koers ingaan. Je komt hier eenvoudig in contact met onze analisten en crypto coaches, zij helpen je graag een weloverwogen beslissing te maken.