In de Premium omgeving van Crypto Insiders worden dagelijks actuele technische analyses gedeeld door ervaren analisten. De afgelopen periode kwam Shiba Inu (SHIB) hier regelmatig ter sprake. In deze rubriek blikken we terug op deze technische analyse en brengen we de recente ontwikkelingen en verwachtingen voor de komende periode in kaart. Mocht je na het lezen van dit artikel nog vragen hebben kun je deze eenvoudig stellen in onze Discord community, hier staan onze technische analyses doorgaans 48 uur eerder klaar voor onze leden.
Wat is Shiba Inu (SHIB)?
Shiba Inu (SHIB) is ooit opgezet als meme-coin na het succes van haar voorganger Dogecoin (DOGE). Aangezien SHIB is opgezet als meme-coin zat er in het begin ook geen serieuze usecase achter het project.
Nadat Shiba Inu erg populair begon te worden wist het project toch uit te groeien tot een heus ecosysteem. Ondertussen bestaan er al meerdere projecten binnen het Shiba Inu ecosysteem zoals ShibaSwap, een gedecentraliseerde exchange (DEX) en willen de ontwikkelaars achter Shiba Inu zelfs een eigen metaverse opzetten.
Laatste Shiba Inu nieuws
Shib is onlangs flink gestegen. Deze stijging heeft er ook voor gezorgd dat SHIB whales weer bovenaan de lijst staan van grootste Ethereum (ETH) investeerders. Door deze stijging bezitten de top 5000 whales namelijk gezamenlijk bijna $180 miljoen aan SHIB tokens.
Uit data van Santiment bleek ook dat Shiba Inu transacties enorm populair waren afgelopen weekend. In totaal werden er ook zo'n 430 SHIB transacties gedaan die groter waren dan $100.000
🐳 The top 5000 #ETH whales are hodling

$178,686,986 $SHIB
$116,441,994 $BIT
$97,634,872 $MKR
$85,205,448 $LINK
$78,459,984 $LOCUS
$75,304,193 $UNI
$68,454,717 $MANA
$56,755,632 $MATIC

Whale leaderboard 👇https://t.co/kOhHps8XBB pic.twitter.com/i6WUO5Z7e5

— WhaleStats (free data on crypto whales) (@WhaleStats) August 14, 2022
Wat zijn de verwachtingen voor Shiba Inu?
Of bovenstaande ontwikkelingen nog verdere impact gaat hebben op de prijs is afhankelijk van een groot aantal factoren die dagelijks verschillen. De crypto-markt is immers zwaar onderhevig aan economische gebeurtenissen en traditionele aandelenmarkten. Daarom is het soms lastig om het juiste moment te bepalen om in een bepaald project te investeren. Een technische analyse kan bijvoorbeeld helpen bij het bepalen binnen welk tijdspan een cryptovaluta interessant (kan) zijn om te kopen of verkopen. Op basis van bijvoorbeeld de beleggingsgeschiedenis en het identificeren van patronen in prijsbewegingen.
Technische analyse SHIB koers
Zoals besproken in de Discord community van Crypto Insiders is SHIB door de harde stijging van de afgelopen dagen uit haar opwaartse kanaal gebroken met enorm veel volume. Het lijkt er ook op dat de koers deze stijging nog heeft weten te onderhouden aangezien we niet hard terug naar beneden zijn gegaan.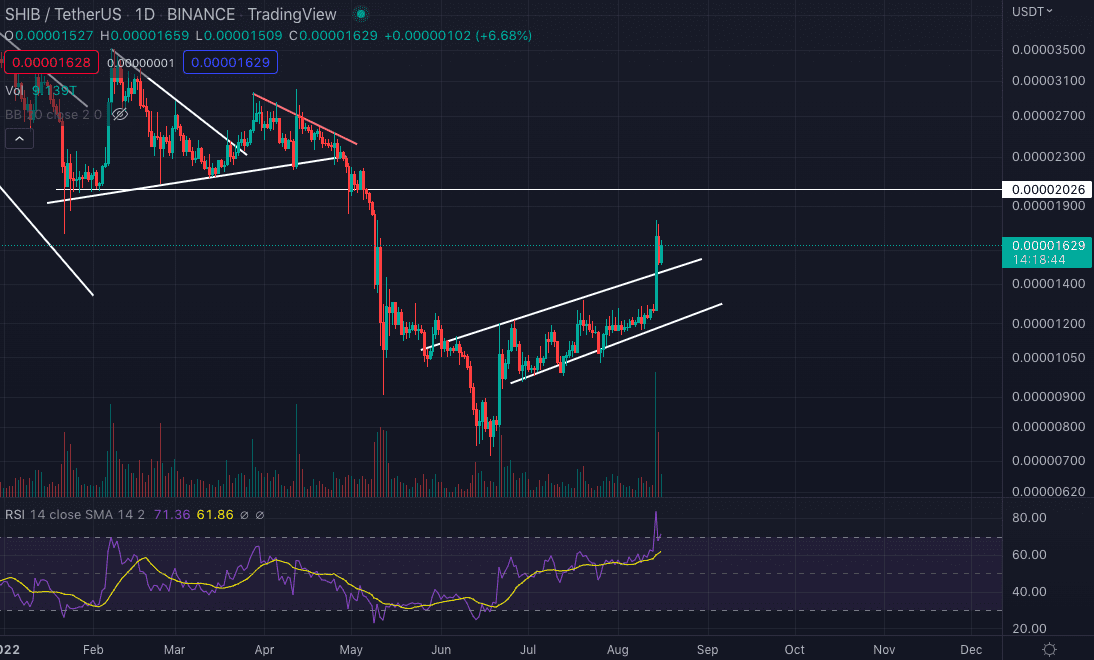 SHIB zoekt nu steun op de oude weerstandslijn van het opwaartse trendkanaal. Mochten we hier nieuwe steun van maken zou dit een bullish teken kunnen zijn. De volgende weerstand waar we dan naar zouden kunnen kijken lig op de $0,00002026. Er wordt echter nu nog wel eerst een kleine correctie verwacht als we naar de Relative Strength Index (RSI) kijken. Deze bevindt zich namelijk in overbought gebied.
SHIB kopen of verkopen?
Zoek jij hulp met handelen in crypto? Dan verwijzen we je graag door naar onze Discord community voor leden. Hier bediscussiëren ervaren analisten en handelaren dagelijks hun analyses en handelsplannen. Ook delen we hier als eerst onze technische en fundamentele analyses. In onze Discord community kunnen we 24/7 kennis met elkaar delen en proberen we onze premium leden op de hoogte te houden.
Disclaimer: Beleggen brengt risico's met zich mee. Onze analisten zijn geen financieel adviseurs. Raadpleeg altijd een adviseur bij het maken van financiële beslissingen. De informatie en tips die op deze website zijn verstrekt is gebaseerd op eigen inzichten en ervaringen van onze analisten. Deze dienen daarom alleen voor educatieve doeleinden.