SLP heeft vandaag een ongelooflijke stijging achter de rug van 71%. Hieronder hebben we gekeken naar de fundamentele redenen die de stijging kunnen verklaren. Ook hebben we de koers geanalyseerd op basis van technische analyse zodat je een doordachte beslissing kunt maken om SLP te kopen of juist te verkopen.
Een van de hardste stijgers van dag is Smooth Love Potion (SLP). Deze cryptocurrency steeg in de afgelopen 24 uur met ongeveer 71%. Dit is op zichzelf al een prachtig rendement, echter zagen we de koers over de afgelopen zeven dagen nog veel harder stijgen. In deze periode maakte de koers een stijging van 270% door. Door deze enorm harde stijging staat SLP nu in de top 100 op de 99e plaats.
Wat is Smooth Love Potion? 
Om te weten wat Smooth Love Potion (SLP)  is, moeten we eerst weten wat Axie Infinity (AXS) is. Axie Infinity is een play-to-earn cryptocurrency game waarbij spelers met kleine virtuele monstertjes speelt. Deze monsters worden Axies genoemd. Spelers kunnen deze Axies verzorgen maar er ook mee tegen andere Axies vechten. Dit is waar Smooth Love Potion wordt toegepast. SLP kan aan een Axie gegeven worden om te fokken met andere Axies. Op deze manier krijgt de speler een nieuwe Axie in de vorm van een non-fungible token (NFT). Deze SLP kan in het spel verkregen worden door te vechten en voorheen ook door gevechten met andere spelers aan te gaan. Met andere woorden is SLP dus een cryptocurrency die wordt verzameld en gebruikt binnen het play-to-earn spel Axie Infinity. 
Waarom stijgt SLP in waarde?
Een van de grootste redenen dat de cryptocurrency is gestegen komt door een update binnen het spel Axie Infinity. De ontwikkelaars van het spel hebben ervoor gezorgd dat spelers niet zo makkelijk meer SLP kunnen verdienen in het spel. Spelers konden eerst dagelijks bepaalde opdrachten uitvoeren en werden hiervoor beloond in SLP. Ook konden zij gevechten winnen van andere Axie Infinity spelers om een beloning te krijgen. Dit zal met de nieuwe update aangepakt worden. Zo zullen spelers geen dagelijkse opdrachten meer kunnen uitvoeren voor SLP. Hiermee wordt de de toename van SLP verminderd met 45 miljoen stuks per dag. 
Dit wil zeggen dat de economie van het spel wordt aangepast waardoor SLP schaarser zal worden. Ontwikkelaars zeggen dat het jammer is dat ze de dagelijkse opdrachten moeten verwijderen echter is dit wel van levensbelang voor de economie van Axie Infinity. Zonder deze update had het spel niet langer kunnen overleven.
Technische analyse
SLP is een geval apart. Hierbij moet goed bedacht worden dat de koers is gedaald simpelweg doordat de manier waarop er nieuwe SLP in omloop kwamen te makkelijk was. Doordat meer spelers het spel gingen spelen kwamen er meer coins in omloop. Hierdoor is het eigenlijk best logisch dat we een flinke neerwaartse trend zien. Door de recente update is de koers aan het stijgen doordat de coins lastiger te krijgen zijn. Minder aanbod maar evenveel of meer vraag zorgt voor een stijging. Deze stijging heeft eigenlijk de neerwaartse trend doorbroken. Het zal interessant zijn om te zien in hoeverre we omhoog kunnen. De eerste weerstand waar we op zullen letten is op $0,0565.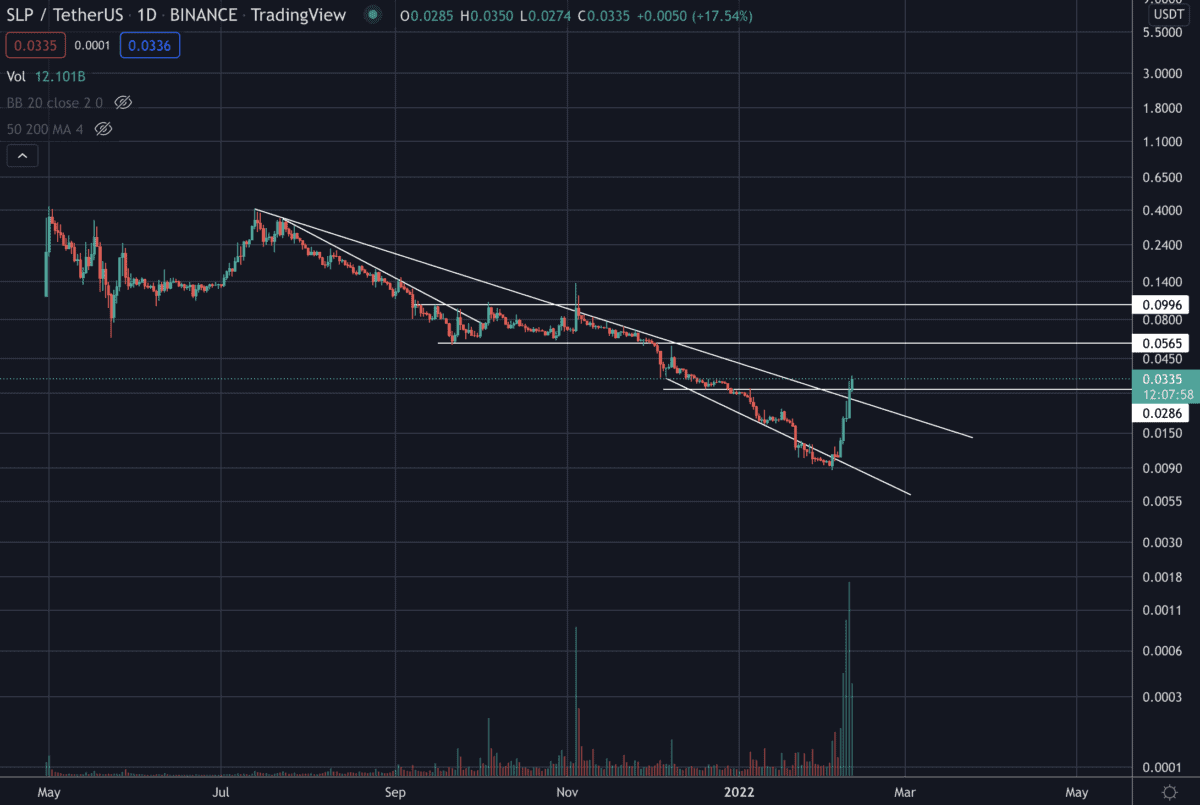 Wat zijn de verwachtingen voor de komende periode?
Of het aanpassen van de economics in Axie Infinity nog verdere impact gaat hebben op de prijs is afhankelijk van een groot aantal factoren die dagelijks verschillen. Overweeg jij een positie te nemen in SLP? In ons Discord kanaal voor leden bediscussiëren we het nieuws en zullen we verdere updates met jullie blijven delen. Ook zullen hier additionele technische analyses gedeeld worden door een van onze analisten die dieper op de koers ingaan. Je komt hier eenvoudig in contact met onze analisten en crypto coaches, zij helpen je graag een weloverwogen beslissing te maken.