SOL is vandaag met maar liefst 20% gestegen. In dit artikel kijken we naar mogelijk fundamentele redenen waarom deze cryptovaluta in waarde is gestegen en analyseren we de SOL koers zodat je een weloverwogen beslissing kunt maken om SOL te kopen of verkopen.
De markt kleurt vandaag weer groen. Er zijn veel coins die stijgen, toch zijn er weer een aantal uitschieters. Een daarvan is Solana (SOL). Deze cryptocurrency steeg in de afgelopen 24 uur met ongeveer 20%. Over de afgelopen dagen zagen we ook een mooie stijging. In deze periode steeg SOL met ongeveer 18%. Solana staat nu op de 7e plaats op basis van marktwaarde.
Wat is Solana?
Solana is een project dat zich focust op het oplossen van de problemen rondom de schaalbaarheid van decentrale netwerken. Het gaat hier dus om het aantal transactie dat het netwerk per seconde kan verwerken. Om cryptocurrencies te gebruiken als betaalmiddel moeten de transacties wel snel verwerkt kunnen worden. Daarnaast is Solana een platform voor smart contracts en om andere cryptocurrencies op te kunnen bouwen. Voorheen werd Ethereum (ETH) gezien als marktleider in deze sector, maar Solana wordt ook steeds belangrijker.
Waarom stijgt SOL in waarde?
Een mogelijke reden van de stijging zou dit bericht kunnen zijn. In deze tweet zegt het team dat er iets aan zit te komen. Wat dit precies is, is niet duidelijk uit het bericht te halen. Dit soort berichten werkt binnen de cryptocurrency wereld altijd heel goed. Hierdoor wordt er hype gecreëerd nog voordat er bekend is waar het op uit zal komen. Dit kan ervoor zorgen dat investeerders in anticipatie op verder nieuws de coin alvast inslaan.
Verder zou de stijging nog te maken kunnen hebben met dit bericht. Phantom, de cryptocurrency wallet voor Solana (SOL) en de op Solana gebouwde cryptocurrencies, wist in een investeringsronde $109 miljoen op te halen. Dit zorgt ervoor dat de waarde van Phantom ongeveer $1,2 miljard is. Ook komt er nu een app van Phantom voor de Iphone. Dit zorgt ervoor dat houders van Solana tokens die een Iphone hebben nu ook de coin kunnen opslaan en/of beheren op hun telefoon. Dit zijn natuurlijk mooie ontwikkelingen in het Solana ecosysteem!
Technische analyse
SOL is op de dagelijkse grafiek ondanks de stijging van de afgelopen dagen nog wel bezig met een neerwaartse trend. De weerstand loopt op het moment naar beneden. Hierin is ook een lower low en lower high patroon te zien. Dit is een bearish patroon. Toch lijkt het erop dat de koers langzaamaan weer terug naar de weerstandslijn wilt toe bewegen. Dit is een niveau waar we goed op zullen letten. Bij een uitbraak zou de koers bullish kunnen worden.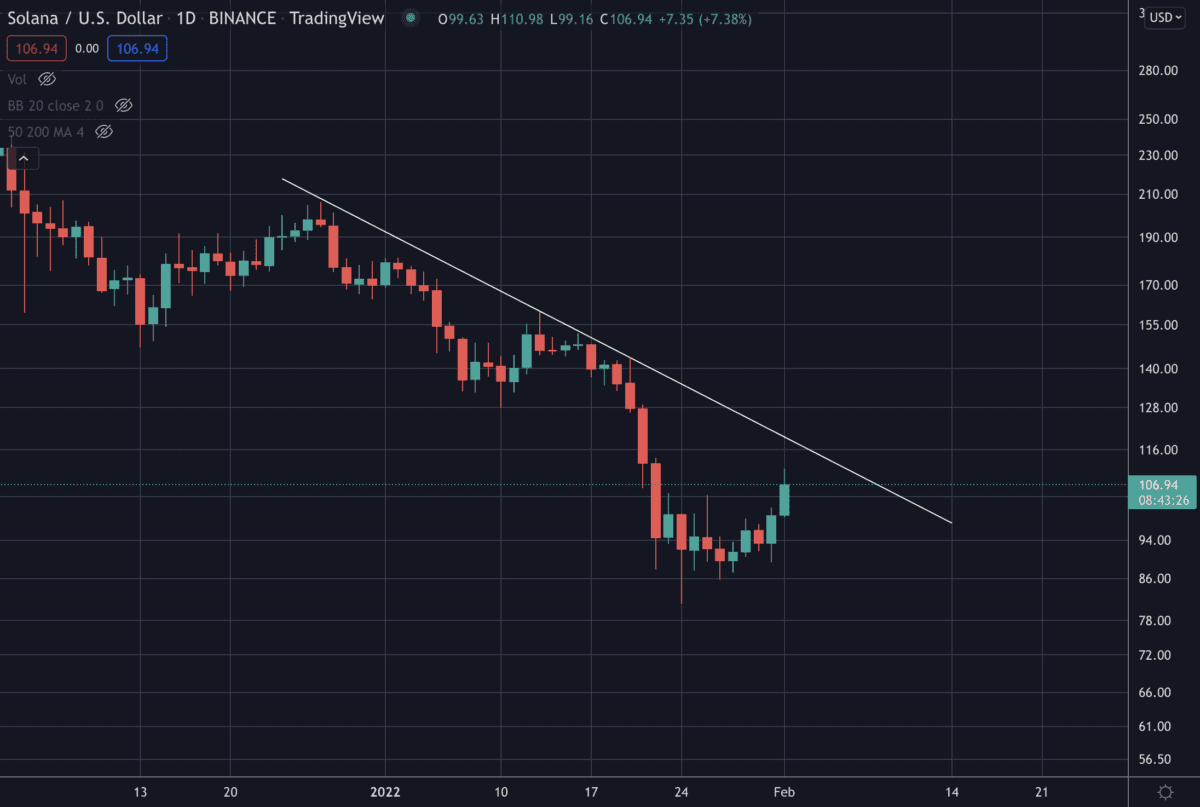 Wat zijn de verwachtingen voor de komende periode?
Of het nieuws nog verdere impact gaat hebben op de prijs is afhankelijk van een groot aantal factoren die dagelijks verschillen. Overweeg jij een positie te nemen in SOL? In ons Discord kanaal voor leden bediscussiëren we het nieuws en zullen we verdere updates met jullie blijven delen. Ook zullen hier additionele technische analyses gedeeld worden door een van onze analisten die dieper op de koers ingaan. Je komt hier eenvoudig in contact met onze analisten en crypto coaches, zij helpen je graag een weloverwogen beslissing te maken.