In de premium omgeving van Crypto Insiders worden dagelijks actuele technische analyses gedeeld door ervaren analisten. De afgelopen periode kwam Solana (SOL) hier regelmatig ter sprake. In deze rubriek blikken we terug op deze technische analyse en brengen we de recente ontwikkelingen en verwachtingen voor de komende periode in kaart. Mocht je na het lezen van dit artikel nog vragen hebben kun je deze eenvoudig stellen in onze Discord community, hier worden onze technische analyses doorgaans 48 uur eerder gedeeld met onze leden.
SOL is over de afgelopen 24 uur met ongeveer 12% de lucht in gegaan. Over de afgelopen zeven dagen zagen we een minder imposante stijging. In deze periode steeg de koers met ongeveer 2%. SOL staat op het moment van schrijven op de 9e plaats op basis van marktwaarde. 
Wat is Solana (SOL)?
Het doel van Solana is het oplossen van schaalbaarheidsproblemen van decentrale netwerken. Hier willen zij voor zorgen door een manier te bieden waarop een netwerk meerdere transacties per seconde kan verwerken dan dat zij op het moment al kunnen. Dit is natuurlijk van groot belang als wij uiteindelijk al onze dagelijkse uitgaven willen kunnen doen door middel van cryptocurrencies. We zouden bijvoorbeeld geen half uur kunnen wachten in een winkel tot de transactie is bevestigd en de winkelier het geld binnen heeft gekregen.
Tevens is Solana een platform waar andere projecten op gebouwd kunnen worden en waar smart contract opgesteld kunnen worden. Dit is vergelijkbaar met Ethereum (ETH) en is daarom ook de reden dat Solana de 'Ethereum killer' wordt genoemd. Maar is dit wel zo? Wij zochten het uit in deze Solana fundamentele analyse.
Laatste Solana (SOL) nieuws
Solana is op het moment druk bezig met het opzetten en organiseren van een hackathon. Een hackathon is een evenement waarbij groepen ontwikkelaars nieuwe applicaties of producten proberen te maken in een bepaalde tijd. Zulke evenementen worden vaak georganiseerd om mensen enthousiast te krijgen voor de partij die het evenement georganiseerd heeft, in dit geval voor de Solana blockchain. Dit is voor Solana ook weer een goed moment om op zoek te gaan naar talent die uiteindelijk misschien een rol binnen het Solana ecosysteem kunnen vervullen. 
Get ready to build ⛺️

Coming soon. https://t.co/x5jAbKEdmu pic.twitter.com/ZGhaGlQP0l

— Solana (@solana) July 7, 2022
Solana heeft aangegeven dat er al 5.000 mensen zich hebben aangemeld voor het evenement. Deze deelnemers zullen strijden voor een deel van de $5 miljoen in prijzen. We kunnen dus mogelijk veel interessante nieuwe applicaties of innovatieve ontwikkelingen verwachten in de komende periode. 
Technische analyse SOL koers
In de Premium community van Crypto Insiders hebben de analisten op 20 juni een technische analyse gedeeld waarbij er een instapzone werd getekend tussen de $22 en $30. SOL heeft de instapzone perfect aangetikt en is nu bezig met de opwaartse beweging. De koers stijgt in een ABC Elliott Wave patroon waardoor we van tevoren al kunnen inschatten waar de koers uiteindelijk zal komen. De koers staat op het moment van schrijven al tussen de 44% en 26% in de plus sinds de instapzone.
Dit niveau staat in de Discord omgeving beschreven met een uitgebreide analyse. Mocht je vragen willen stellen over deze analyse kan dat ook via hier. Je komt direct in contact met verschillende analisten en crypto-enthousiastelingen.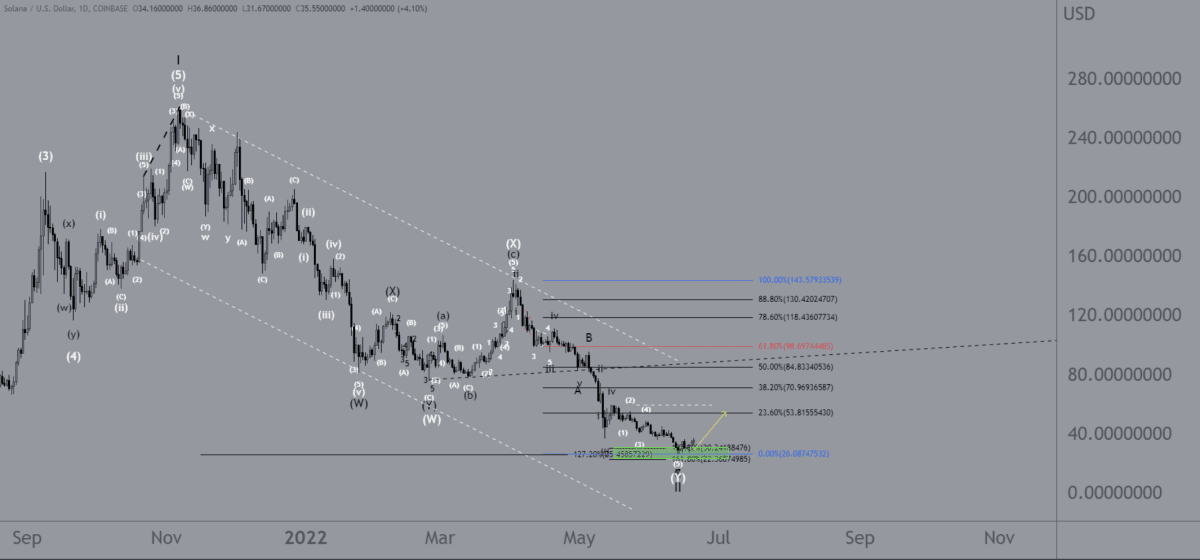 Wat zijn de verwachtingen voor Solana (SOL)?
Of bovenstaande ontwikkelingen nog verdere impact gaat hebben op de prijs is afhankelijk van een groot aantal factoren die dagelijks verschillen. De crypto-markt is immers zwaar onderhevig aan economische gebeurtenissen en traditionele aandelenmarkten. Dit maakt het soms lastig om het juiste moment te bepalen om in een bepaald project te investeren.
SOL kopen of verkopen?
Zoek jij hulp met handelen in crypto? Dan verwijzen we je graag door naar onze Discord groep voor leden. Hier bediscussiëren ervaren analisten en handelaren dagelijks hun analyses en handelsplannen. Ook delen we hier als eerst onze technische en fundamentele analyses. In onze Discord community kunnen we 24/7 kennis met elkaar delen en proberen we samen met onze premium leden de markt voor te blijven.
Ook hield onze hoofdanalist, bekend als AppY, onlangs een ask me anything (AMA) sessie voor onze premium leden. Deze is nu voor iedereen terug te zien en staat vol met zeer interessante technische analyses!
Disclaimer: Beleggen brengt risico's met zich mee. Onze analisten zijn geen financieel adviseurs. Raadpleeg altijd een adviseur bij het maken van financiële beslissingen. De informatie en tips die op deze website zijn verstrekt is gebaseerd op eigen inzichten en ervaringen van onze analisten en dienen alleen voor educatieve doeleinden.