SYS heeft een prachtige stijging achter de rug van maar liefst 49%. In deze rubriek kijken we naar fundamentele redenen die de stijging kunnen verklaren. Daarnaast analyseren we de koers op basis van technische analyse zodat je een doordachte beslissing kunt maken om SYS te kopen of juist te verkopen.
De tweede dag van het nieuwe jaar blijkt een mooie dag te zijn! Er zijn veel coins die hard zijn gestegen. Een daarvan is Syscoin (SYS). Deze cryptocurrency wist namelijk in de afgelopen 24 uur met ongeveer 21%. In de afgelopen zeven dagen steeg de coin met 49%. Door de stijging staat SYS op de 116e plaats op basis van marktwaarde.
Wat is Syscoin?
Syscoin biedt Layer-1 en Layer-2 oplossingen die zijn ontworpen om ervoor te zorgen dat geavanceerde applicaties in hetzelfde netwerk worden ondersteund. Dit bereiken ze door verschillende aspecten te pakken van Bitcoin (BTC) en Ethereum (ETH) en combineren deze. 
Waarom stijgt SYS?
SYS is in de afgelopen periode erg hard gestegen. Dit zou door een aantal dingen kunnen komen maar de reden die er het meest uitspringt is deze aankondiging. In deze aankondiging wordt er duidelijk gemaakt dat Syscoin een samenwerking is aangegaan met Space Cadets om samen non-fungible tokens (NFT's) uit te geven. Deze stap is interessant aangezien de NFT sector al tijden erg populair is. Dat SYS hier nu ook aan meedoet zal daarom voor meer populariteit zorgen. 
Technische analyse
In de vorige analyse van SYS zagen we de opwaartse trend al. De koers is zoals we hadden beschreven weer naar boven gegaan om de bovenkant van het kanaal te testen. Tijdens deze weg naar boven is er een nieuwe interne opwaartse steunlijn gemaakt.
Mocht de koers hierop terugkomen zou dit een mooie entry kunnen zijn. Voor een wat langere termijn trade zouden we kunnen wachten tot de onderkant van het kanaal pas weer getest wordt. Hierbij kan de interne steunlijn een eerste target zijn en de bovenkant van het kanaal een tweede.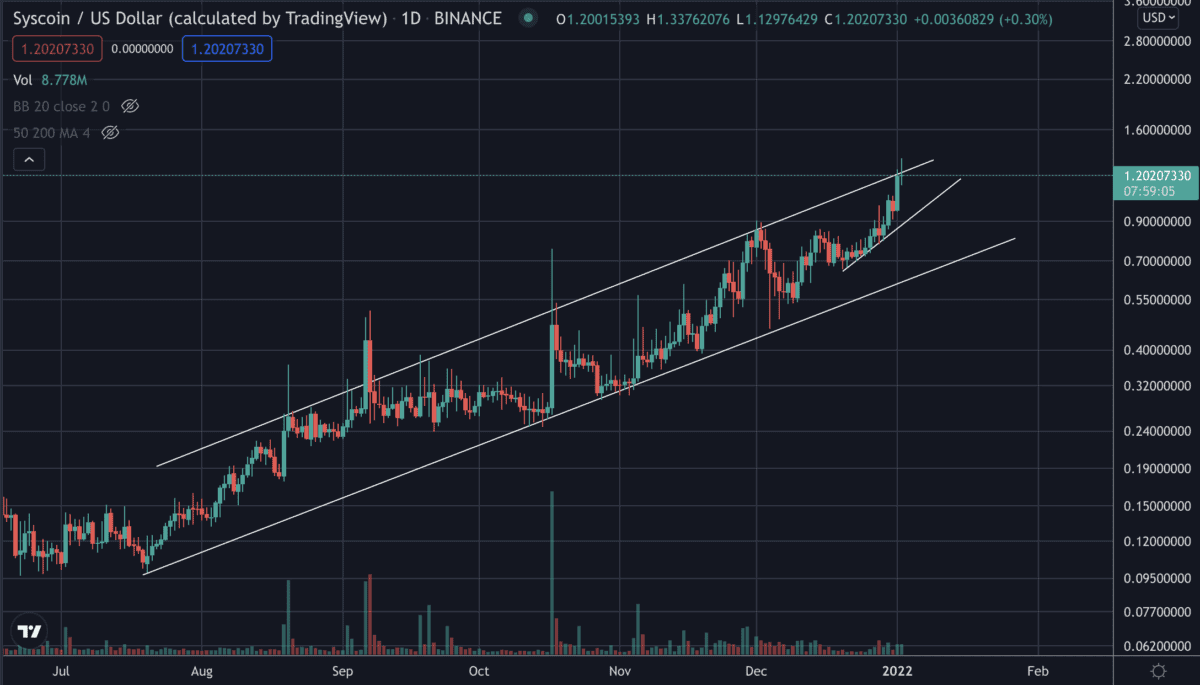 Wat zijn de verwachtingen voor de komende periode?
Of het nieuws nog verdere impact gaat hebben op de prijs is afhankelijk van een groot aantal factoren die dagelijks verschillen. Overweeg jij een positie te nemen in SYS? In ons Discord kanaal voor leden bediscussiëren we het nieuws en zullen we verdere updates met jullie blijven delen. Ook zullen hier additionele technische analyses gedeeld worden door een van onze analisten die dieper op de koers ingaan. Je komt hier eenvoudig in contact met onze analisten en crypto coaches, zij helpen je graag een weloverwogen beslissing te maken.