Vandaag in de Insider-analyse duiken we in Tezos (XTZ). Deze cryptocurrency werd uitgekozen door leden in de premium omgeving van Crypto Insiders en wordt daarom behandeld in deze editie.
Tezos is een blockchain-netwerken dat werkt op basis van smart contracts, zoals Ethereum (ETH). Hieronder kijken we eerst naar de meest recente ontwikkelingen omtrent het project van XTZ en wat we in de toekomst kunnen verwachten. Daarna wordt het sentiment op de markt gemeten en analyseren we op basis van een technische analyse de koersgrafiek van de crypto.
Recente ontwikkelingen Tezos
Voordat Tezos een update uitvoert moet hier door token holders eerst voor gestemd worden. Een update zal dus eerst voorgesteld worden door ontwikkelaars. Iedereen die XTZ tokens bezit mag dan stemmen of ze voor of tegen het voorstel zijn. Pas als er meer stemmen voor dan tegen zijn kan de update worden doorgevoerd. Dit systeem wordt ook wel on-chain governance genoemd. Dit systeem was onlangs toegepast bij het implementeren van de nieuwe update, genaamd The Hangzhou upgrade. Deze update bracht verschillende nieuwe technische tools en patches met zich mee. Dit was niet de eerste update die middels dit systeem was uitgevoerd. Via deze pagina zijn alle updates te zien. 
Verder zien we dat Tezos recent een aantal interessante samenwerkingen is aangegaan. Deze samenwerkingen zijn beide in de sportsector. Zo heeft Tezos een lange termijn samenwerking gesloten met zowel Red Bull Racing als McLaren in de Formule 1, en zijn ze een samenwerking aangegaan met het Engelse voetbalteam Manchester United. Dit zijn natuurlijk prachtige namen en zorgen voor heel veel extra naamsbekendheid. 
Deze samenwerkingen heeft Tezos kunnen bekostigen door de reserves die zij aanhouden. Doordat de Tezos Foundation een non-profit organisatie is wordt dit enkel gebruikt om interessante samenwerkingen te verwezenlijken en om grants, ofwel beurzen, uit te reiken aan ontwikkelaars die voor nieuwe updates zorgen zoals de Hangzhou update. Hieronder een overzicht van de schatkist van de Tezos Foundation op 30 juli 2021. 

Tevens wist Tezos nog een samenwerking aan te gaan met een grote naam in de gaming-sector, namelijk Ubisoft. Met deze samenwerking zal Tezos 'Ubisoft Quartz' aanbieden. Via dit platform zal Ubisoft wereldwijd non-fungible tokens (NFT) aanbieden aan gamers. Gamers kunnen via Quartz verschillende voorwerpen, voertuigen, wapens of stukken uitrusting verzamelen, kopen of verkopen voor in hun favoriete games. Het feit dat Tezos zelf al actief was in de gaming-sector zou een rol gespeeld kunnen hebben bij de beslissing van Ubisoft. Tezos organiseert bijvoorbeeld ook evenementen omtrent gaming.
Wat kunnen we nog van Tezos verwachten?
Zoals eerder vermeld worden nieuwe updates aan het platform middels on-chain governance gekozen. Nieuwe updates zullen dus altijd gemakkelijk te volgen zijn voordat deze daadwerkelijk worden geïmplementeerd. De meest recente goedgekeurde update is de Ithaca 2 update. Deze update zorgt ervoor dat een error in het Ithaca script niet meer voor kan komen. Ithaca 2 is dus, zoals de naam doet vermoeden, een verbetering van de Ithaca 1 update. 
Marktsentiment en adoptie van Tezos
Een interessant gegeven van Tezos is dat het merendeel van de XTZ tokens vast staat. Van de 910 miljoen in omloop worden 687,3 miljoen XTZ tokens gebruikt om te staken. Dit is bijna 76% van de totale XTZ in omloop. Met andere woorden wil dit zeggen dat deze tokens vast staan en niet verhandeld kunnen worden. Hierdoor worden de tokens die wel vrij verhandeld kunnen worden schaars.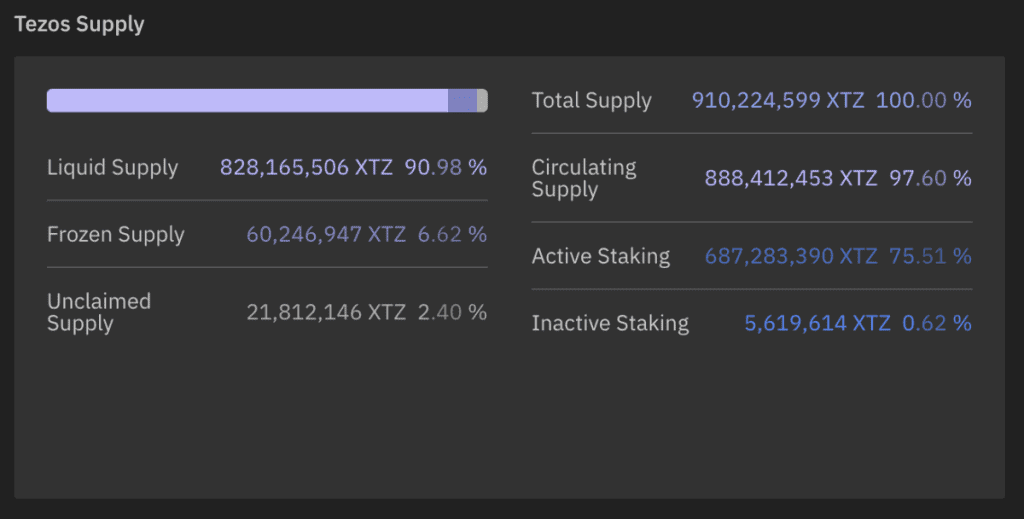 Toch hoeft dit niet altijd een goed teken te zijn. Zoals op onderstaande grafiek te zien is, worden er door het staken ook weer nieuwe tokens uitgegeven. Dit zorgt ervoor dat het totale aantal tokens zal toenemen, waardoor XTZ een inflatoir karakter krijgt.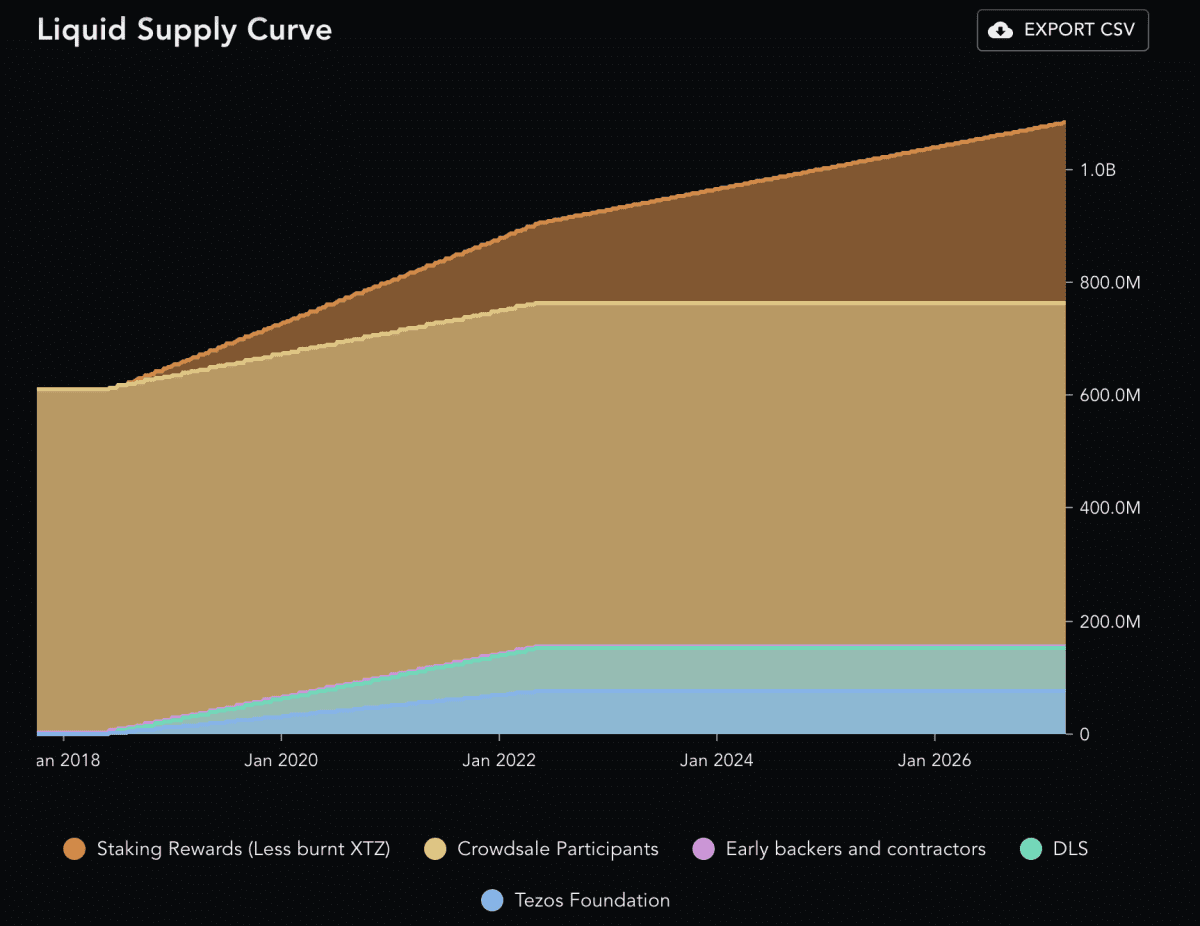 Als we kijken naar het transactievolume van de afgelopen tijd zien we ook iets opvallends. Het aantal transacties dat werd gedaan lag aan het eind van vorige maand veel hoger dan deze hele maand. Over de afgelopen 30 dagen zagen we een gemiddelde van 230.000 transacties per dag. In de afgelopen 24 uur is dat slechts 184.000. We zien dus toch een afname in populariteit over de afgelopen maand.

Technische analyse XTZ
XTZ is in de afgelopen 24 uur met ongeveer 1,5% omhoog gegaan, desondanks is het volume over de afgelopen 24 uur wel met 33% afgenomen. Over de afgelopen zeven dagen wist de cryptocurrency een nog hoger rendement te behalen, in deze periode zagen we namelijk een stijging van ongeveer 15%. Als we naar de grafiek van XTZ kijken zien we eigenlijk direct een lange termijn neerwaartse trend. Deze trend wordt af en toe wel onderbroken door een aantal maanden zijwaartse prijsactie en op het moment van schrijven zijn we wederom in een zijwaartse periode beland. Hier is duidelijk te zien dat de bears in de markt moeite hebben met het winnen van de bulls en de steunlijn op $2,85 niet kunnen doorbreken. Toch hebben de bulls ook nog niet gewonnen aangezien de koers over de lang termijn nog in de neerwaartse trend zit. Pas bij een overtuigende uitbraak of duidelijke trendommekeer kunnen we kijken voor lange termijn investeringen. Helaas ziet Tezos er vooralsnog bearish uit.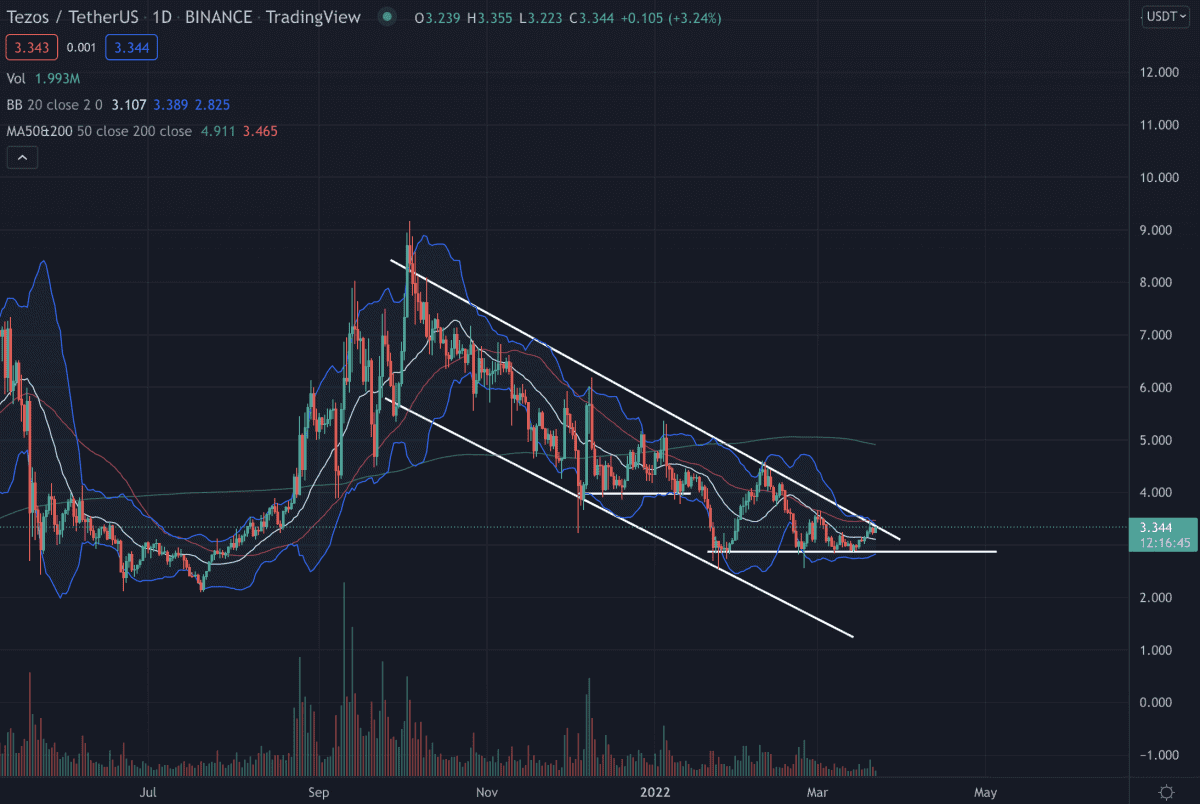 Hoe bepaal ik het juiste moment om te kopen?
Overweeg je een positie te nemen in XTZ, maar weet je niet zo goed wanneer je het best kunt instappen? Vraag het aan een ervaren analist in onze premium omgeving voor leden! Hier worden dagelijks additionele technische analyses gedeeld door verschillende analisten die dieper op de koers ingaan. Je komt hier vrij eenvoudig in contact met verschillende analisten en ervaren crypto coaches, zij helpen je graag een weloverwogen beslissing te maken. Je kan dit nu de eerste 30 dagen gratis en vrijblijvend uitproberen!