Het grote deel van de markt heeft er vandaag weinig zin in. De topspelers zoals bitcoin (BTC) en ethereum (ETH) laten beide rode cijfers zien. Gelukkig zijn er nog een aantal coins die wel hard wisten te stijgen. Theta Fuel (TFUEL) is daar een van. Deze coin steeg in het afgelopen uur met ongeveer 13%. In de afgelopen 24 uur steeg TFUEL met ongeveer 11%. Over de afgelopen zeven dagen zagen we een stijging van 19%. Door de stijging staat de cryptocurrency op de 70e plaats op basis van marktwaarde.
Wat is Theta Fuel?
Theta Fuel is in principe een toevoeging aan het Theta ecosysteem. TFUEL wordt gebruikt op Theta. Theta verzorgd gedecentraliseerde videostreaming, data delivery en edge computing, waarmee ze voordeliger en efficiënter zijn dan concurrenten op de markt. Streamers op het platform krijgen op het platform van Theta ook een hogere beloningen dan dat zij krijgen op andere platformen. Op het Theta platform zitten geen tussenpersonen waardoor de beloning direct in de zak van de streamer komt. Deze beloning krijgen zij in de vorm van TFUEL.
Waarom stijgt TFUEL in waarde?
Een mogelijke reden achter de stijging van TFUEL zou dit Twitterbericht kunnen zijn. Hierin wordt aangegeven dat Theta een samenwerking is aangegaan met Curate. Curate is een non-fungible token (NFT) marktplaats waarbij er geen gas fee betaald hoeft te worden om iets aan te bieden. Daarnaast krijgen zowel de koper als verkoper een beloning in de vorm van de token XCUR. 
Theta heeft in hetzelfde bericht aangegeven dat THETA en TFUEL gebruikt kan worden in Curate om te betalen voor verschillende NFT's. Daarnaast geven ze aan dat ze ook bezig zijn met de implementatie van Theta NFT's binnen Curate. Dit is dus een mooie ontwikkeling voor het Theta ecosysteem.
Technische analyse
Hoe leuk de stijging van vandaag en de samenwerking ook is, het technische plaatje van TFUEL ziet er iets minder positief uit. We bewegen duidelijk in een neerwaarts trendkanaal. In deze trend is het wat gevaarlijker om te traden aangezien de koers alleen maar naar beneden wilt. Een eventueel instapmoment zou de uitbraak uit dit kanaal kunnen zijn of de retest aan de onderkant van het kanaal. De laatste optie is echter niet zonder risico dus pas goed op met deze coin.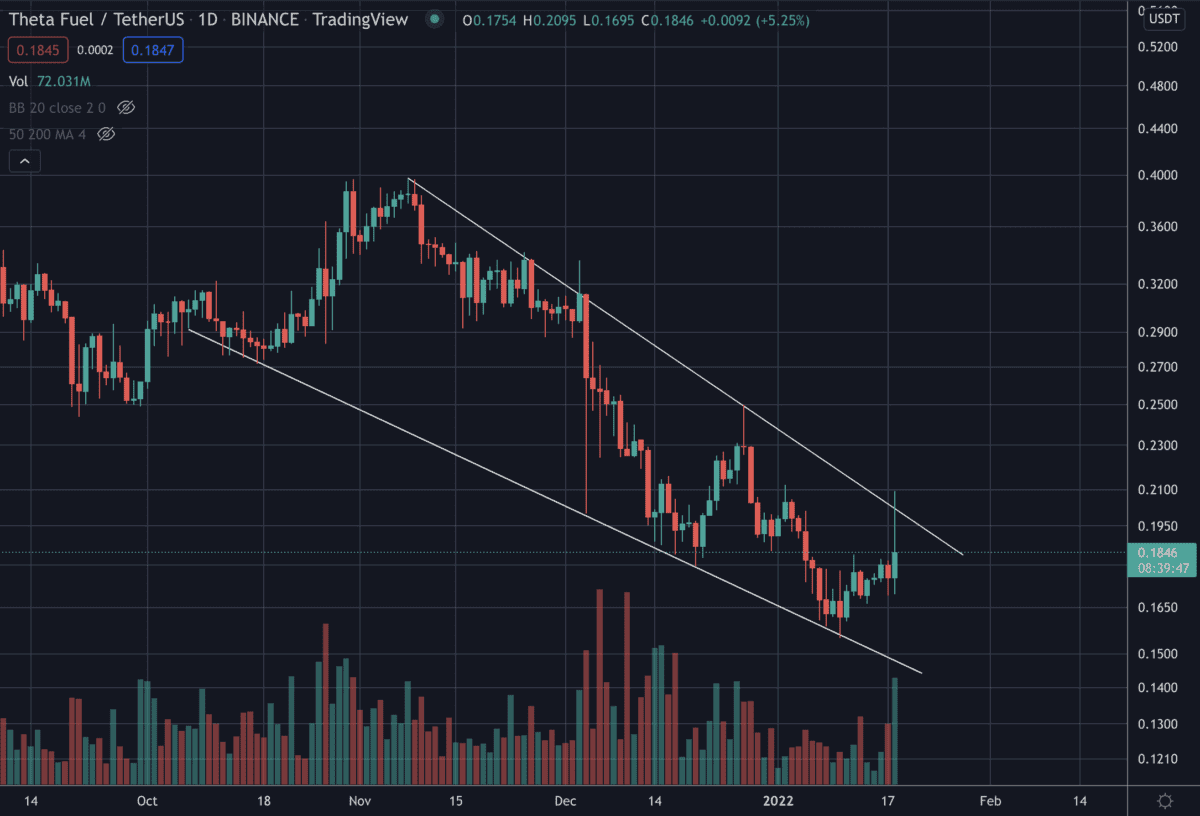 Wat zijn de verwachtingen voor de komende periode?
Of het nieuws nog verdere impact gaat hebben op de prijs is afhankelijk van een groot aantal factoren die dagelijks verschillen. Overweeg jij een positie te nemen in TFUEL? In ons Discord kanaal voor leden bediscussiëren we het nieuws en zullen we verdere updates met jullie blijven delen. Ook zullen hier additionele technische analyses gedeeld worden door een van onze analisten die dieper op de koers ingaan. Je komt hier eenvoudig in contact met onze analisten en crypto coaches, zij helpen je graag een weloverwogen beslissing te maken.