Quinten Francoise, analist, Finfluencer en oud-YouTuber, heeft met zijn bijna 80.000 volgers een interessante grafiek gedeeld. Quinten vergeleek de huidige prijsactie met de prijsactie die we enkele jaren geleden in de bearmarkt van eind 2018, begin 2019 ook zagen.
Last time we had a death cross between the 20 MA and the 100 MA on the weekly, we reached the bottom of the 2018 bear market within that weak, bouncing off the 200 MA.

We have the exact same setup again (20 MA, 100 MA & 200 MA), with the same capitulation vibes.$BTC #crypto pic.twitter.com/H1IM7nV8Wm

— Quinten | 048.eth (@QuintenFrancois) June 13, 2022
In deze tweet kaart de analist aan dat de 20 dagen moving average (MA) aan de bovenkant aan het kruisen is met de 100 dagen MA. Dit wordt ook wel een death cross genoemd. De vorige keer dat we dat zagen was op 10 december 2018. Op dat zelfde moment maakte de koers een bounce op de 200 dagen MA. Dit was toen het teken dat de bodem bereikt was.
Als we kijken naar de huidige prijsactie zien we precies hetzelfde gebeuren. De gele lijn op de grafiek van Francoise kruist aan de bovenkant van de blauwe lijn, waardoor er weer een death cross gevormd is.
De rode lijn is de 200 dagen MA. Hier zie je ook direct dat de koers op het moment van schrijven mee aan het stoeien is en, hoewel de koers er kort onder schoot, er vooralsnog boven blijft.
Ook de bitcoin RSI komt overeen
Daarnaast zien we ook dat een andere technische indicator eenzelfde signaal afgeeft als een aantal jaar geleden. De Relative Strength Index (RSI) schoot in de bodem van de vorige bear markt kort in oversold gebied. Direct nadat dit gebeurde zagen we de koers over de volgende weken stijgen.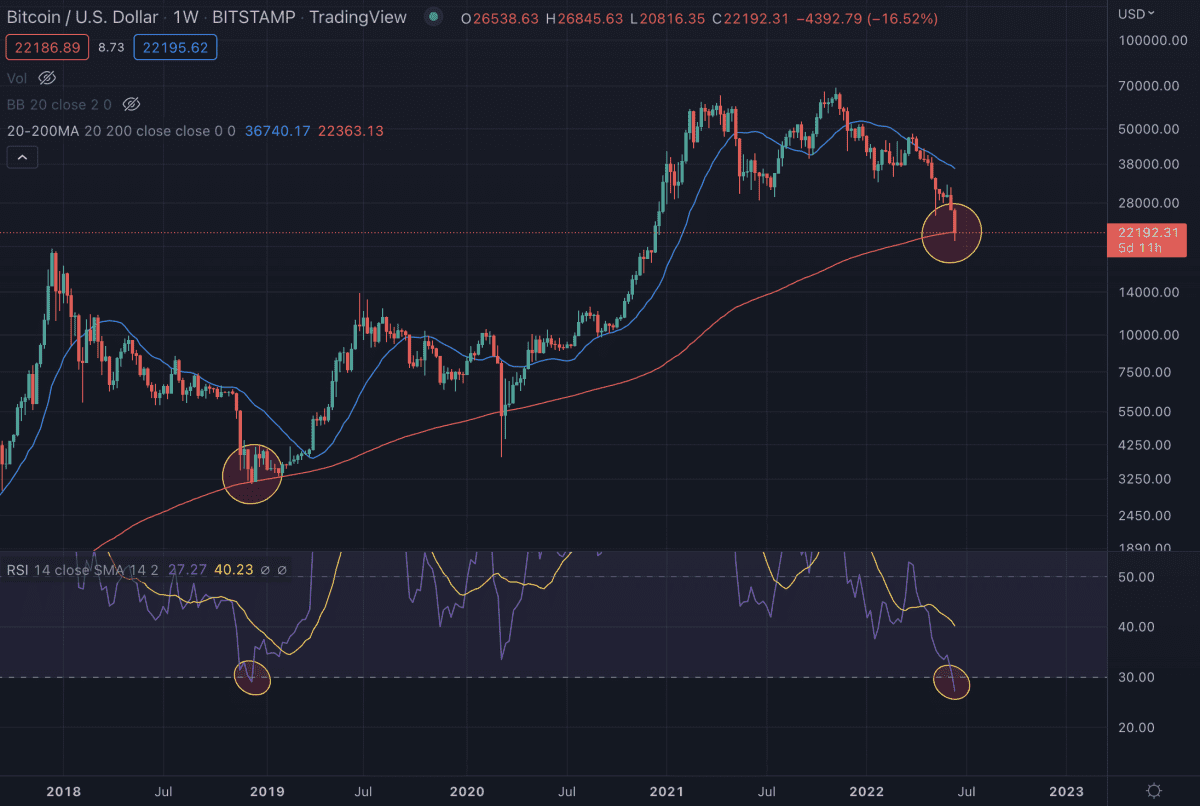 Op dit moment zien we wederom dat de koers in oversold gebied terecht is gekomen op de wekelijkse grafiek. Dit is dus voor het eerst sinds ongeveer 3,5 jaar. Het zal daarom interessant zijn om te zien of deze niveaus in stand kunnen blijven.
Voorspelling bitcoin (BTC) van de analisten van Crypto Insiders
Ook de analisten van Crypto Insiders hebben hun eigen analyses gedeeld in de Premium Omgeving van Crypto Insiders voor leden. Hier wordt bitcoin dagelijks besproken en zal je op de hoogte gehouden worden van alle ontwikkelingen rondom de koers en het project zelf. Ook analyseren onze analisten verschillende andere cryptocurrencies. Er staan op het moment al verschillende technische analyses voor je klaar! Neem een kijkje in onze discord omgeving voor leden.
Disclaimer: Beleggen brengt risico's met zich mee. Onze analisten zijn geen financieel adviseurs. Raadpleeg altijd een adviseur bij het maken van financiële beslissingen. De informatie en tips die op deze website worden verstrekt zijn gebaseerd op eigen inzichten en ervaringen van onze analisten en dienen alleen voor educatieve doeleinden.