Een van de meest karakteristieke dingen aan Bitcoin is het feit dat er maar een gelimiteerd aantal van kunnen bestaan. Dit in tegenstelling tot fiat valuta, waarbij centrale banken de macht hebben om naar wil geld bij te printen of te vernietigen. In theorie zou er dus geen maximaal aantal euro's kunnen bestaan. Maar hoeveel bitcoins zijn er dan op dit moment in omloop? En hoeveel bitcoins kunnen er uiteindelijk in totaal bestaan? In dit artikel gaan wij hier dieper op in!
Hoeveel bitcoins zijn er?
Om te kunnen uitleggen hoeveel bitcoins (BTC) er op dit moment zijn, moet er eerst uitgelegd worden hoe deze bitcoins ontstaan. 
Satoshi Nakamoto heeft in 2008 in het ontwerp van Bitcoin, ook wel de whitepaper genoemd, beschreven hoe het Bitcoin netwerk zou moeten werken. Een van de sterke punten van Bitcoin was het feit dat er geen centrale partij nodig was in het proces. Deze rol zou worden overgenomen door veel individuele partijen. Deze partijen worden ook wel miners genoemd. 
Miners vervangen dus de centrale partij. Miners hebben een paar taken. Zo is een van deze taken het controleren van elke transactie. Miners controleren of de bitcoins uit de transactie niet al eens eerder zijn uitgegeven. Op het moment dat een gebruiker een bitcoin-transactie doet, zal een miner de geldigheid verifiëren en de transactie, als alles in orde is, bevestigen. De miners voegen al deze lopende en bevestigde transacties vervolgens in een gezamenlijk block. Een miner opent een block met transacties, voegt hier alle transacties die op dat moment gedaan worden aan toe. Als al de transacties zijn bevestigd zal de miner dit block ook weer sluiten. Een volgende block zal hierna weer worden geopend. Hier komt ook de benaming van de blockchain vandaan.    
Als beloning voor al deze werkzaamheden krijgen de miners uiteraard betaald in bitcoin. Een klein gedeelte van de totale opbrengst van miners vloeit voort uit transactiekosten die een bitcoin gebruiker betaald per transactie. Het grootste gedeelte komt echter van het ontdekken van een nieuw block. Per block staat er een vast aantal bitcoin klaar voor de miners. Deze vergoeding verandert periodiek. Per 210.000 blocks zal deze beloning gehalveerd worden. Dit wordt ook wel de Bitcoin halving genoemd. De eerste 210.000 blocks gaven 50 BTC als beloning. Na deze eerste blocks werd de beloning dus gehalveerd naar 25 BTC per block. Op het moment van schrijven krijgen miners nog maar 6,25 BTC per nieuw ontdekt block. 
Nu je een spoedcursus bitcoin mining achter de rug hebt, kunnen we antwoord geven op de vraag hoeveel bitcoins er op dit moment zijn. Op het moment van schrijven zijn er in totaal al 18,881 miljoen bitcoins gemined. Het aantal bitcoin in omloop wordt in jargon ook wel de 'circulating supply' genoemd. Dit wil echter niet zeggen dat er ook echt daadwerkelijk 18,881 miljoen bitcoins in omloop zijn. Zo schrijft Decrypt op 3 januari 2021 een artikel genaamd "Lost Bitcoin: 3.7 million Bitcoin are probably gone forever". Ofwel '3,7 miljoen bitcoin zijn waarschijnlijk voor altijd kwijt'. Dit is simpelweg te verklaren door het feit dat mensen hun coins wel eens kwijtraken. Dit kan komen doordat zij hun wachtwoorden zijn vergeten of bitcoins naar een ethereum adres hebben gestuurd. Daarnaast bezit Satoshi Nakamoto zelf een wallet met 1 miljoen bitcoins erop. Deze wallet is echter al vanaf dag 1 al onaangeraakt. Deze coins zullen nooit meer verstuurd kunnen worden, en worden dus als 'kwijt' bestempeld. Als dit aantal klopt wil dat zeggen dat er maar ongeveer 15 miljoen bitcoins daadwerkelijk verhandelbaar zijn.
21 miljoen bitcoins
Satoshi Nakamoto heeft ervoor gezorgd dat er in totaal 21 miljoen bitcoins gemined kunnen worden.
Ik hoor je denken, als er al 18,881 miljoen bitcoins gemined zijn, en het maximum aantal bitcoin is 21 miljoen, dat zou dan moeten betekenen dat we al bijna alle coins gemined hebben? Dit klopt echter niet. Door de eerder genoemde halving duurt dit nog wel een poosje. De verwachting is namelijk dat alle coins pas gemined zijn in het jaar 2140. Het schema hieronder laat zien hoe deze verwachting is onderbouwd.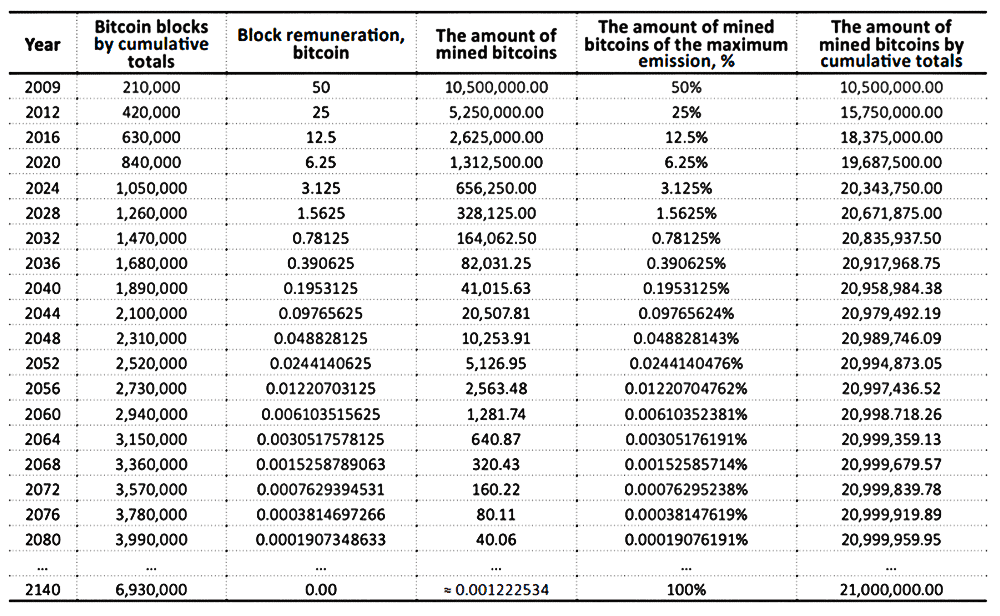 Wat gebeurt er als alle bitcoins in omloop zijn?
Op een gegeven moment is het moment daar dat alle bitcoins gemined zijn. Maar wat dan? Hoe gaan we dan verder? Er zullen op dat moment nooit meer nieuwe bitcoins bij komen, echter moeten er alsnog transacties goedgekeurd worden en in blocks geplaatst worden. Dit moment zal een grote impact hebben op de verschillende facetten van Bitcoin. 
Effect op de bitcoin miners
De beloning die miners op dit moment krijgen voor het ontdekken van een nieuw block en de transactiekosten vormen een van de grootste inkomstenbronnen voor miners. De hoge koers van bitcoin zorgt er voor een miner voor dat zij met de beloning hun kosten kunnen betalen. Zij kunnen deze beloning immers direct verkopen op de cryptomarkt. 
Op een gegeven moment is het natuurlijk zo dat de beloning die miners krijgen voor het ontdekken van een nieuw block zo klein is dat dit niet genoeg is om de kosten te betalen. Winst maken ze dus al helemaal niet. De miners zullen het dan moeten hebben van de transactiekosten.
De verwachting is daarom dat de transactiekosten die de miners zullen ontvangen hoog genoeg moeten zijn om alle kosten te dekken. De hoogte van deze transactiekosten hangen af van hoe het Bitcoin-netwerk er op dat moment uit zullen zien. Het ligt er dus aan of bitcoin wordt gebruikt als betaalmiddel of als store of value. Als bitcoin wordt gebruikt als betaalmiddel zullen er veel meer transacties plaatsvinden dan als store of value. Des te meer transacties, des te meer de miners verdienen.  
Het effect op Bitcoin's netwerk
Een van de belangrijkste factoren van bitcoin is natuurlijk haar netwerk. Het openbare grootboeksysteem is een oplossing voor het oude, ingewikkelde en niet transparante boekhoudsysteem zoals vele financiële partijen dat op dit moment kennen.
Op het moment dat bitcoin daadwerkelijk een veel gebruikte valuta wordt, zal het aantal transacties hard stijgen. Er is hierdoor een grote kans dat het Bitcoin netwerk steeds trager wordt. Dit is in het verleden ook al vaker gebeurd. Dat het netwerk trager wordt is te verklaren door het feit dat alle informatie van het Bitcoin netwerk openbaar is en wordt opgeslagen. Alle grootboeken worden in een database opgeslagen; dit gaat ten kosten van de snelheid van het netwerk.
Om dit probleem op te lossen zal het netwerk waarschijnlijk overgaan op een Layer 2-technologie zoals het Lightning Network. Deze oplossing zal gebruikt worden voor het goedkeuren van transacties op het netwerk. Het netwerk zal hierdoor veel sneller worden en er zullen veel meer transacties per keer goedgekeurd kunnen worden.
Effect op de cryptocurrency bitcoin 
Hoewel bitcoin bedoeld is als betaalmiddel, wordt het vandaag de dag door voor mensen gebruikt als speculatieve investering. Dit zorgt voor hoge volatiliteit en dus voor bijbehorende fluctuerende koers. Dit zorgt er ook voor dat serieuze investeerders niet durven in te stappen en dat regelgevende instanties de sector goed in de gaten willen houden.
Op het moment dat alle bitcoins gemined zijn zal het bitcoin landschap er anders uit zien. Tegen die tijd zal het netwerk de updates hebben gehad zoals hierboven beschreven. Dit zal ervoor zorgen dat het netwerk sneller zal werken en dat bitcoin echt als betaalmiddel gebruikt kan worden in plaats van als investering. Er zal tegen die tijd meer regulatie zijn. Daarnaast zal de koers stabieler blijven. Dit geeft de mogelijkheid voor grotere landen om bitcoin als wettelijk betaalmiddel te zien, zoals El Salvador dat nu al doet.