Cryptocurrency is gebaseerd op cryptografie en is in essentie niets nieuws. Door de eeuwen heen zien we talloze voorbeelden van cryptografie. Al vanaf de hiërogliefen van de oude Egyptenaren tot aan de handcijfers in de Tweede Wereldoorlog probeerde men hun boodschappen op een manier te verbergen zodat de vijand niet weet wat het bericht inhield. Met de komst van de computer gaat dit eenvoudiger en sneller. Hier maakt 'Satoshi Nakamoto' gebruik van. Deze, tot op de dag van vandaag, onbekende partij publiceerde in 2008 de Bitcoin white paper, ofwel 'Bitcoin: A Peer-to-Peer Electronic Cash System'. Hierin werd het idee omschreven over een decentraal cryptografisch geldsysteem. Nakamoto schreef "a system for electronic transactions without relying on trust.". Nakamoto had een idee waarmee je geld kan versturen zonder dat er vertrouwen voor nodig is, slechts wiskunde. Om te zien hoeveel bitcoin er in omloop is, hoef je niemand te vertrouwen. Daarnaast is er geen centrale partij die je hoeft te vertrouwen, dus niemand heeft de macht om de regels te veranderen. Dit was volgens Nakamoto hetgeen dat Bitcoin uniek zou maken.
Nakamoto heeft met zijn white paper wiskundigen enthousiast gekregen en is toen  begonnen met het concept te ontwerpen. In januari 2009 was het Bitcoinnetwerk voor het eerst operationeel en werd de eerste block van de blockchain gemaakt. De eerste block wordt ook wel 'Genesis block' genoemd. Nakamoto heeft Bitcoin zo ontworpen dat er geen centrale partij nodig is voor het verwerken van transacties op het netwerk. Dit wordt in plaats daarvan gedaan door zogenoemde miners. 
Wat is mining?
Miners vervangen de centrale partij. Het doel van de miners is het controleren van elke transactie. Miners controleren of de bitcoins uit de transactie niet al eens eerder zijn uitgegeven. Wanneer een gebruiker een bitcoin-transactie doet, moet deze gebruiker wachten tot een miner de geldigheid heeft geverifieerd en bevestigd. Miners zullen deze nieuwe en lopende transacties samenvoegen in een candidate block. Een candidate block is een nog openstaand block dat moet worden gevalideerd. Daarnaast openen en sluiten zij deze blokken op de blockchain.
Als beloning voor dit werk krijgen zij betaalt in bitcoin. De miners krijgen als beloning de transactiekosten die een gebruiker betaald, ook wel de mining fee genoemd. Daarnaast krijgen miners een beloning voor het ontdekken van een nieuw block. Wanneer een miner een nieuw block aan de blockchain kan toevoegen, krijgen zij het aantal bitcoin van dit nieuwe block. Het Genesis block gaf 50 bitcoin als beloning. Per nieuw ontdekt block kreeg een miner dus als beloning 50 bitcoin op zijn of haar wallet bijgeschreven. 
Bitcoin halving
De eerdergenoemde beloning wordt echter om de 210.000 nieuw ontdekte blokken gehalveerd; dit duurt ongeveer vier jaar. Deze gebeurtenis wordt ook wel the halvening of Halving genoemd. Het effect hiervan is dat het aantal nieuwe bitcoins dat per nieuw block gegenereerd wordt verminderd. Dit wordt gedaan om inflatie tegen te gaan. Bitcoin krijgt door de halving haar deflationaire karakter. Er kunnen immers niet meer dan 21 miljoen bitcoin worden gemined. Dit betekent dat er niet meer dan 21 miljoen bitcoin in omloop kunnen zijn; Dit in tegenstelling tot wat centrale banken kunnen doen met fiat geld. Waar centrale banken volle controle hebben over het bijdrukken van geld, zoals te zien is op de balans van de Federal Reserve – de Amerikaanse centrale bank, kan niemand meer dan de vastgestelde 21 miljoen bitcoins (BTC) bijdrukken. 
Zoals eerder aangegeven begon de beloning bij 50 bitcoin per nieuw ontdekt block. Deze beloning werd voor het eerst gehalveerd in november 2012 naar 25 bitcoin per block. De halvering zorgt volgens een onderzoek van Meynkhard (2019) genaamd Fair market value of bitcoin: halving effect voor de stijging van de bitcoin koers. Uit dit onderzoek bleek dat de afname van de inflow aan nieuwe bitcoins invloed had op de koers. Doordat er minder nieuwe bitcoin de markt op kwamen, maar de vraag en interesse bleef stijgen, steeg de koers van bitcoin mee. Meynkhard omschreef in zijn onderzoek hoe dit precies te werk ging. De miners op het bitcoin netwerk minen bijvoorbeeld 100 BTC per maand en verkochten deze bitcoins om hun productiekosten te compenseren. Door de halving zal deze 100 BTC nog maar 50 BTC zijn. Toch blijven de vaste lasten die deze miners hebben gelijk. De opbrengst zou de kosten niet meer kunnen dekken. Hierdoor is het voor de miners niet winstgevend om hun 50 BTC direct te verkopen, wat leidt tot een afname van het aanbod van nieuwe bitcoins om de markt. Doordat er nu evenveel (of meer) vraag is naar bitcoin, maar tweemaal verminderde aanbod, begint de markt te reageren door de marktwaarde van cryptocurrency te verhogen.
Hieronder is in een grafiek van Glassnode te zien wat de resultaten zijn van de vorige halvings. In de grafiek staat de gestippelde lijn voor de datum waarop de halving plaatsvond. Hieruit is te zien dat de koers van bitcoin stijgt na een halving. Dit is het duidelijkst te zien na de halving van 2013. Uit hetzelfde onderzoek van Meynkhard bleek dat de koers van bitcoin ongeveer vijf maanden na de halving reageerde op deze gebeurtenis. De eerste halving heeft er daarom voor gezorgd dat de koers van bitcoin steeg van $10 voor de eerste halving naar $1.115 als nieuwe piek op november 2013. De meest recente halving die plaatsvond in 2020 heeft ook voor een prijsstijging gezorgd. De koers steeg van ongeveer $8.000 voor de halving in mei 2020 naar een piek van $65.000 in april 2021. Ook hier bleek dat de koers ongeveer vijf maanden na de halving pas begon te stijgen.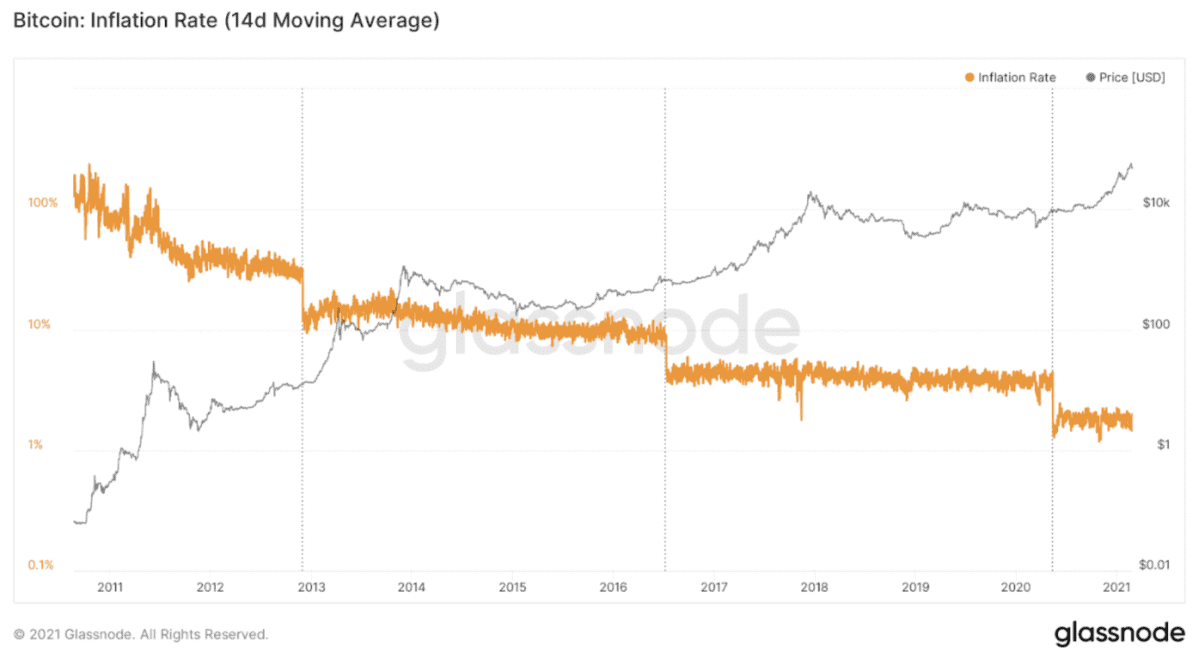 Hieronder is een tabel te zien waarop het schema van elke halving is opgesteld. Dit schema is een verwachting van wanneer elke halving plaats zal vinden. Deze data staat immers niet vast aangezien er geen precieze datum vastgesteld kan worden. Een halving vindt plaats elke 210.000 blocks. Een block sluit gemiddeld elke tien minuten. Echter staat dit niet vast. Het ene block kan langer of korter open staan dan de vorige. De verwachting is dat de volgende halving in 2024 plaats zal vinden. Na deze halving zal een nieuw gemined block nog maar 3,125 bitcoin opleveren. Er zullen hierdoor 656.250 bitcoin gemined worden tot aan de volgende halving. Dit staat gelijk aan ongeveer 3,125% van de totale supply.