Ethereum (ETH) mining is het proces waarbij een leger van computers op zoek gaat naar de oplossing voor het toevoegen van een nieuw blok aan de blockchain. In ruil voor het vinden van een nieuw blok krijgen miners een beloning in de vorm van nieuwe ethereum. Op het moment van schrijven werkt Ethereum nog met het Proof-of-Work consensus mechanisme, maar met de komst van Ethereum 2.0 moet het protocol overgaan op Proof-of-Stake. Tot die tijd is het mogelijk om mining hardware aan het werk te zetten om verse ethers te vinden.
Miners zorgen er in het netwerk voor dat iedereen het eens is over de volgorde van de transacties in het netwerk. In theorie kan iedereen zich bij dat netwerk van computers aansluiten en aan de slag. Daarvoor moet je wel de juiste hardware aanschaffen, rekenen op stevige elektriciteitskosten, een kleine fee voor de mining-pool afstaan en kosten maken voor ondersteunend materiaal voor je mining rig. Bij dat laatste moet je denken aan ventilatie, apparatuur om het energieverbruik in de gaten te houden en onder andere bedrading.
Waarom ethereum minen?
Ethereum minen kan met de juiste apparatuur en relatief lage energiekosten enorm lucratief zijn. De kans dat je dat in Nederland winstgevend kan doen is echter klein, want de energiekosten liggen hier simpelweg te hoog om de concurrentie met de rest van het netwerk te winnen. Als je echter geloof hebt in de lange termijn potentie van ethereum en het interessant vindt om KYC-vrije coins te hebben, dan kan het alsnog interessant zijn. Voor de winst hoef je het in eerste instantie niet te doen, maar het is wel een manier om op een privacy-vriendelijke manier aan ethereum te komen.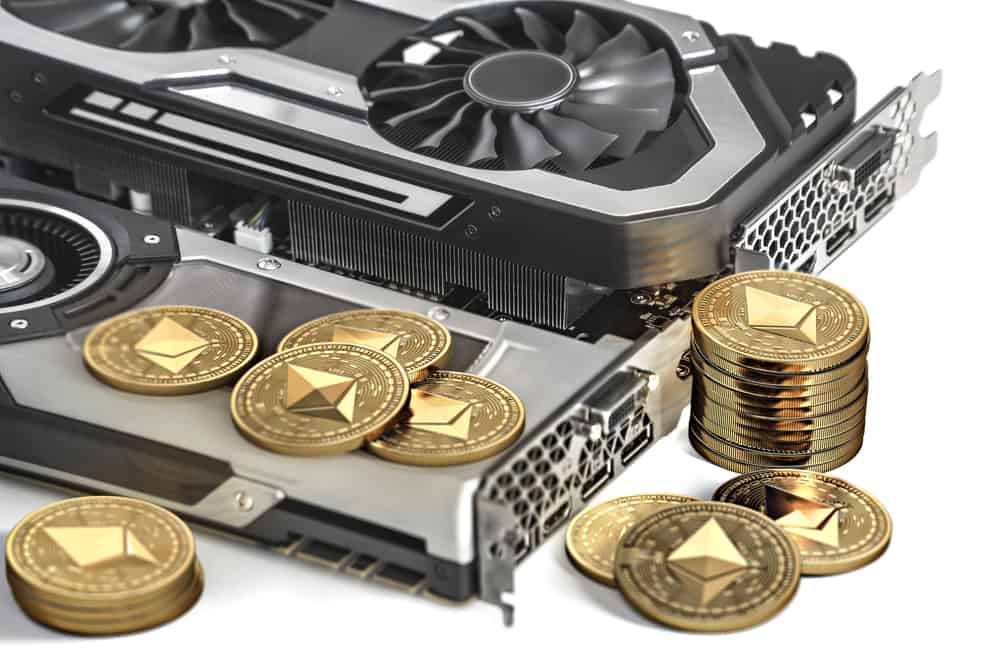 Ethereum mining calculator
Wil jij berekenen hoe winstgevend jij ethereum zou kunnen minen met een bepaalde setup? Dan kun je bijvoorbeeld met de calculator van Minerstat aan de slag. Het enige wat je hoeft in te vullen is je potentiële hash rate, de energie consumptie, het percentage dat je kwijt bent aan de mining pool, de valuta waarmee je werkt en de stroomkosten per kilowattuur. Daar rolt vervolgens je antwoord uit en kun je zien of het op basis van de huidige staat van het netwerk interessant is om met onder jouw omstandigheden ethereum te minen.
Monero versus ethereum mining
Het grote verschil tussen Monero (XMR) en Ethereum mining is in eerste instantie natuurlijk dat je als beloning een andere coin krijgt. Maar dat is niet alles. Monero mining is ontworpen om extra intensief te zijn voor je geheugen, wat als effect heeft dat je apparatuur een stuk koeler blijft in vergelijking met het minen van ethereum. Wat er uiteindelijk voor zorgt dat je apparatuur langer meegaat dan met ethereum mining. Verder is het minen van Monero ook qua stroomverbruik efficiënter dan ethereum mining. De vraag die jij je echter moet stellen is in welke coin jij voor de lange termijn het meeste vertrouwen hebt. Mining is in Nederland met de relatief hoge stroomkosten überhaupt niet winstgevend te doen. Als je het puur voor het geld doet kun je beter direct ethereum of monero kopen in de hoop dat deze in de toekomst meer waard zullen zijn. Als je behoefte hebt aan KYC-vrije munten is het echter wel een interessante optie.
Ethereum mining pools
De mining industrie is inmiddels verworden tot een miljarden-business, waardoor je het als individuele miner niet meer gaat winnen van het grote kapitaal. De enige manier om nog wat te verdienen aan ethereum mining is door je aan te sluiten bij één van de vele ethereum mining pools. Ethermine is hierbij verreweg de populairste, met de huidige hash rate van 32,4 procent. Andere grote mining pools zijn F2Pool met 15,5 procent en Hiveon met 11,3 procent. Wil je zelf op onderzoek uitgaan en een ethereum mining pool vinden? Dan kun je terecht op Poolwatch.