Web 3.0 komt eraan, maar wat is het? En waar zijn Web 1.0 en 2.0 gebleven?
Stel je eens een nieuw type internet voor dat niet alleen nauwkeurig interpreteert wat je invoert, maar feitelijk alles begrijpt wat je overbrengt. Of het nu via tekst, spraak of andere media is; Een internet waarop alle inhoud die je gebruikt, meer op jou is afgestemd dan ooit tevoren. We staan op het kantelpunt van een nieuwe fase in de evolutie van het web: Web 3.0!
Maar wat is Web 3.0 precies, hoe gaat het eruit zien en hoe gaat het ons leven veranderen?
Een nieuwe generatie internet
Web 3.0 is de opkomende derde generatie van internet waar websites en apps informatie op een slimme en een menselijke manier kunnen verwerken. Met gebruik van technologieën zoals blockchain, machine learning (ML) , Artificial Intelligence (AI) en Internet of Things (IoT). Bovendien zullen gebruikers en machines met data kunnen communiceren. Maar om dit te laten gebeuren, moeten programma's informatie zowel conceptueel als contextueel begrijpen. Hiervoor zijn twee belangrijke bouwstenen van het Web 3.0 nodig: het semantisch web en AI. Straks meer daarover.
In Web 3.0 staan blockchain en cryptocurrency centraal. Door de toepassing van blockchain in combinatie met onder andere ML, AI, en IoT wordt het huidige internet, Web 2.0, steeds decentraler. Dit 'nieuwe' internet heet Web 3.0. Het is een betrouwbaarder, opener, intelligenter en een autonomer netwerk dan het 'oude' Web 2.0.
Web 3.0 geeft ongekende nieuwe mogelijkheden: Smart contracts, decentralized apps (dApps), Decentralized Finance (DeFi), cesuurbestendige peer-to-peer (P2P) dataopslag. Daarnaast functioneren zowel AI als IoT op het Web 3.0. En wat dacht je van de Metaverse of Experimented Reality (XR), GameFi of Play-to-Earn en Non-fungible tokens (NFT) als de bouwstenen van Web 3.0?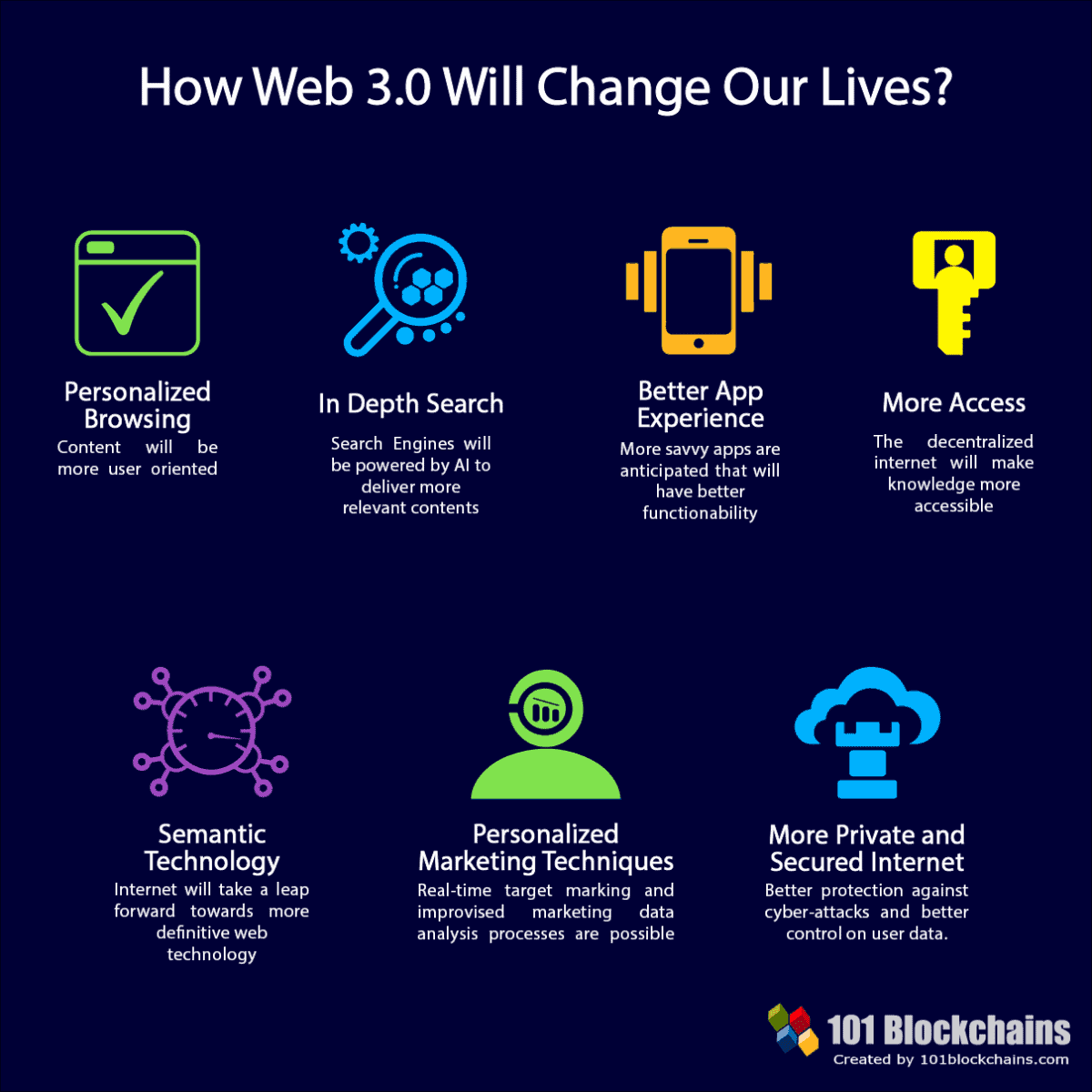 Van Web 1.0 naar 2.0 en 3.0
Voordat we verder gaan, even een paar stappen terug in de tijd. Hoe evolueert het web naar 3.0?
Web 1.0, ook wel het statische web genoemd, was het eerste en meest betrouwbare internet in de periode van 1989 tot 2005. Het wordt het statische web genoemd omdat men vooral informatie kon opvragen. Er was weinig tot geen gebruikersinteractie. Web 1.0 had geen algoritmen om internetpagina's te doorzoeken, waardoor het vaak lastig was om relevante informatie te vinden. Web 1.0 was als het ware een smalle eenrichtingsweg. Het creëren van inhoud werd gedaan door een select groepje en de informatie kwam voornamelijk uit mappen.
Vanaf 2005 kwam het Web 2.0, ook wel het sociale web genoemd, in opkomst. Web 2.0 heeft het internet een stuk interactiever gemaakt dankzij verbeteringen in web-technologieën zoals Javascript en HTML5. Startups en interactieve web platforms zoals Google, YouTube, Facebook, Wikipedia, etc. hebben de weg vrijgemaakt voor sociale netwerken en commerciële toepassingen. De gebruikers creëren nu, in tegenstelling tot Web 1.0, de inhoud. De informatie wordt nu gedistribueerd en gedeeld tussen verschillende platforms en applicaties.
De bouwstenen van Web 3.0
Zoals eerder gezegd, zijn twee belangrijke hoekstenen van het Web 3.0 het semantisch web en AI. Nog twee andere belangrijke hoekstenen zijn ubiquity en 3D graphics. We bespreken ze alle vier.
Ubiquity
Ubiquity betekent overal zijn of kunnen zijn – vooral op hetzelfde moment. Met andere woorden: alomtegenwoordig, ubique. Zo bekeken is Web 2.0 al ubique, immers elke sociale media gebruiker kan onmiddellijk informatie delen zodat het direct voor iedereen beschikbaar is. Web 3.0 gaat nog veel verder in ubiquity. Dankzij IoT zijn niet alleen computers en smartphones verbonden met internet maar ook slimme apparaten.
Semantisch web
Semantiek is de studie van de relatie tussen woorden. Hierdoor kunnen machines betekenis en emoties ontcijferen door gegevens te analyseren. Internetgebruikers krijgen dan een betere ervaring dankzij verbeterde interactie met het web. Web 3.0 interpreteert wat je invoert en begrijpt wat je overbrengt. Of het nu via tekst, spraak of andere media is, Web 3.0 is meer op jou afgestemd dan ooit tevoren. Bestaande bekende toepassing zijn Siri van Apple en Bixby van Samsung. Deze en andere toepassingen worden steeds slimmer en er komen er steeds meer.
AI
Wikipedia definieert AI als intelligentie die wordt gedemonstreerd door machines. Omdat Web 3.0 machines de betekenis en emoties kunnen lezen en ontcijferen, creëert het intelligente machines. Hoewel Web 2.0 dat ook kan, is AI nog steeds voornamelijk op mensen gebaseerd. Dat geeft ruimte voor corrupt gedrag, bijvoorbeeld vervalste reviews. Een online beoordelingsplatform kan gewoon een grote groep mensen verzamelen en betalen om positieve recensies te schrijven. Daarom heeft het internet AI nodig om desinformatie te onderscheppen zodat internetinformatie wel betrouwbaar is.
3D graphics
Sommige futuristen noemen Web 3.0 ook wel het ruimtelijke web omdat het de grens tussen het fysieke en het digitale wil vervagen. Door de revolutie in grafische 3D-technologie, ontstaan virtuele werelden. Dit wordt ook wel de metaverse genoemd. Inmiddels bekende voorbeelden zijn Decentraland en The Sandbox. In de metaverse gaat het niet alleen om futuristische speltoepassingen maar andere sectoren zoals e-commerce, onroerend goed, gezondheid en nog veel meer, worden onderdeel van de metaverse.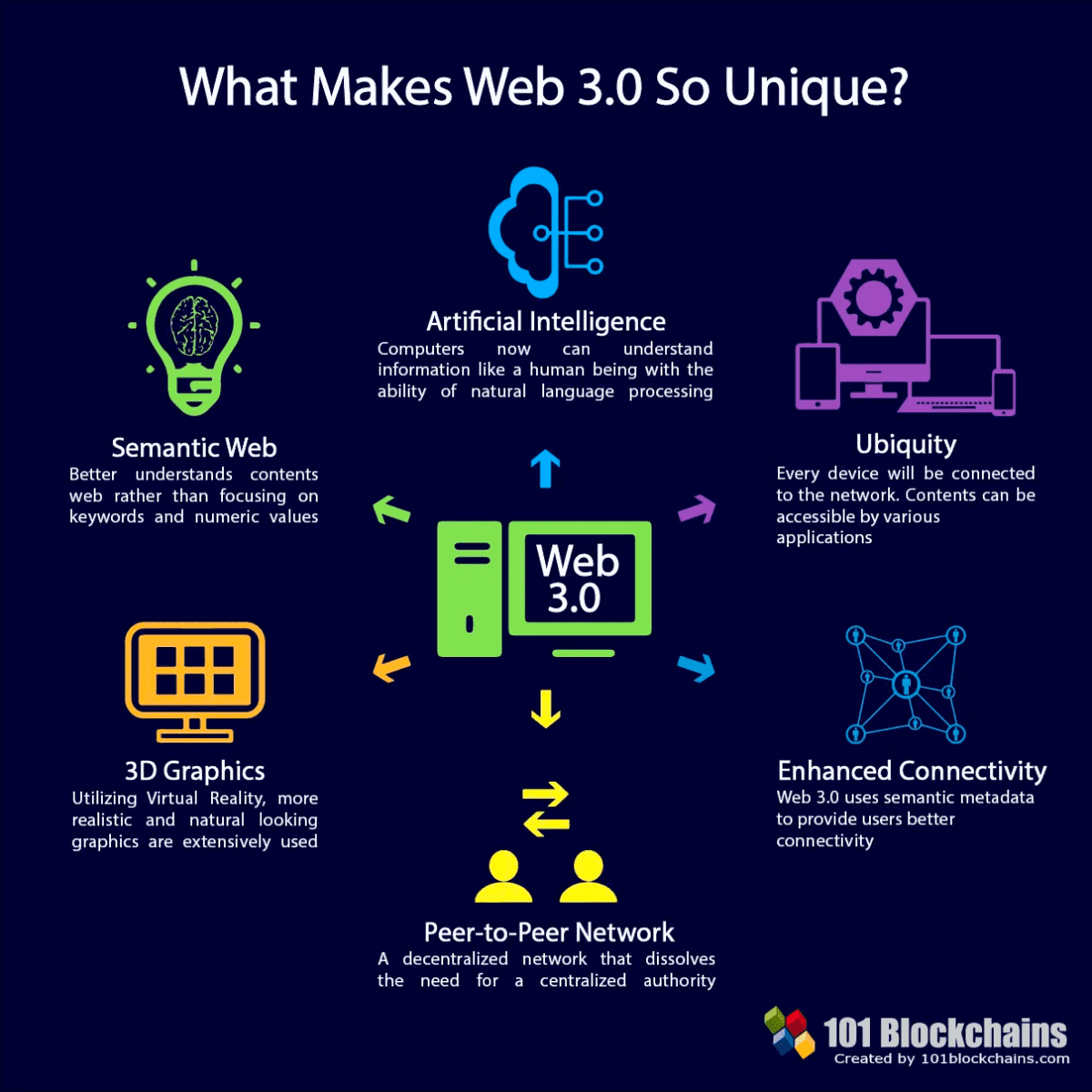 De toekomst
Je kunt je vast wel voorstellen dat de mogelijkheden van Web 3.0 ongekend zullen zijn. En dit is ook zeker lastig om je voor te stellen. Wat gaat de ongekende interesse en ontwikkelingen in de metaverse jou brengen? Web 3.0 brengt een persoonlijkere en meer op maat gemaakte browse-ervaring. Slimmere en meer mensachtige virtuele assistenten helpen jou daarbij. Door blockchain-technologie wordt het internet decentraler, rechtvaardiger en betrouwbaarder dan het Web 2.0. Dankzij self souvereign identity kan elke individuele gebruiker weer de baas worden over zijn eigen data in plaats van de grote tech-reuzen. Net zoals Web 1.0 en 2.0 ons leven heeft veranderd, gaat Web 3.0 dit gegarandeerd doen. Hou de ontwikkelingen in de gaten en zorg dat je onderdeel blijft van deze fascinerende ontwikkelingen.