"Bitcoin heeft ons al vaak verrast en het kan zomaar zijn dat we alsnog de $6.000 breken deze week." schreef ik afgelopen week. En of de koers van bitcoin heeft verrast! Niet alleen brak de koers de $6.000-grens, maar de $7.000 grens ging daar nog eens achteraan. Niet alleen op Bitfinex maar op alle cryptocurrency exchanges. Geen pauze, gewoon recht omhoog! Bam! $7.581 was het hoogste punt vandaag op Coinbase. De bulls vieren feest en iedereen durft weer aan Lambo's te denken. Alts worden weer rijkelijk geshilld en de algemene consensus is dat de bearmarkt toch echt over is en dat we zojuist de start van de nieuwe bull run hebben meegemaakt.
Begrijp me niet verkeerd, ik ben ook gematigd bullish zoals ik de afgelopen weken beschreef in mijn columns 'Bitcoin wordt bullish!' en 'Het einde is in zicht', maar desalniettemin kijk ik de huidige situatie met argusogen aan. Een short squeeze, Bitfinex premium en Binance die de mogelijkheid tot withdrawals (opnames) heeft uitgesloten zijn in mijn optiek geen gezonde drivers voor een bull run maar hebben mijns inziens wel – tezamen met de nodige FOMO (Fear Of Missing Out) – bijgedragen aan de rally van afgelopen week. Hoewel ik zelf (nog steeds) een flinke dip verwacht de komende week of weken stel ik voor eerst te kijken naar het bullish scenario. Het scenario waarbij ik er gewoon naast zat, Bitfinex alsnog FUD (Fear, uncertainty, and doubt) blijkt, we toch echt op weg zijn naar de maan en je vast al kunt nadenken over de kleur van je Lambo.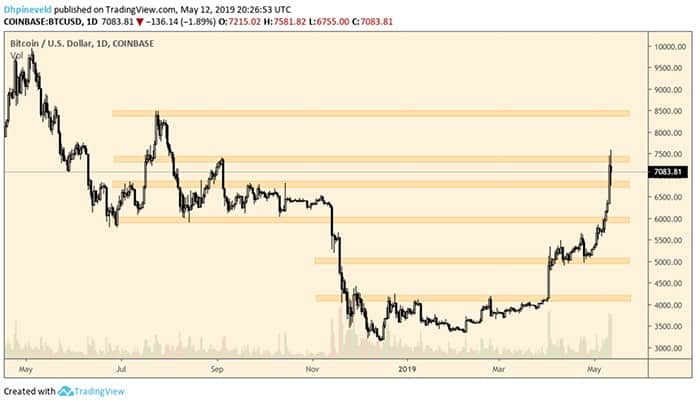 Afbeelding 1: dagelijkse bitcoin-grafiek Coinbase
In afbeelding 1 heb ik de dagelijkse grafiek van de koers van bitcoin op Coinbase weergegeven. Zoals volgens mij wel te verwachten was na de gigantische actie van gisteren zien we vandaag een tot nog toe beperkte correctie en hebben de bulls het niveau van $6.800 goed weten te verdedigen. Terwijl ik dit schrijf staat de koers weer ruim boven de $7.000, op ongeveer $7.114. Mochten de bulls de rally en het momentum willen voortzetten dan is het van levensbelang dat het support op $6.800 stand houdt. Mocht dit lukken en de koers weet weer snel haar plek boven de $7.000 te veroveren (of überhaupt boven de $7.000 te blijven) dan ligt de eerste slag op het niveau van $7.500 (waar we vandaag op afketste) en vervolgens op $8.500. Tussen de $7.500 en $8.500 zie ik niet veel weerstand dus zodra de $7.500 wordt gebroken verwacht ik dat we ook door de $8000 breken en waarschijnlijk zelfs richting de $8.400-8.500 gaan. Als ook dit niveau wordt gebroken dan ligt de weg vrij naar de $10.000, en als dit ook nog eens wordt gebroken dan is het hek van de dam, want de $10.000 zie ik als een belangrijke psychologische grens. Dus onthou. $7.400 -> $8.400 -> $10.000 -> maan.
Dat is, als we vergeten dat we op iedere mogelijke momentum-indicator overbought zijn, zojuist een parabolische stijging hebben meegemaakt (die houden altijd stand 😉 ), te maken hebben met manipulatieve marktomstandigheden en een short squeeze hebben gebruikt als brandstof. Stel we nemen dat wel mee dan wordt de situatie al een stuk minder 'maan-kleurig'. Maar goed, dan is nog niet alles verloren.
Mocht de $6.800 toch breken maar het $6.000 support niveau wel stand houden dan verwacht ik dat we even wat momentum kwijt zijn maar dat het geheel toch wel zeer bullish is. Als in die tussentijd dan ook opheldering ontstaat over de situatie van Bitfinex, Binance weer helemaal up and running is en we onszelf nog steeds boven de $6.000 begeven, dan geloof ik dat we klaar zijn voor de echte bullrun.
Echter, mocht de $6.000 wel breken dan is het geheel toch wel echt bearish en zie ik een re-test van de $5.000 en misschien ook de $4.250 als waarschijnlijk. Euforie slaat snel om in paniek zodra we een dip zien van bijvoorbeeld 20% (wat niet ondenkbaar is na een parabolische move) en FOMO komt men over het algemeen duur te staan.
Mocht de $6.800 stand houden dan word mijn interesse gewekt om mogelijk op de korte termijn long te gaan maar ik kijk liever naar de $6.000. Daarnaast ben ik zeer behoudend op het moment als gevolg van het vooral omtrent Bitfinex en Tether en de withdrawal stop op Binance. De euforie van afgelopen dagen is mooi en ik gun iedereen de gains die hij of zij heeft genoten, maar ik laat me niet zomaar uit de kast lokken. Zolang het nog angstaanjagend stil is rondom Bitfinex en Binance haar zaken nog niet op orde heeft ben ik nog niet bullish en beschouw ik dit als een bull trap. Desalniettemin hoop ik voor de bulls dat het allemaal meevalt en wens ik iedereen een glorieuze week tegemoet. Dit wordt sowieso spannend!
Tot volgende week!
Wil je op de hoogte blijven van het laatste nieuws? Abonneer je dan op onze push-berichten, Facebook– of Twitter. Meediscussiëren? Meld je dan aan voor ons Telegram kanaal.