Iedere asset en iedere trend heeft er een: een moving average (MA) die sinds het begin van de trend – of zelfs de trend daarvoor – als een magische lijn fungeert; zij het als weerstand, zij het als support. Voor iedere cryptocurrency, token, aandeel, asset, commodity, noem maar op, is bijna altijd een dergelijke moving average te vinden. Je vindt hem vaak door eenvoudigweg trial and error uit te voeren. Welke moving average communiceert het beste met de koers? Is het de 10 dagen simple moving average (SMA) of de 20? Misschien de 30 of 50 of 100? Bij iedere asset, bij iedere trend zoek ik een dergelijke SMA. Bij de koers van bitcoin (BTC) dus ook en de moving average die volgens mij het beste de huidige trend weergeeft is de 50 dagen moving average. In februari en maart beschreef ik al regelmatig hoe de 50 dagen SMA initieel als belangrijke weerstand fungeerde en vervolgens omsloeg in sterk support dat keer op keer stand hield. Dit ging door tot 1 april waarna de koers van bitcoin dan echt losbrak en haar geweldige run naar de $14.000 in gang werd gezet. De koers van bitcoin kwam niet eens meer in de buurt bij de 50 dagen SMA en liep er enkel van weg. Behalve afgelopen week. De koers dipte even snel, zelfs tot de $9.071 op Coinbase maar bleek – tot op heden – een fake out en vond weer haar weg tot boven de 50 dagen SMA. Afgelopen week beschreef ik nog dat we niet bang diende te zijn voor de dip en dat we dit als een welkome gelegenheid dienen te zien om mogelijk posities te openen en de markt op adem te laten komen. Ik had buy orders voorgesteld in de range van $10.000-10.300, rond de $9.500 en rond de $9.000. Al deze zones zijn bereikt en even hield de markt haar adem in en leek het er op dat we terug zouden vallen naar de $8.000 en misschien zelfs lager. Het tegendeel bleek echter waar en de koers schoot weer omhoog tot boven de $10.000 en daarmee ook boven de 50 dagen SMA. Aan de liquidatie-spike op Bitmex van shorts ter waarde van ruim $58,1 miljoen blijkt dat veel traders dit niet zagen aankomen. De 50 dagen SMA hield stand en toonde nogmaals haar magie, waar gaat zij de koers van bitcoin heen brengen?
De 50 dagen SMA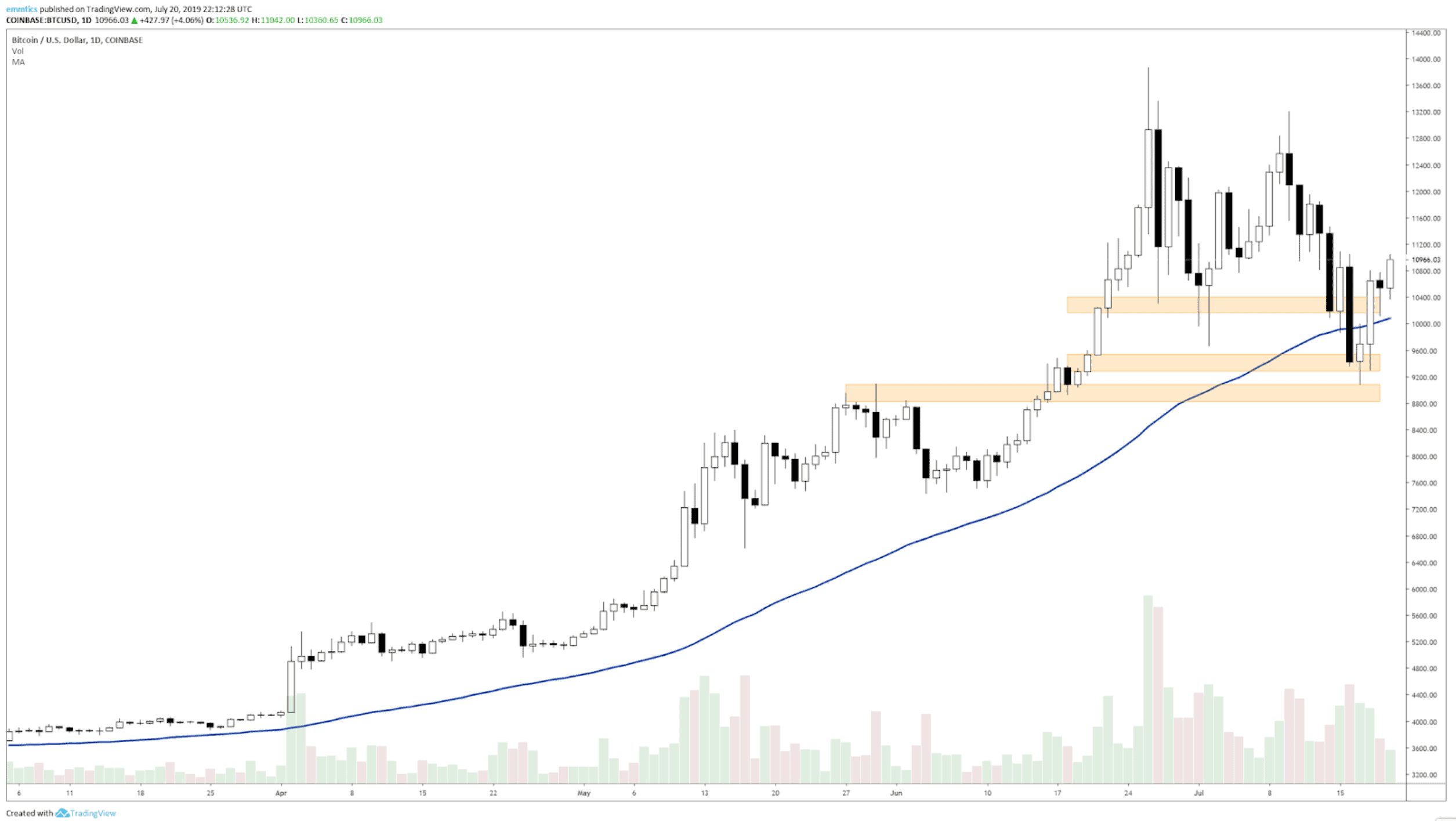 Afbeelding 1: Dagelijkse grafiek van bitcoin (BTC) met de 50 dagen SMA
In afbeelding 1 heb ik de dagelijkse grafiek van bitcoin weergegeven met daarop tevens de 50 dagen SMA. In deze grafiek is goed te zien hoe de koers van bitcoin in de maanden maart en april haar support vond op deze MA en hoe dit afgelopen week weer gebeurde. In afbeelding 2 heb ik de dagelijkse grafiek van bitcoin van de periode oktober 2018 tot mei 2019 weergegeven. Hierop is goed te zien dat vanaf medio oktober 2018 de 50 dagen SMA een belangrijke trendlijn begon te worden.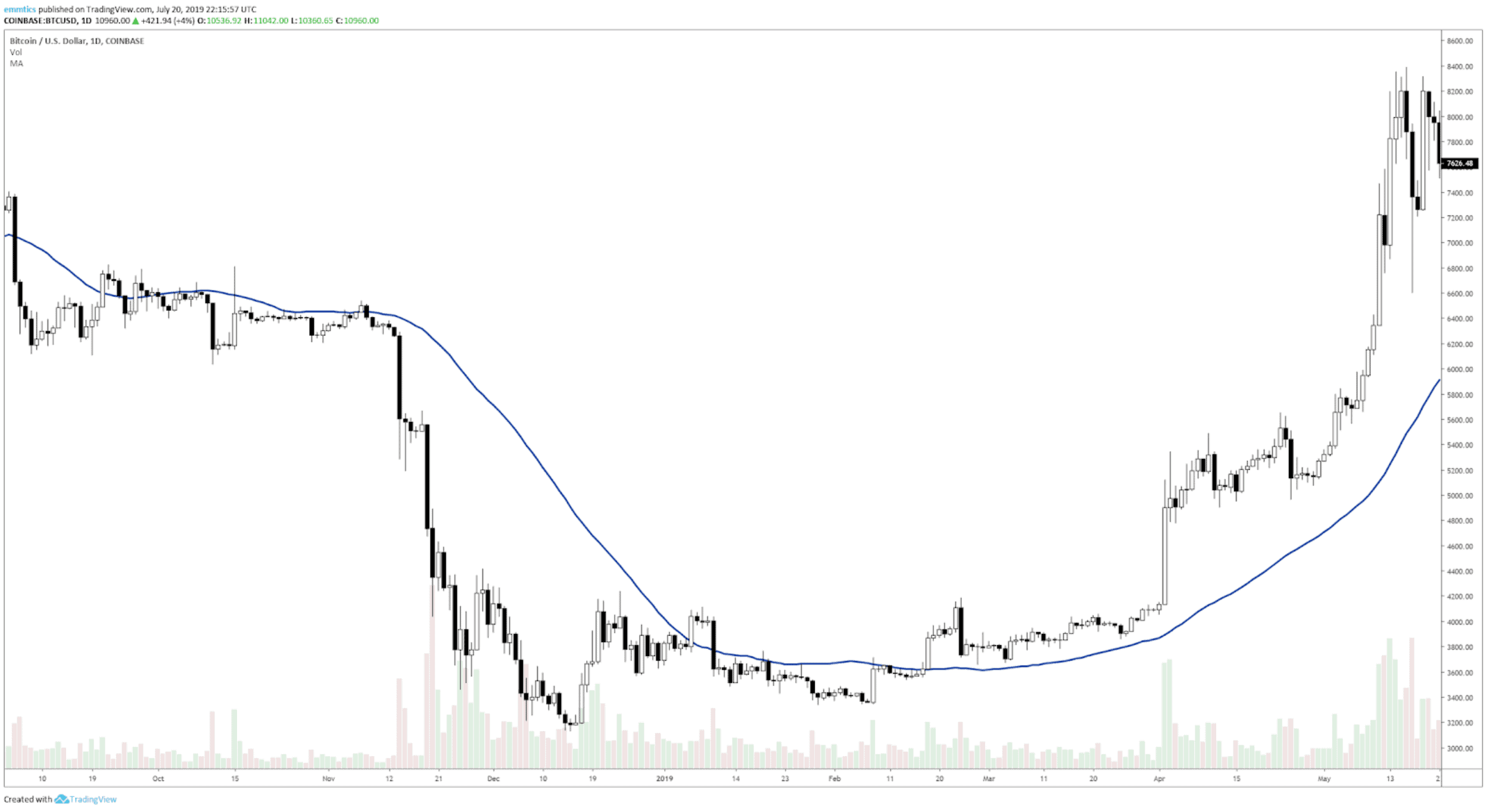 Afbeelding 2: Dagelijkse grafiek van bitcoin (BTC) met de 50 dagen SMA van oktober 2018 tot mei 2019.
Maar goed, wat vertelt zo een moving average ons nou en waarom is deze magisch? Moving averages zijn uiteraard enkel gemiddelde koersen over een bepaalde periode geplot op een grafiek. Op zichzelf niet heel bijzonder maar zodra een bepaalde moving average zich als een leidende indicator voor de markt gaat gedragen dan ontstaat er een magie in de vorm van duizenden traders die strategisch hun koop en verkooporders rond deze trendlijn inzetten. Een moving average als deze blijft niet onopgemerkt en het is juist hierdoor dat deze indicator nog belangrijker wordt en in kracht toeneemt. Hoe vaker de 50 dagen SMA als support fungeert des te zekerder ben je dat de stijgende trend doorzet. Maar indien de 50 dagen SMA wordt gebroken en de koers weet er niet meer bovenuit te komen dan kun je ervan uit gaan dat we even flink zullen dippen. Afgelopen week leek het er even op dat we door de 50 dagen SMA heen waren gebroken en er niet meer bovenuit zouden komen. Het is dan ook niet gek dat er veel shorts werden geopend en ook helemaal niet gek dat er zoveel liquidaties waren toen we weer boven de 50 dagen SMA heen braken en direct doorschoten richting de $11.000. Het gevolg van een combinatie van break-out orders boven de 50 dagen SMA, de psychologische grens van $10.000 en stop-losses en liquidaties voor shorts. Alles kwam samen rond dit niveau dus het spektakel was vrij groot toen we er doorheen braken. Op dit moment bevindt de koers van bitcoin zich weer in het kanaal van $10.000 tot $11.500 dat we afgelopen week ook bespraken en tegelijkertijd beginnen ook de momentum-indicatoren op de wekelijkse grafiek er gezond uit te zijn. Tot op heden is het support sterk en laat de 50 dagen SMA ons zien dat de bulls nog niet klaar zijn.
Desalniettemin zal het niet makkelijk zijn zomaar de $14.000, $16.000 en $20.000 te breken, ook al is de koers zo goed op weg. In afbeelding 3 heb ik het volume-profiel van bitcoin op de dagelijkse grafiek weergegeven.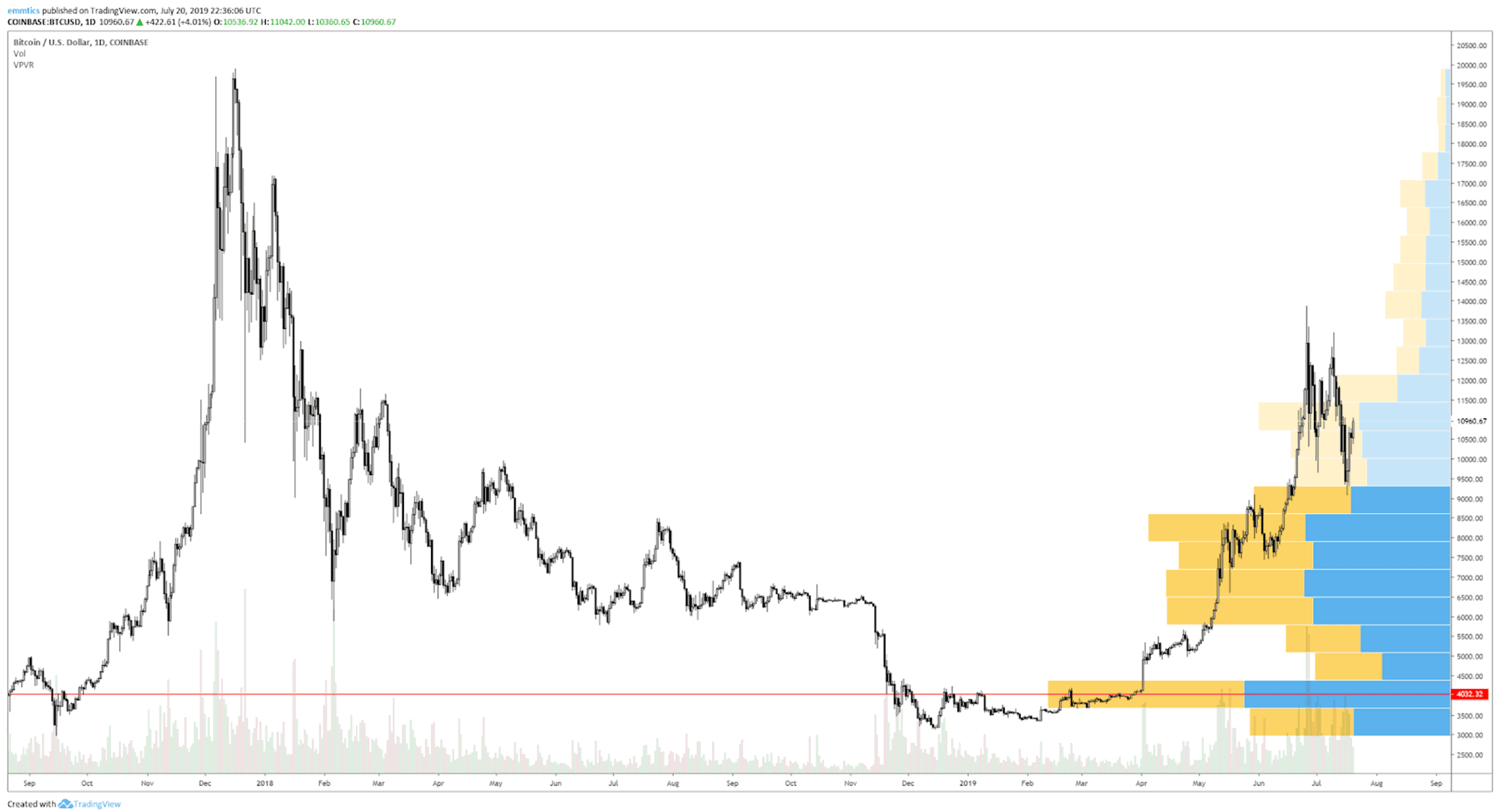 Afbeelding 3: Dagelijkse grafiek van bitcoin (BTC) met het volume-profiel.
Het volume-profiel laat op een grafische wijze zien op welke niveaus koop- en verkooporders zijn geplaatst. Nu is een dergelijke indicator uiteraard niet geheel precies daar orderboeken zich soms snel kunnen aanpassen, maar het geeft wel inzicht in waar de sterke zones liggen. Zo is er duidelijk te zien dat er een sterke zone ligt op het niveau van $8.000-8.500, $6.000-7.000 en het niveau van $3.200-4.000. Wat ook goed is te zien is dat het volume-profiel uitermate dun is en steeds dunner wordt boven de $11.500 en vooral ook $12.500. Er zijn letterlijk te weinig kopers op dit niveau, op dit moment, om de koers daar te houden en daarom zien we onder andere ook dat de koers zo makkelijk terugviel toen deze even doorschoot naar de $14.000 en op dit moment zoveel moeite heeft om boven de $11.500 uit komen. Er zal iets fundamenteels moeten gebeuren waardoor investeerders bereid zullen zijn op die niveaus hun orders te plaatsen zodat de koers naar boven wordt gezogen. De lancering van Bakkt of dat soort zaken zijn het niet in mijn optiek want dat is al lang ingeprijsd. Wat een mogelijkheid zou kunnen zijn is dat we de komende tijd keer op keer support blijven vinden op de 50 dagen SMA en dat we daardoor sterk consolideren op het niveau van de $10.000 en $11.500. Dit zou de markt het vertrouwen geven dat er daadwerkelijk een nieuwe situatie is en dat de koers van bitcoin een nieuwe standaard heeft gevestigd op het niveau van $10.000. Dit zou, volgens mij, zeker een basis kunnen bieden voor verdere groei. Andere factoren kunnen uiteraard komen uit de hoek van politiek (denk aan gunstige regelgeving), macro-economisch (een economische crash, een valuta-oorlog of iedere andere macro economische ontwikkeling die de waarde van crypto valuta vergroot) of een toekenning van een exhange-traded fund (ETF) of ander middel dat zorgt voor massa-adoptie van crypto valuta. Lang verhaal kort: om boven de $12.500 te komen, en vooral de $14.000 op dit moment, dient er volgens mij echt op fundamenteel niveau een positieve ontwikkeling te zijn die als brandstof fungeert voor de groei. Een short squeeze zoals we zagen bij $6.000 gaat waarschijnlijk niet meer helpen. Enfin, om het bullish momentum te behouden zal het, zoals we al vaak hebben besproken, belangrijk zijn dat de koers stand houdt boven de $10.000 en vooral ook boven de 50 dagen SMA. Mocht de koers de komende week toch nog uitbreken onder de 50 dagen SMA dan verwacht ik niet dat de $9.000 nogmaals stand houdt. Ik denk dat we dan een enkeltje hebben richting de $8.800 en misschien zelfs tot laag in de $8.000. Vooralsnog heeft de 50 dagen SMA weer haar waarde bewezen en terwijl ik dit schrijf om 01:00 uur 's nachts zie ik dat de bulls een poging doen boven de $11.000 komen. Persoonlijk hoop ik dat de markt niet te snel op zichzelf vooruit loopt en vooral een sterke basis zal maken rond de $10.000, maar goed het is de markt die bepaalt! Het belooft in ieder geval weer een mooie week te worden en ik ben benieuwd naar wat de magie van de 50 dagen SMA voor ons in petto heeft. 
Korte noot: Zoals je kunt zien gebruik ik voornamelijk een simple moving average ofwel een standaard moving average in plaats van een exponentiële moving average. Dit is niet omdat de SMA zogenaamd beter is dan de EMA of wat dan ook, maar enkel een kwestie van persoonlijke voorkeur. Mocht je zelf op zoek gaan naar jouw magische lijn dan zul je ook zeker de EMA moeten proberen om te kijken wat het beste bij jou past. 
Tot volgende week!
Wil je op de hoogte blijven van het laatste nieuws? Abonneer je dan op onze push-berichten, Facebook– of Twitter. Meediscussiëren? Meld je dan aan voor ons Telegram kanaal.