Wat een prachtige week was het voor de bulls! Waar de koers van Bitcoin de afgelopen weken vast zat in de box range van $5.750 en $6.800, brak Bitcoin afgelopen week door de 'weerstand' van $6.800 alsof het boter was! We zagen eerder al dat de bears hun kracht snel verloren rond de $6.100 dollar en dat was al een goed teken omdat dit dieptepunt hoger was dan het vorige dieptepunt van $5.750, maar de rally die we vervolgens zagen was uniek en kan in mijn optiek de aftrap zijn van een nieuwe bull run. Het is uiteraard nog te vroeg om van een bull run te spreken maar de fundamenten zien er zeer bullish uit zoals ik vorige week besprak en nu zien de charts er ook bullish uit. Deze synergie biedt een goede basis voor een langere rally. Laten we eens kijken naar de technicals.
Hoewel de weekly chart nog niet is afgesloten zien we in onderstaande afbeelding al wel een enorme bullish divergence ontstaan met een flinke volume spike. Een bullish divergence is vaak een signaal voor een trend omkeer en heeft des te meer waarde wanneer dit samengaat met een piek in volume en het plaatsvindt rondom een sterk support niveau. Beide factoren hebben zojuist plaatsgevonden en het feit dat dit zichtbaar is op de wekelijkse grafiek is voor mij een zeer goed signaal.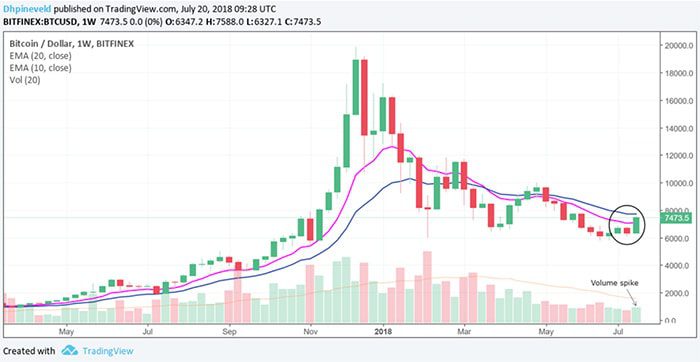 Afbeelding 1: Bitcoin wekelijkse grafiek – Bullish divergence
Naast deze positieve candle formatie zijn de momentum indicatoren ook zeer bullish. De wekelijkse Stoch-RSI, RSI en Commodity Channel Index zien er zeer goed uit en de MACD dreigt zelfs een bullish cross te maken!
Op de dagelijkse grafiek zien we tevens een inverse head and shoulders patroon. Ook dit is een zeer bullish signaal en aangezien de break-out van de neckline gepaard ging met veel volume voegt dit extra waarde toe aan dit patroon. Een inverse head and shoulders patroon biedt overigens ook een target welke traders gebruiken om hun winsten te nemen. In dit geval ligt de target rond de $7.800. Dit niveau komt samen met een zeer belangrijk weerstandsniveau welke in mijn optiek het eerstvolgende serieuze obstakel is dat moet worden overwonnen om deze rally door te zetten en de start te maken van wat wellicht een langere bull run kan worden. Ik verwacht dan ook wat aarzeling van de koers rond dit niveau.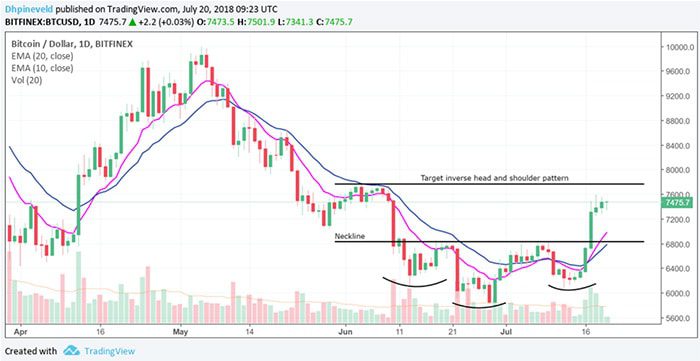 Afbeelding 2: Inverse head and shoulders pattern
Hoe nu verder? De fundamenten en de technische indicatoren zijn positief. Op dit moment ligt de koers van Bitcoin tegen de weerstand van $7.500, maar de echte weerstand ligt naar mijn mening rond de $7800, welke zich heeft gevormd tijdens de mislukte rally van medio juni. Het feit dat de koers van Bitcoin op dit moment even op haar plek blijft is een goed teken. Het zorgt ervoor dat de momentum indicatoren op de kortere tijdframes terugveren naar gezondere niveaus zodat er vervolgens voldoende ruimte is voor nog een push naar boven. Hoewel de koers van Bitcoin nog even kan blijven hangen en wellicht iets verder zal zakken verwacht ik niet dat we op dit moment een sterke dip zullen ervaren. Een pullback tot $6.750 zou niet alarmerend zijn (het vorige weerstandsniveau wordt in dat geval support), maar een close daaronder wel. Nogmaals, dit is niet een scenario dat ik verwacht en ik geloof dat op dit moment het niveau van $7.000 stand zal houden. Indien de koers door de $7.800 breekt verwacht ik binnen een aantal weken een re-test van de $10.000. De $10.000 is een belangrijke psychologische grens en daarnaast laat het volume profiel op de dagelijkse chart een 'gap' zien op dit niveau. Ik heb dit weergegeven in afbeelding 3. De markt is volgens mij aangetrokken door dit 'magische' niveau, maar ook hier zal veel aarzeling aanwezig zijn en zullen we veel bullish momentum nodig hebben.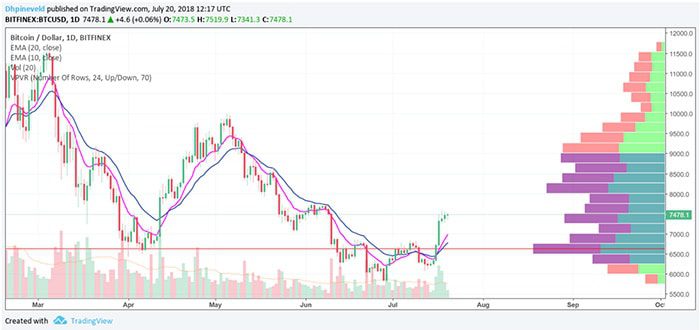 Afbeelding 3: Volume profile dagelijks grafiek Bitcoin
Ondanks dat de gehele technische set-up van dit moment zeer bullish is verwacht ik wel dat de uitspraak van de SEC omtrent de ETF vergunning van de CBOE een belangrijke katalysator zal zijn voor een duurzaam vervolg van deze rally. Deze uitspraak is naar verwachting op 10 augustus. Een positieve uitkomst zal de markt het vertrouwen geven dat het nodig heeft om de rally voort te zetten. Een negatieve uitspraak kan het huidige en (nog) schrille vertrouwen mogelijk breken en de rally tot een halt roepen. Vooralsnog zijn mijn ogen gericht op de $7.800 en zie ik de koers van Bitcoin, op in ieder geval de korte termijn, met vertrouwen tegemoet.
Fijn weekend!