Het was een saaie week met weinig actie en hoewel de koers van Bitcoin een nieuw dieptepunt bereikte met een waarde van $3.215 op Bitfinex, lijken de indicatoren een rally te voorspellen. Zoals we afgelopen week al bespraken was de verkoopdruk aan het afnemen en afgelopen week is deze verder afgenomen. Het volume neemt af, de koers ligt op een sterk support niveau en de momentum indicatoren zijn oversold en lijken om te rollen naar boven. Allemaal vruchtbare grond voor een rally de komende weken.
In afbeelding 1 heb ik de dagelijkse grafiek weergegeven. Hierop zijn een aantal interessante dingen te zien. Allereerst lijkt de koers van Bitcoin een dubbele bodem te vormen en tevens is te zien hoe het momentum afneemt en zich lijkt om te draaien.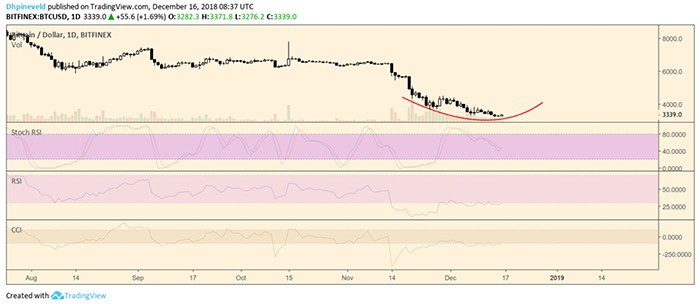 Afbeelding 1: Dagelijkse grafiek Bitcoin 
Tegelijkertijd is er zich ook een falling wedge aan het vormen welke ik heb weergegeven in afbeelding 2. Een falling wedge is een bullish patroon en aangezien deze zich vormt op een support niveau en nadat we een sterke daling hebben meegemaakt de afgelopen weken, maakt dat dit patroon meer waarde heeft dan normaal. Mocht men interesse hebben om dit patroon te traden dan is het normaliter verstandig een positie te openen bij een break-out (naar boven) van dit patroon met een stop-loss net onder de voorgaande 'low'. Het falling wedge patroon biedt je een 'profit-target' dat gelijk is aan de hoogte van het patroon, wat in dit geval zou neerkomen op ongeveer $4.300, maar gezien de fragiele omstandigheden van de markt zou ik al gedeeltelijk winst nemen net onder de $3.800 en $4.000.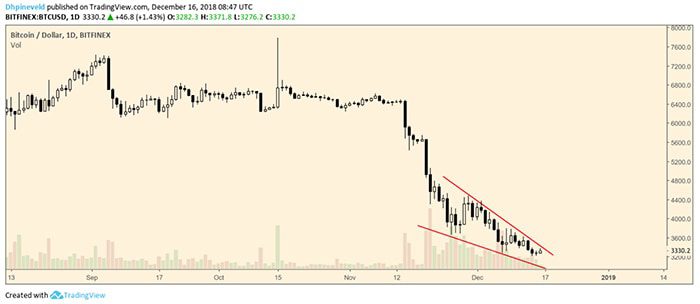 Afbeelding 2: Dagelijkse grafiek falling wedge
De wekelijkse grafiek laat een dergelijk plaatje zien (die van een rally) en is weergegeven in afbeelding 3 (momentum draait om, volume neemt af).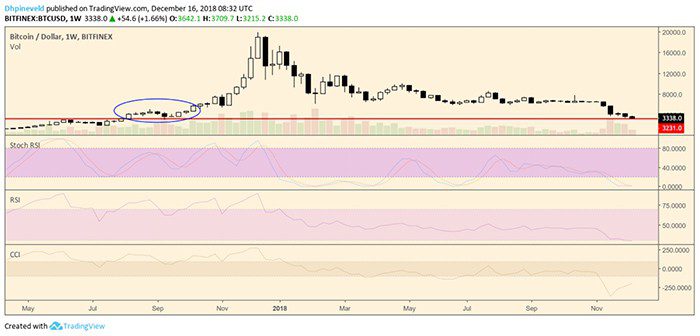 Afbeelding 3: Wekelijkse grafiek Bitcoin
Hoe goed dit er ook allemaal uitziet voor de korte termijn blijf ik op dit moment van deze markt af. Zoals we ook al eerder bespraken in voorgaande columns is een rally na een dergelijk daling van afgelopen weken niet meer dan normaal. Desalniettemin vind ik de markt dermate fragiel voor het openen van long posities. Ik heb een aantal personen gesproken die op dit moment gefaseerd long posities openen (zonder leverage en op een buy-hold basis) en dat is een begrijpelijke keuze aangezien niemand weet waar de bodem precies ligt. Voor mij persoonlijk is het nog wat vroeg daar ik denk dat er nog wat sap uit deze sinaasappel kan worden geperst en ik nog steeds rekening hou met sub-2k koersen. Des te meer wanneer men een analyse maakt in combinatie met de tumulten op de aandelenbeurzen. Als analist ben ik voornamelijk actief op de meer gangbare assets en daar is op dit moment een hoop aan de hand wat volgens mij ook van invloed zal zijn op het cryptocurrency landschap, maar wellicht is het leuk daar volgende week tijd aan te besteden. Yes, we hebben een cliff hanger!
Voor deze week verwacht ik een week van sideways trading en/of een korte rally tot een niveau van maximaal $4.500. Vergeet echter niet dat de trend nog steeds bearish is en zorg dat je niet te enthousiast wordt na een paar dagen groene cijfers.
Dit is geen financieel advies en de lezer dient zelf zijn of haar onderzoek te verrichten voor het afsluiten van welke positie dan ook.
Tot volgende week!
Wil je op de hoogte blijven van het laatste nieuws? Abonneer je dan op onze push-berichten, 
Facebook
– of Twitter.
[ci-widget-v2]