De Bitcoin prijs dook op vrijdag 6,5% omlaag ten opzichte van de Amerikaanse dollar, waardoor de koerswaarde onder de $3.455 zakte.

De neerwaartse trend van de markt leek te worden versterkt nadat de Securities and Exchange Commission (SEC) haar beslissing omtrent de aankomende Bitcoin-ETF van VanEck opnieuw uitstelde naar februari volgend jaar. Dit onderwerp wordt beschouwd als een van de sterkste bullish katalysatoren voor de Bitcoin markt, met velen die geloven dat de goedkeuring ervan een financiële injectie van minimaal $1 miljard teweeg zou brengen. Als de Amerikaanse toezichthouder de ETF afkeurt, zou het marktsentiment bearish blijven.

De BTC/USD-verhouding ving al flinke klappen nadat het besluit van de SEC bekend werd. Het zorgde voor een nieuw jaarlijks dieptepunt, dit keer in de richting van $3.200, en dreigt op middellange termijn potentieel de neerwaartse trend door te zetten richting de $1.500. De markt zag echter een kleine 'bounce'.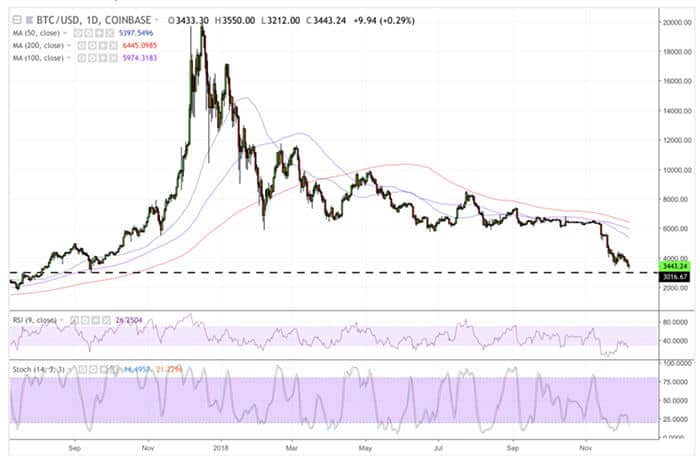 De markt zoekt nu naar een evenwichtig niveau dat de ware economische aard van de cryptocurrency zou kunnen afleiden. Is er op korte termijn vraag naar het constante aanbod? Zo nee, hoe ver kan Bitcoin dalen om een ​​bodem te bereiken? Zou een zwakke Bitcoin prijs goed zijn voor de mining gemeenschap? Zoveel vragen, maar antwoorden zijn nergens te bekennen.

De Bitcoin prijs gaat richting een psychologische grens die ooit een enorme vraag naar de activa vertoonde. Door het breken van de $3.455-grens gisteren, richt het BTC/USD-pair zich nu op $3.000 als volgende potentiële bodem. In september 2017 hebben de bulls dit niveau verdedigd als grote support, maar nu wordt het niveau waarschijnlijk opnieuw getest in deze aanhoudende bear market voordat het eventueel weer een sterke rally omhoog kan vormen. De vorige keer dat de $3.000 succesvol verdedigd werd zorgde het voor een langdurige bull run die zijn adem pas uitblies bij de $20.000 grens.
Wil je op de hoogte blijven van het laatste nieuws? Abonneer je dan op onze push-berichten, 
Facebook
– of Twitter.
[ci-widget-v2]