De koers van Bitcoin staat nog op exact dezelfde plek als waar het zich de afgelopen drie weken bevond. Hoewel ik de afgelopen weken gematigd bullish was als gevolg van het standhouden van de koers is mijn optimisme op dit moment iets minder geworden als gevolg van de besluiteloosheid van de koers. In een situatie als deze dienen we te onthouden dat de lange termijn trend nog steeds bearish is en indien de koers van Bitcoin besluiteloos blijft zoals nu dan houdt dat vaak in dat de bodem nog niet is gevonden.
Op dit moment hangt de koers tegen de $4.000-grens aan op Bitfinex. Het is in mijn optiek 50/50 of we die gaan breken of niet, maar de $4.000 is niet het niveau dat echt interessant is. Dat is namelijk de $4.250 en totdat dit niveau is gebroken is er eigenlijk vrij weinig te zeggen over het verloop van de koers.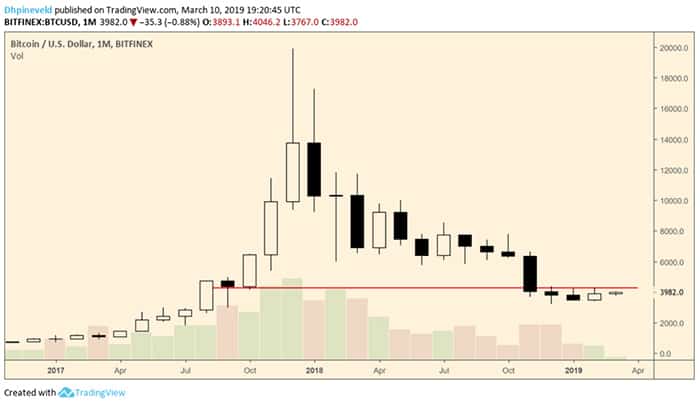 Afbeelding 1: maandelijkse bitcoin grafiek
In de maandelijkse grafiek van afbeelding 1 is goed te zien hoe het niveau van $4.250 de afgelopen die maanden als plafond heeft gefungeerd voor de koers van Bitcoin maar ook als support heeft gefungeerd in september en oktober 2017. Hoewel de koers de $4.000 nog niet heeft gebroken en op dit moment verzeilt in besluiteloosheid heeft het tot op heden wel goed support gevonden op de dagelijkse 50 EMA.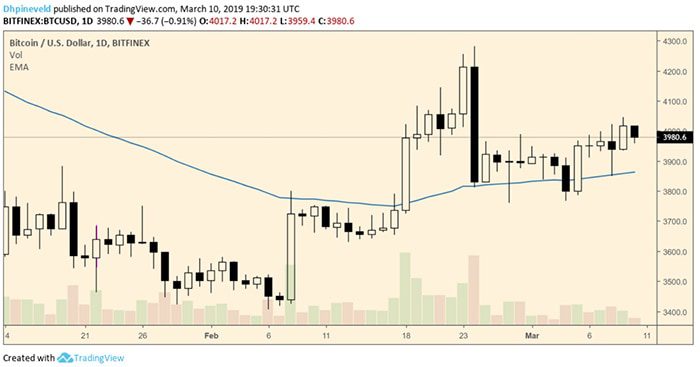 Afbeelding 2: dagelijkse bitcoin grafiek
Het feit dat de koers zicht op dit moment noordelijk van de 50 EMA bevindt is uiteraard bullish maar het lage volume is zorgwekkend en daarnaast laten de momentum indicatoren op de wekelijkse grafiek ook zien dat alle kracht uit de huidige rally is verdwenen.
Mijn beste gok zou zijn dat de koers eerst nog een kleine dip maakt tot het niveau van de 50 EMA en indien de koers daar support vindt dan in één keer door schiet door de $4.000, maar dat is tegelijkertijd ook precies wat het is; een gok. En in mijn optiek dienen wij ons daarvan zoveel mogelijk te distantiëren. Ik heb mijn long posities als gevolg van de besluiteloosheid van de koers aanzienlijk verkleind en wacht even af totdat er nieuwe signalen ontstaan die ons meer kunnen vertellen over het verdere koersverloop van de komende week. Afwachten bij twijfel is ook een 'trade' in mijn optiek en veelal ook een hele waardevolle. De twee belangrijkste signalen op dit moment zouden een opwaartse break door de $4.250 zijn of een neerwaartse break door de 50 EMA. Ik geniet nog even van de rust en wacht geduldig af.
Tot volgende week!
Wil je op de hoogte blijven van het laatste nieuws? Abonneer je dan op onze push-berichten, 
Facebook
– of Twitter.
[ci-widget-v2]