Het was een week van behoorlijk veel volatiliteit en ik heb er persoonlijk erg van genoten! Vorige week beschreef ik al in mijn column dat er zwakte zichtbaar was in de sterke rally en op welke zones mijn ogen gericht waren. Vervolgens maakte de koers van bitcoin een hele scherpe rally naar boven om vervolgens letterlijk tegen een muur aan te lopen op $10.522 op cryptocurrency exchange Coinbase. De koers zakte vervolgens iets terug maar vond support op de $10.150 en ging even sideways rond de $10.225 met een paar korte uitschieters naar boven. In onze premium groep voor leden deelde ik op dat moment dat de markt mij totaal niet beviel en dat ik op de korte termijn een scherpe dip verwachtte. Ik had hier een aantal redenen voor:
Iedereen was te overmatig bullish terwijl de grafiek eenvoudig een hoop zwakte liet zien.
De markt was gigantisch overleveraged richting de long-kant.

De koers had moeite om door te pakken bij belangrijke weerstanden zoals de $10.400 en kwam iedere keer abrupt tot stilstand na een scherpe koersstijging. 

Ik dacht dat er heel veel stops verborgen lagen rond de $10.100 en als die zouden worden geraakt had ik voor ogen dat we een golf van verkooporders zouden zien. 
Afgelopen zaterdag was het dan zo ver en de koers van bitcoin brak scherp naar beneden, regelrecht naar het eerste support niveau op $9.750. Op Twitter staat het vol met berichten als BTFD (Buy The F*cking Dip)! Ik raadde onze members aan om geduld te hebben en niet te snel deze dip te kopen. Laat de koers zich maar eerst bewijzen! Stel de koers gaat namelijk omhoog, dan kun je op een later moment altijd nog instappen maar heb je wel veel risico uit je portfolio weten te houden. Tegelijkertijd zie ik nauwelijks een bounce naar boven en dat doet mij vermoeden dat er nog wat bearish juice in het vat zit. Deze sinaasappel kan mogelijk nog wat verder worden uitgeperst dus houd de teugels strak en blijf goed in het zadel zitten. Met andere woorden, hou controle over je portfolio en je implied risk. Overall is de markt nog erg bullish, maar wat ik uiteraard niet wil is gevangen komen te zitten in een bull trap en dat is vrij eenvoudig rond deze niveaus, want iedereen kan alleen maar praten over alt season, de halving van Bitcoin en nieuwe All-Time-Highs (ATH's). Op het moment van schrijven begeeft de koers zich rond de $9.800 op Coinbase en er zijn een aantal zaken die mij bevallen en een aantal die mij niet bevallen. Laten we de grafieken er maar weer eens bijpakken en kijken wat voor mij belangrijke zones zijn op dit moment.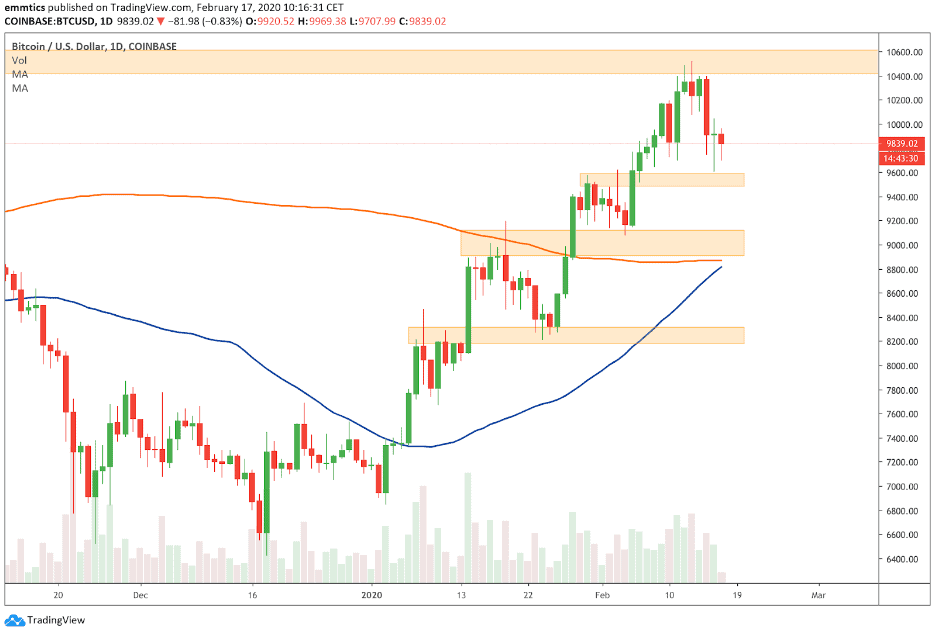 Afbeelding 1: dagelijkse grafiek van bitcoin (BTC) op cryptocurrency exchange Coinbase
In bovenstaande grafiek heb ik de dagelijkse grafiek van bitcoin op Coinbase weergegeven en hierop valt goed te zien hoe de weerstand van $10.400-10500 als een plafond boven de markt ligt. Mocht de markt weer haar weg vervolgen, dan is dit de ultieme weerstand om in de gaten te houden, maar daar zijn we uiteraard nog niet. We moeten eerst orde op zaken stellen op dit niveau. De eerste supportzone is de zone waar de koers van bitcoin regelrecht naar toe gleed toen we uit de $10.000 vielen en dat is de zone van $9.500 tot $9.750 waarbij deze zone het sterkst is rondom de $9.500. De echt belangrijke zone ligt in mijn optiek één verdieping lager en dat is de zone van $8.800-9.100. Niet alleen is dit candle-technisch een belangrijke supportzone, de 200 dagen Moving Average (MA) ligt hier ook alsmede de 50 dagen MA welke op het punt staat een golden cross te maken. Als klap op de vuurpijl geeft het volumeprofiel (niet verwonderlijk) ook aan dat hier een hoop orders liggen (zie afbeelding 2) dus de zone van $8.800-9.100 is waar in mijn optiek het echte spel wordt gespeeld. 

Afbeelding 2: dagelijkse grafiek van bitcoin (BTC) op Coinbase met volumeprofiel
Het is echter niet alleen maar bearish nieuws. Hoewel de move naar beneden scherp was en van een bounce naar boven nog geen sprake is, vind ik wel dat het huidige support rond de $9.700 verrassend goed houdt. De bulls houden, ondanks de scherpe pullbacks, de moed nog erg hoog. Het is ook hierom dat ik iets meer winst heb genomen op mijn short op dit niveau dan ik aanvankelijk beoogde. Voortschrijdend inzicht is met traden voor mij erg belangrijk en het zijn dit soort signalen die erop kunnen wijzen dat we toch nog even – zoals we de afgelopen weken een aantal keer hebben gezien – een scherpe wick naar boven zien.


Mocht dit gebeuren dan zou ik allereerst kijken naar de weerstand rond de $10.000 en dan vooral de $10.100. Mocht dat toch te sterk zijn dan denk ik dat de bulls op de korte termijn een flinke deuk oplopen in het vertrouwen en dat er teveel longs getrapped zijn. In dat geval zou ik echt kijken naar het support van $8.800-9.100 omdat ik denk dat we in dat geval ook direct het support van $9.500-9.700 overslaan. Mocht de koers wel door de $10.100 heen breken dan is het uiteraard kijken naar de weerstand op de $10.400-10.500. Op de Chicago Mercantile Exchange (CME) is over het weekend een aardige gap ontstaan (afbeelding 3).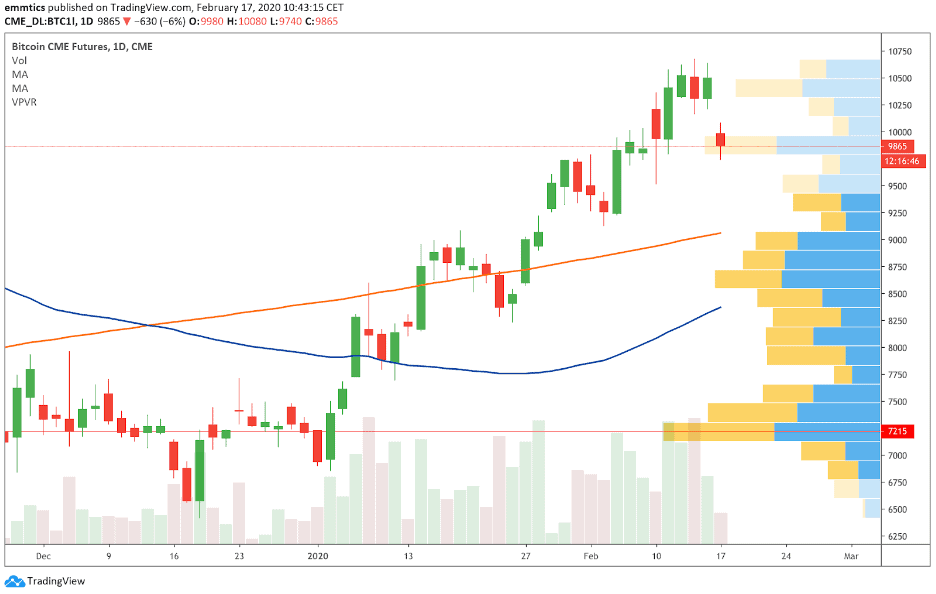 Afbeelding 3: dagelijkse grafiek van bitcoin op Chicago Mercantile Exchange (CME)
Hoewel het geen garantie is zien we toch redelijk vaak dat deze gaps worden gevuld. Dit zou de mogelijkheid open laten voor een korte rally rondom het niveau van $10.100-10.250. Het moge duidelijk zijn dat er een hoop weerstand ligt tussen de $10.100-10.500 en dat dit mogelijk een zone is waar veel vertrouwen in de bullrun kan worden geschaad, maar indien dit wordt gebroken is de weg naar de maan wel weer vrij maakt! Mocht de koers overigens nu niet een korte rally naar boven maken dan is mijn volgende target uiteraard de zone van $8.800-9.100. Dit is overigens ook een zone waar ik, op basis van de informatie nu, mijn short volledig zal afsluiten.
---
Als eerste op de hoogte zijn van onze gratis video's? Abonneer je dan nu op ons YouTube-kanaal!

---
Als laatste punt wil ik nog kort benoemen dat, indien de $8.800-9.100 niet stand houdt en de koers dus door de 200 dagen MA breekt, we dan goed moeten kijken hoe dit gebeurt (met veel of weinig volume) en of de 200 dagen MA vervolgens als een weerstand fungeert. Mocht dit gebeuren dan kijk ik direct naar de zone van $7.200-7.400. Zo ver is het uiteraard totaal nog niet maar ik wil dit wel even delen omdat de markten soms in een korte tijd scherpe moves kunnen maken. Tot op heden houd het support rondom de $9.700, maar mijn interesse voor nieuwe longs ligt vooral rond de $8.800-9.100. Hoewel de markt in zijn geheeld nog zeker bullish is blijft het motto voor mij: laat de koers zich maar eerst bewijzen! Wil je beter real-time op de hoogte blijven van de bitcoin-koers? Meld je dan aan voor een 30 dagen gratis proefperiode op onze members-groep en dan spreek ik jullie daar.
Tot volgende week! 
Vanmorgen de koersupdate van onze analist Michiel mist? In deze freebie bespreekt hij de daling van de koers van bitcoin. Is het tijd voor paniek of kopen we de dips? Michiel bespreekt de huidige situatie aan de hand van de grafieken!