Man, man, man; wat een week was het weer. In mijn laatste column beschreef ik dat de sell-off nog lang niet over was en in mijn voorgaande columns besprak ik mijn ideeën over hoe een break door de $6.000 een nieuwe depressie zou inluiden in de markt. Voor de hodlers zijn deze verwachtingen helaas werkelijkheid geworden en heeft de koers van Bitcoin de afgelopen week ruim 47% (!) ingeleverd. Dit plaatst afgelopen week zeer zeker in de top 5 slechtste weken van de koers van Bitcoin. De langverwachte capitulatie (iets wat nodig is voor het creëren van een nieuwe fundamenteel sterke rally) is begonnen daar de koers op dit moment maar een richting kent en dat is die naar beneden.
Sinds het begin van de bear trend rond januari heb ik een aantal scenario's uitgedacht over hoe deze trend zich zou kunnen ontwikkelen. Een van deze scenario's was een volledige pull back naar de $1.750 en $1.000. Hoewel ik deze visie heb gedeeld met mijn naaste omgeving ben ik normaliter niet de persoon die dit soort scenario's aan de grote klok hangt; zeker niet in een column. In mijn optiek wordt de wereld van 'stock analysts', 'crypto analysts' en 'economic gurus' geregeerd door personen die elkaar allemaal proberen te overschreeuwen met de meest spannende voorspellingen en een ieder presenteert dit op een toon van zelfverzekerdheid die ongepast is in de wereld van trading en waarschijnlijk ook bij hun persoonlijkheid. Iedere analyse is niet meer dan een set verwachtingen over de ontwikkeling van een potentieel scenario. Bijzonder vaag dus en daarom moeten alle analyses en columns (inclusief deze) door de lezer worden opgevat als een perspectief, een potentiële gebeurtenis. Analyses waarin iemand, onder triomfantelijke muziek, schrijft dat diegene de call maakt dat de bodem is bereikt of de koers van Bitcoin meer dan $50.000 is over drie jaar is niets anders dan een illusionaire zekerheid; fictie dus. En wat betreft fictie is er leuker leesmateriaal te vinden dan deze analyses. De enige zekerheid die ik ken in het leven is dat we allemaal een keer dood gaan. Voorspellingen over de koers van Bitcoin zitten daar niet bij. Enfin, ik dwaal af. Laten we teruggaan naar waar ik mee begon en dat is mijn scenario waarin de koers van Bitcoin helemaal terug gaat naar haar basis.
Toen we eind maart 2017 door de grens van $1.000 heen braken ging een rally van start zoals er maar weinig hebben plaatsgevonden. Tot die tijd bleek de grens van $1.000 een magische grens. Een niveau waarop de markt in 'balans' was. Er was over de jaren heen een aantal keer een poging gedaan door dit niveau heen te breken maar iedere keer hield deze rally beperkt stand en viel de koers uiteindelijk terug tot de $1.000 of daaronder. Dit keer hield de rally echter stand en wist binnen een aantal maanden het ongelooflijke niveau van $20000(!) te bereiken. Het verhaal daarna kennen we inmiddels wel. Afgelopen week beschreef ik de verschillende support niveau's, maar gaf daarbij tevens aan dat deze niveaus beperkte waarde hebben aangezien ze tot stand zijn gekomen tijdens een manie. Daar we ons nu begeven in de capitulatie fase breken we ook makkelijk door deze niveaus heen zoals we afgelopen week zagen. De koers neemt zo nu en dan een pauze op dit soort niveaus omdat shorts worden gecovered of strategische buy-orders daar staan opgesteld, maar vervolgens duikt hij verder naar beneden. De reden dat ik denk ik dat een pull back naar de $1.000 niet ondenkbaar is, is omdat dit het enige echte support niveau is wat door de jaren heen is opgebouwd en daardoor een sterke fundering kent. In een markt waar angst, ongeloof en onzekerheid heersen zal op zoek worden gegaan naar een basis waar de markt op kan vertrouwen en die basis is in mijn optiek de $1.000. Nu komt de kanttekening van dit scenario. Hoe verder de markt daalt hoe meer de kracht zal afnemen van de sell-off en hoewel de $1.000 in het verleden als sterke weerstand gold (en nu dus waarschijnlijk als sterk support) is er in de tussentijd wel het een en ander veranderd. Twee jaar geleden was er nauwelijks aandacht voor Bitcoin in het nieuws en als je op een feestje vertelde dat je actief handelde in cryptocurrencies wist men vaak niet wat dit betekende. Dat is op dit moment wel anders. Bijna iedereen weet tegenwoordig wat cryptos zijn, Bitcoin is dagelijks in het nieuws (om wat voor reden dan ook) en de ene crypto-gerelateerde startup na de andere schiet uit de grond. Deze ontwikkeling van de markt zorgt ervoor dat ik in dit scenario rekening hou met de mogelijkheid dat we net niet de $1.000 halen maar dat de markt haar nieuwe basis vindt rond de $1.750. Eén support niveau hoger dan de $1.000.
In afbeelding 1 heb ik deze twee support niveaus weergegeven.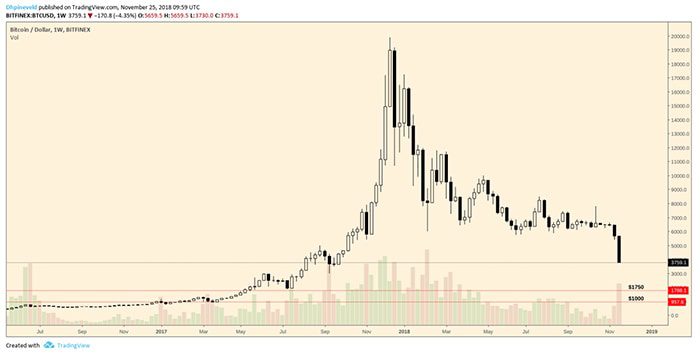 Afbeelding 1: Wekelijkse grafiek Bitcoin (logaritmische schaal)
In bovenstaande afbeelding is tevens te zien hoe de huidige sell-off nog niet klaar lijkt te zijn en hoe ook Bitcoin in de uitverkoop ging tijdens black friday. Hoewel de trend zeer zeker bearish is blijft een 'kleine' bounce komende week een goede mogelijkheid. De markt is sterk oversold en dat kan een basis bieden voor een korte rally. Tenzij je een ervaren swing-trader bent is dit niet het terrein waarop men grote long posities dient in te nemen. De lange zwarte candle op de wekelijkse grafiek uit afbeelding 1 laat namelijk zien dat de weg van de minste weerstand naar beneden is. Desalniettemin geloof ik dat de koers de komende week waarschijnlijk tijdelijk haar rust vindt op de $3.000. Dit is namelijk het eerstvolgende sterke support niveau en een goed moment om op even op adem te komen.
Goede week allemaal!
Wil je op de hoogte blijven van het laatste nieuws? Abonneer je dan op onze push-berichten, 
Facebook
– of Twitter.
[ci-widget-v2]